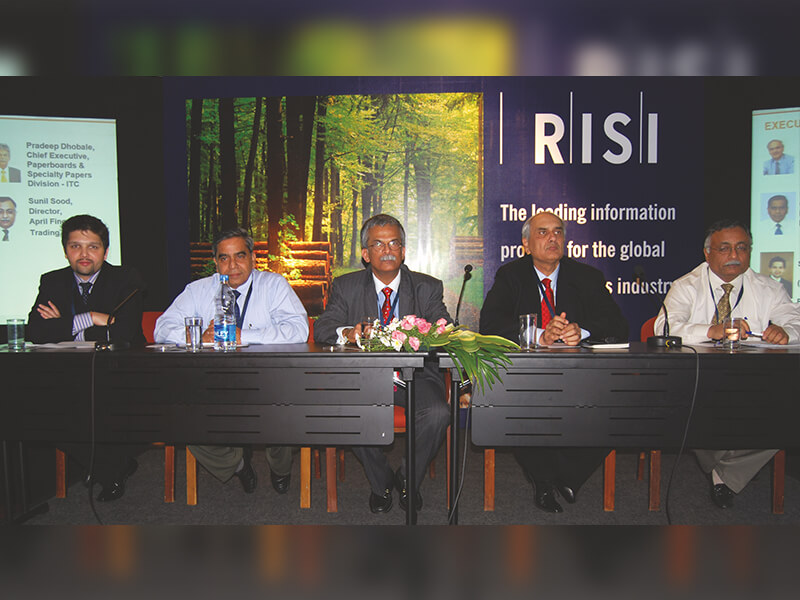 RISI organized a one day conference on 1st December 2010 at Chennai where most of the industry captains were present to address the challenges & opportunities, growth & sustainability for the Indian paper industry. Here are the subjects which were discussed and the comments of the industry experts on the same.

Growth Sustainability:

Data reveals that the manufacturing sector recorded a double digit growth i.e. 11.3% during Apr- Aug 2010 as compared to earlier 5.6% during the corresponding period of last year. GDP is growing at 8.8% and will exceed in future. Believing that Indian paper industry growth is in the multiples of GDP growth? Is it sustainable or there is a need of some course of correction?

Mr. Pradeep Dhobale "I don't think there is any need of correction. History has shown that China has achieved tremendous growth consistently for 2 decades and India can very much repeat the history with the present environment. Sustainability is measured not by the growth r a t e but through the environment. In the recent years mills like APPM, TNPL, ITC, BILT etc. have expanded their pulp lines. To tackle the issue of raw material availability some solutions have been found in the form of farm forestry but still some actions are being taken to find out more solutions. New technologies have been installed to tackle these issue and for a better environment too".

Mr. Gopalaratnam: "The numbers we are projecting for Indian paper industry is somewhat lower and hence there is need for correct statistics. I believe that as long as the economic growth is intact the paper industry growth is intact. The industry is tackling the issues like non availability of raw material, cost of raw material & the environmental issues. Industry is tackling these issues very responsibly and if governed or moderated by the government authorities the industry will grow further in a responsible way. In the last 5 years paper industry has invested much more as compared to the last 10 or 15 years. The kind of investment that is done or planned, sustainability is not an issue for the industry".

Consumption and Demand Push In India.Anopportunity?

Mr. R. R. Vadhera: "The consumption of 10 million tons represents about 9 kg per capita consumption. The latent consumption that is going to come in this country hasn't been unleashed yet. The general perception says that the consumption of 10 million tons will be doubled to 20 million tons by 2020 but I think we will bridge this gap much earlier. For capacity development the organized sector has spent so much on the state of art technology before the advancement of the consumption in the country so as to realize the capital efficiency of these assets. If we look at the writing & printing paper consumption in India its just 4 kg per capita while in China it is 16 kg, so there will be growth but raw material challenges will be there. To tackle the issue of raw material scarcity we all went for farm forestry and the way we do it nobody does that. We have to deal with average marginal land holdings of even 1 hectare per farmer. So the cost curve is not competitive. We at Ballarpur went internationally to secure our fiber requirement".

Bunching of the capacities? Pain or Boon!

Mr. R.R. Vadhera: "All of us who have expanded their capacities we knew that there would be an over capacity for short term and exports was need of the hour. We especially at Ballarpur created an export valve for us to tackle this. It is not possible to dare to put 100,000 tons machine but BILT will put up a 3,00,000 tons of multilayer board machine over the next two years. We are very much aware that it will not be absorbed domestically so, we have to export to other markets. The cost of installing the state of art technology is so high that we cannot install them on the basis of small capacities. Our nonintegration level went up to 40% due to which our margins dropped from 26- 27% to 22%. Because at that time we felt that it is important to attack the market first as we had limited resources to simultaneously expand the pulping capacity. Now we decided to put up 2 pulp mills one in BILT&another in Sabah to address this issue. The demand grows gradually but we all are committed to this business and I am sure that the Indian market will provide us unique opportunities to take the brunt of these over capacities".

Mr. Pradeep Dhobale: "I remember 3-4 years ago finance minister encouraged the industry to create more capacities as the demand was increasing, by giving us some exemptions on excise duty. So, we took up the challenge to ourselves and created the capacities ahead of time. One or two difficult years will not break somebody's back. Industry has done capacity expansion in a responsible manner and if we didn't do them lot more imports have entered this country which is not good for the country, employment generation and for economy as a whole".

Raw-Material Issues: Many times we talk about the non availability of the raw material, cost of raw material etc. how we take up these issues or the agro initiative which was taken will be good enough to take care of our raw material needs and will make us cost competitive?

Mr. Shreeyash Bangur: "The Indian government hasn't supported us by offering land and I think that this will continue as same in future. So, to tackle the above problem we take up the initiative of farm forestry. There are few companies which are doing this like ITC is doing 100 million trees a year; APPM will do the same. Ideally major companies should do 100,000 hectare of plantations every year but unfortunately some companies are not doing good and few IPMA mills are collectively doing just 50,000 hectare in total. I think that the other sources like wheat straw or rice straw are not viable as there is a competitive demand for these as fuel and wood has not caught up as a fuel source. If Indian paper industry has to grow up to 20 million tons the main constraints would not only be raw material but also manpower, capital etc".

Non-Wood Raw Material Sources: If we are not able to create the robust raw material base we have to look for other sources i.e. secondary fiber. Industry is evolving to enhance the collected percentage of waste paper or pushing the government to have effective ways of collection, sorting, grading etc.

Mr. Gopalaratnam: "Out of the total production of India hardly 40% comes from wood pulp and the remaining 60% comes from agro residue and recovered fiber. If we have projected the growth of 10 million tons in another 10 years all these sectors have to grow".

Mr. Pradeep Dhobale: "The import of waste paper in India has dropped down drastically in 2009-2010 approximately a million ton. I am sure that the waste paper mills haven't cut down their production for a single day rather they have grown in this period by 10 to 12% This shows that recovery rate of waste paper in India has gone up. Every time we raise the prices for waste paper like Rs. 1000/ton, it acts as an incentive for the better recovery. We should create a balance between the prices of imported waste paper and domestic waste paper prices in order to improve the recovery rate. The paper industry and the government have to go hand in hand to make it possible. The government has to pass a legislation of source segregation & collection which will create employment, value & environment benefits".

Process Efficiencies: With the emergence of sustainability government have pushed the industries to consider the various issues related to environment and climate that encompasses energy, water and air? How is the paper industry preparing it self technologically for the litigation of carbon emissions, enhancing energy efficiencies, water conservation, biofuel etc?

Mr. N. Gopalaratnam: "For the economic reasons we are becoming competitive. We may not be reducing the consumption of energy, water and raw material. But we are driven down the line to become highly competitive, therefore these areas have become the matter of importance for us too. We have small units, run multiple lines, produce different products from varied pulp furnishes so inherently lot of wastages are there. Pulp & paper industry is driving towards the bigger capacities with more sophisticated technology and means of production. I don't say that we are doing optimum or best but we are certainly on the right track despite of our size, raw material usage and the products we produce".

ICT Threat: Paper continues to face threat from the electronic media like E-Book, Ipad etc. How paper industry is going to pitch in from these?

Mr. Shreeyash Bangur: "I personally feel that the consumer does what is most comfortable & time saving for him. We do believe that we cannot fight the electronic media. The carbon footprint of paper is much better from an electronic device and we need to stress on this point through our packaging & different forums".

Mr. Gopalaratnam: "The effect of electronic media has affected the newsprint everywhere. Many research have concluded that electronic media is not the sophisticated thing to replace paper as an item of consumption by an individual. Electronic media will supplement & complement the paper but never replace a paper. Particularly in India the rise of computers is a boon for the cut sheet A4 copier papers".

Industry makeover

Pradeep Dhobale: Yes we need a makeover both in the eyes of government a n d m o s t importantly public at large. The problem is that we are more inwardly focused. There is not much focus on the customer as compared to the other industries. To communicate to the masses we need to tell our green story rather than spending on ad campaign.

On sustainability Sunil Sood said: "We are basically in the business of fixing carbon dioxide generating oxygen through sun & land access that we have."