Paper industry is regarded as not a lucrative industry to be in. But Mr. Shreeyash Bangur joined in, got the nerve and knows exactly what he is good at. His exposure to the international conditions has helped him to understand and work diligently on the challenges like non availability of the good talent, raw material, sustainability, market demographics & the overall image makeover of the industry. During the interaction more thoughts were put in discussing the above issues. Hereby presenting the thoughts that should be looked upon by everyone.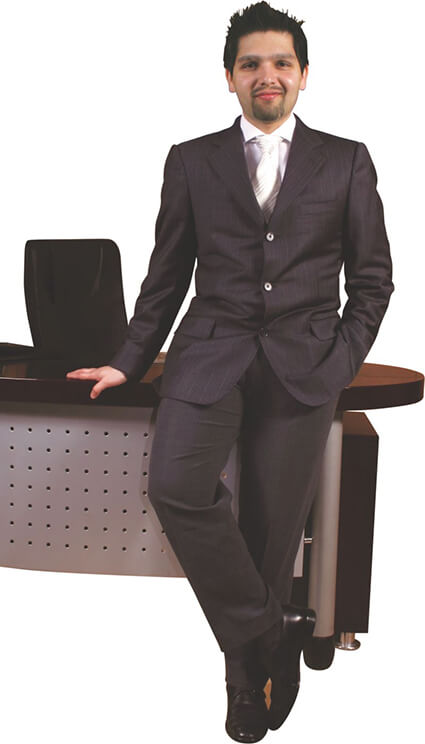 Shreeyash Bangur
Age: 30 Years

Qualification: MSc in Engineering and Business Management

Hobbies: Playing Tennis, Listening to Music and Driving

Tag line for Paper Industry: "Being environmentally conscious a technologically driven is the way forward for sustainable growth & success"

Stint at Ernst & Young: Jan 2002 to August 2003

PAPER MART : Being a graduate from UK and worked in a top MNC what prompted you to come and join the Indian paper industry?

Mr. Shreeyash Bangur : After completing my MSc from the Warwick Manufacturing Group and working for Ernst & Young, I felt that I had the right skill sets, exposure and understanding to ensure that our flagsh p company APPM gears itself to meet the challenges of tomorrow.

The paper sector is a very challenging one, both in terms of capital allocations as well as human resource management. Both these facets interested me as I had developed a strong understanding of business processes and excellent communication and people management skills. A large number of people are directly or indirectly connected to our company especially in our plantation efforts through which we are helping in bringing about a socio-economic transformation in the coastal areas of rural Andhra Pradesh. This along with the fact that paper mills in India have smaller capacities compared to the paper mills outside presented a unique set of opportunities and challenges before me.

PM : What were the biggest barriers you have encountered – the biggest pain points you experienced in getting change moving at APPM?

SB: When I started working for APPM, we had just started our Rs. 925 crore Mill Development Plan. So, one of the biggest challenges was to change the older mindset and get the execution of the project right through the usage of world class project management tools. Another significant challenge was to get the internal information systems right and that's why we took the decision to implement the MySAP ERP software throughout our operations. In order to achieve success, we had a set vision and chartered out a clear course of action to be taken to tackle the sourcing of raw materials and attracting talent who will lead the company.

PM : How would you describe the nature of the opportunity today for the Indian paper industry on the turf of Raw Material & Sustainability?

SB : I feel that sustainability in its broadest sense underpins our business. Paper making being a highly industrialized process has potential environmental impacts on our natural resources like air, water and soil and it is therefore imperative for us to understand and mitigate the environmental impact of paper across its lifecycle from raw material procurement to paper manufacture, distribution and disposal. Today, the industry has to run on a clear set of principles that facilitates continuous improvement across economic, environment and social criteria. Our stakeholders both external and internal expect us to act as good corporate citizens by finding the right balance between economic, environmental and social considerations.

On the critical issue of raw materials, I feel that all pulp producers need to go for scientific and systematic method of plantations to meet the overall paper industry requirements.

PM : You look after Marketing, HRD, and Business Development. By all accounts, your job is extremely difficult and challenging. Which has been the hardest part among these?

SB : The areas mentioned above although are quite challenging and critical for the overall success of the business and if executed properly can result in substantial gains. The greatest challenge that I faced on the marketing front was on finding new markets while simultaneously overhauling our product portfolio. On the HR front, the main challenges were to rejuvenate our team with young blood and ensure that knowledge gained by seniors percolates to all levels within the organisation.

Today, I am glad to say that we have made our company a vibrant company by infusing young blood at all levels who are willing to adapt to the ever changing technology scene and modernize the company. We have also started a mentorship program that helps them learn the tricks of the paper trade from our more experienced personnel.

On the marketing front, we have taken up a number of R&D projects. Our constant endeavour is to introduce niche products that can challenge the best in class in all aspects. Thanks to the highly motivated team, innovative ideas and a brand new product portfolio, I feel that we are well on our way of achieving our vision of taking our company to great heights and keeping it ahead of its competitors on all aspects.

PM : Belonging to the present era of young generation what you personally feel the paper industry is lacking to attract good talent on various fronts. Also suggest any steps which industry should take to overcome this?

SB: I feel that if today's youth are questioned about the Paper Industry, their opinion about it would be of a polluting and environmentally harmful industry of a bygone era. This perception in the minds of young people is mainly created because of the lack of awareness with regards to the industry in general and the importance and sustainability of paper and paper products as a whole. Most paper companies do not advertise in main stream media and if a poll would be taken, I am sure that students passing out of colleges would not even be able to identify 3 paper companies operating in India. Besides, most companies do not participate in student recruitment fairs nor do they have formal HR policies that require hiring of young talent.

The first thing that the Industry need to do as a whole in order to attract talent is to change its image in the public from being a nature destroying industry to being one that is truly sustainable. Better HR recruitment practices as well as rewarding performers and having dedicated programs to increase their skills will also go a long way in attracting young talent. As individual companies modernize themselves and become more system oriented both in terms of production processes as well as overall organisational processes, they should advertise these facts either on their websites or through other information media like their annual reports so that potential candidates can really see what they are getting into rather than have a general perception about the company which more often than not might be an inaccurate one.

PM : What Marketing Mantras Paper Industry should follow for long term competitiveness?

SB: In order to achieve long term competitiveness, paper companies in the future will need to not only be considered green and clean but should have the adequate resources to display their green credentials to their customers. Companies will need to find their niches both in terms of products as well as markets i.e. companies operating in the north will need to focus more on customers operating in the north, west and east India and similarly will have to manufacture products that sell in those zones. All companies and especially companies who have manufacturing facilities near the port will need to focus on exports because there is a huge market of paper products in Africa, Middle East and South East Asia which most Indian paper manufacturers are not currently tapping.

Indian paper manufacturers will also have to redefine their focus on Research and Development an area which has been totally ignored in the past. Importance given to R&D will not only help in the development of innovative products and solutions and attracting new customers but will also result in better realizations as well. Marketing personnel too will need to be educated on areas of customer focus as today the market is moving from a supply led to a demand led environment.

PM: In closing, what achievements are you proudest of?

SB: Due to the farsighted policy of the company and keeping in mind that the availability of raw material is critical to the growth plan of the mill, I amproud of the fact that we are the only paper manufacturer in India that plants more than two trees for every one tree we utilize. This effort not only helps the country in greening but also provides income to farmers by encouraging them to use lands which otherwise cannot be used for cultivation purposes.

Today, we are the most Carbon Positive paper manufacturer in India. As per the Green Rating Project 2009, conducted by Centre for Science and Environment (CSE), we have been able to sequester 6.5 times more carbon from the atmosphere for every ton of paper manufactured. Since 2008, APPM has increased its plantation efforts by planting 20 million more trees per year.