As a leading player in W&P, tissue and board, Century sees its market growth as a result of go-to-market strategy and strong supply-chain management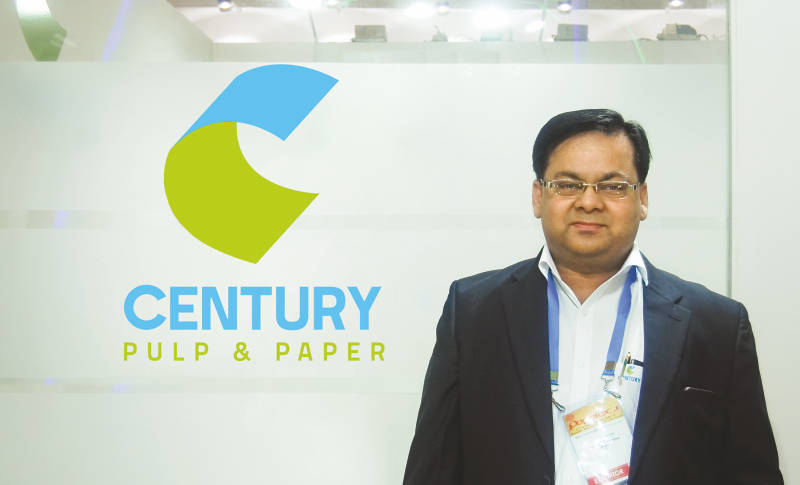 Century Pulp and Paper (CPP) is a manufacturer of excellent quality writing and printing paper, industrial grade paper and a leading manufacturer of tissue and paperboard, along with Rayon Grade Pulp (RGP). A division of Century Textiles and Industries Ltd, Century Pulp and Paper has achieved significant efficiencies in various disciplines, all within a short time.

Paper Mart had a brief chat with Dr. Alok Prakash, Chief Sales Officer, Century Pulp and Paper where he quickly responded to some of questions related to performance and future marketing strategy. Excerpts:

Paper Mart: Tell us about Century's current business performance.

Alok Prakash: Actually, if you see during the initial days of the current year, at Century , we felt a need for improvement in performance. However, in the last six-seven months, we are coming along very well in terms of board and tissue. We are now utilizing our 100 percent capacity and all products are saleable. Of course, we are growing!

PM: What's helping you in the market to the extent of making you reach 100 percent capacity utilization?

AP: Our go-to-market strategy. We are utilizing our every resource to reach out to customers and deliver our unique value proposition to achieve competitive edge. We are very close to the biggest market in North India. Moreover, to tap the West Indian market, we have opened the cutting and Quick Service Centers in those areas.

The end goal of a go-to-market strategy is to enhance the overall customer experience. And, our strategy is exactly focused at that – to serve customers well and as quickly as you can.

PM: What kind of centers in West India?

AP: Those are cutting and Quick Service Centers owned by century. These have been opened to serve the customers' requirements, especially in packaging board.

PM: How much are you producing in packaging board, tissue and W&P right now?

AP: Every month, paper is around 18500 tonnes; tissue is around 2500 tonnes; and packaging board is more than 12000 tonnes.

PM: How about sustaining this quantity and go for growth in every segment?

AP: In paper, this is somewhat the highest capacity we can do. In tissue, we have 200 tonnes which we can cover. In packaging, we are witnessing some competition after the inclusion of TNPL and Emami. But, we will continue with our target with improved service, customer relations and value augmentation.

PM: Elaborate on long-term marketing strategy.

AP: The only thing which everybody should probably do is that whenever one is planning to reach out to a market, he should do it as quickly as possible. That's our long term as well as short term strategy. See, the product is roughly the same for all quality producers; the only thing that matters is supply-chain vs supply-chain. Whosoever is efficient in supply-chain will get the lead.

PM: What kind of steps have you taken to strengthen your supply-chain?

AP: There are certain steps which we have already taken. We are operating the depots in Mumbai and Kolkata. We are going for south's market also and expanding our market. Our company is also exploring newer ways of how to convert quickly because if you observe the board market, quicker service is the game changer.

PM: Being a leading player in tissue, and of course, packaging board, give us your views on these two segments.

AP: If you see the tissue, of course, it is a growing market. However, it is also getting exhausted by recycling which is producing lower quality at cheaper rate. We are covering only niche segment within tissue. So, as of now, for us, 50 percent of capacity is utilized by domestic market, and the rest by export market.

In board, there is not much export happening as of now; but, we are growing domestically.

PM: Your board manufacturing composition?

AP: Our production comprises close to 92% in the virgin board segment and the rest is grey back.