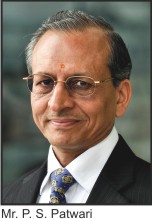 Emami Paper Mills Limited, a group company of FMCG conglomerate Emami, is in the process of installing a 132,000 TPA brand new state-of-the-art packaging board machine at Balgopalpur, Balasore, Odisha, which will be put into use in March 2015. This machine will be manufacturing all grades of coated packaging board, namely high end Grey Back, Folding Box Board (FBB), Solid Bleached Sulphate Board (SBS), Cup Stock and Liquid Packaging Board.

Paper Mart recently interviewed Mr. P. S. Patwari, Executive Director, Emami Paper Mills Limited, to have a proper understanding of the special features of the new packaging board machine, the company's target markets and the major challenges faced by the Indian pulp and paper industry.
Excerpts.
New Packaging Board Machine
Speaking about the new packaging board machine, Mr. Patwari said, "This is a brand new machine based on modern multi fourdrinier technology with four plus one forming fabrics to produce four layered board. Its initial capacity is 400 TPD or 1,32,000 tons per year, which can be ramped up to 1,75,000 tons in a period of two to three years. The speed of the machine is 500 MPM and its width is 3.7 mtr (saleable). Its grammage range is 170-450 GSM. The main equipment of the machine has been supplied by leading global vendors. This machine will have all the latest features, including 4 Hydraulic Head Boxes, a dilution control system for auto CD profile system, a "Shoe Press" to get excellent formation with high bulk, four online combi coaters and coating dryers with a 100 per cent IR Heating System. It will ensure an excellent printing surface. We have invested in a contemporary control system with new generation DCS, MCS and QCS. The final product will be passed through a strict quality assurance testing laboratory having all the latest testing equipment to offer a consis-tent product quality to our customers.

"The company is also investing a significant amount in the converting infrastructure with state-of-the-art brand new Synchrofly sheeters and a modern packing line to meet customers' needs for perfect reel and sheet quality, ensuring optimum printing and converting benefits for customers. It will be equipped to offer both conventional bundle and palletised bulk packing. The new captive power plant will provide self-sufficiency in power.

"We plan to manufacture high-quality boards like high-end Grey Back, Folding Box Board, SBS Board, Cup stock, etc., catering to a wide range of applications.

"We will fulfil the growing packaging needs of a wide cross-section of brand owners/end users and converters located across the length and breadth of India seeking contemporary products. In fact, we propose to export some quantity to a few strategic global markets."
Raw Material
Shedding light on the kind of raw material that Emami will use in the new project, Mr. Patwari said, "We will use international quality imported pulp and recycled fiber; it will be sourced from standard global suppliers. This will ensure a very contemporary product that is needed by the printers and converters in India."
Strengthening Company's Footprint on Market
Emami is the largest producer of newsprint in India and well established as a serious player in paper industry. "It will further enhance the commitment of the EMAMI group in paper industry with this new expansion in the packaging board business. This is a humble way of entering this segment and having committed future plan for further expansion in this segment, that will strengthen our footprint in the packaging board business," said Mr. Patwari.

Mr. Patwari also said that "the most important element in the success of board business is the right core team. We have been successful in creating a very committed, experienced and knowledgeable core team with a few industry stalwarts from this business."
Competitive Advantage
Speaking about the competitive advantage that the company will have, Mr. Patwari said, "The product manufactured from this machine will be of new generation consumer packaging board giving customers value proposition in terms of printing and functional properties. Through consistent product quality and excellent service, we will make ourselves the most preferred supplier to our customers."
Is Oversupply of Packaging Board Probable?
Commenting on the probability of an oversupply of packaging board on the Indian market, Mr. Patwari said, "The problem is that imports are affecting the Indian market. FTAs are signed and duty-free products are dumped on the market. I do not think that packaging board will face an oversupply situation for a sustained period. You see, packaging board has a comparatively less threat of import substitution, as most of the packaging board requirements are of special sizes and cannot accept longer lead time for supply. So import cannot fulfil the requirements. In addition, packaging board is among the fastest growing product segments (8 per cent-plus per annum) with the highest growth of 15-20% per cent in value-added Folding Box Board, SBS and Cup stock. So, this steady demand growth will not allow for the oversupply situation."
The Indian Pulp and Paper Industry Scenario
Expressing his views on the industry scenario, Mr. Patwari said, "Well, we all are aware of the recent economic downturn. There was a slump, but things are looking up now. We see good signs of recovery. The core sector is growing, and the overall market sentiments are becoming better. I do not see any stagnancy in the demand in the near future. Since there is a stable government now, I feel the situation will become definitely better and we will see an upward swing in the near future."