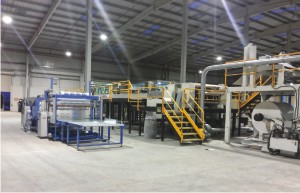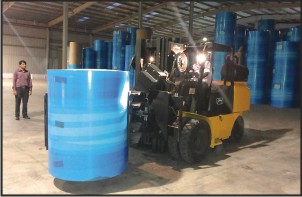 A major player in paper and paper boards, ITC-PSPD inaugurated a new 60,000 square feet Quick Service Centre (QSC) at Talegaon in August 2014.

This facility has been established as a contract partnership with Unisource Papers, promoted by Mr. Inder Aurora of Tradecom International. The new facility is equipped with a sheeter from Milltex and another sheet packing equipment. The sheeter from Milltex is capable of running at a maximum web speed of 300 metres per minute and can handle stock thickness from 200 to 450 gsm. The maximum knife load, however, is 600 gsm. The sheeter is expected to output 2,500 tons per month.

ITC also has a QSC in Silvassa, which houses two sheeters and was the only centre that catered to the western region excluding Gujarat.

Paper Mart recently interviewed Mr. S.N. Venkataraman, Vice President – Marketing, ITC – PSPD, to have a full understanding of the Talegaon facility.

Excerpts.

PM: The Talegaon facility, which is also known as Quick Service Centre (QSC), has been established as a contract partnership with Unisource Papers. What motivated you to enter into this contract?

Mr. SN Venkataraman (SNV): We have observed a shift in the entire paperboard packaging value chain. Order-delivery lead times have crashed making suppliers to evolve and augment the MTO service model. Customers are ordering in small lots and need material within a day or two. To cater to this evolving need, we created a hybrid of the MTO and MTS models, which works on a closer-to-market approach (postponement strategy).We needed a facility closer to market that will be geared up to service these orders within a day or two. With a lot of diligence, we finalised a proposal from Unisource to set up the facility in Talegaon. The Unisource team had the capability, commitment and a shared vision to set up and manage QSC.

PM: How equipped is the Talegaon facility or the new QSC?

SNV: The Talegoan QSC is fully equipped to ensure that the delivered quality conforms to our stringent norms. To meet these requirements, QSC has an imported Synchro Sheeter, Packing Machines for bundle and pallet packing, Clamp Truck and Dock Levellers for containerised material movement along with quality control systems and processes to ensure mill quality output. The unit also has dedicated power supply to ensure 24×7 operations.

PM: What is the capability/capacity of this unit?

SNV: The Talegaon QSC will be servicing around 2,500 MT per month. The unit is geared up to service all orders within 24 to 48 hours of order receipt while maintaining mill quality cutting, packing and customer support.

PM: How much have you invested in the Talegaon facility?

SNV: The unit has been established under a partnership arrangement with Unisource Papers Pvt. Ltd. We have ensured sufficient investments to ensure world class delivered quality and we are committed to making further investments as per customer needs.

PM: What corporate targets do you want to achieve through this new facility?

SNV: More than corporate targets we want to ensure world-class service for our customers. With Talegoan and other QSCs at Silvassa, Ahmedabad and Hyderabad, we now have the capability to ensure superior adherence to delivery timelines for customers in Western and Central regions.

PM: What key products will be processed from this QSC? Tell us about the clientele as well.

SNV: QSC will be for packaging grade boards with a specific focus on virgin boards. We will improve order delivery timelines of our FBB and SBS brands, CyberXL Pac, Carte Lumina and Safire Graphik. Through QSC's we always target those who have shorter lead team requirements but are also strong partners for us in terms of demand planning. A large portion of our pharmaceutical industry converters come under this group.

PM: What benefits will your customers get from this new unit?

SNV: We believe that our customers in the western region will gain a lot from this new unit situated closer to market. Let's take a look at the benefits:
This unit will be available on a 24×7 basis to service customer orders within 48 hours.
Output will be as per stringent quality standards that customers expect from ITC PSPD.
We will stock a complete assortment of our packaging grade boards aggregating to about 2500 MT at the unit to ensure availability.
We have a dedicated transport fleet to ensure seamless flow of base material from our manufacturing units at Bhadrachalam and Kovai.
There would be a specific focus on the pharmaceuticals industry for which we have equipped the facility with the best compliance systems to meet regulatory market needs.
The facility boasts of very high hygiene standards.
A professional team with long paper industry experience at the unit for customer service.
With this facility, we are now closer to our end users with a commitment to learn and adapt as per customer needs.