GapCon GmbH, a subsidiary of Irle Deuz based in Siegen, inaugurated its first service workshop unit at Kalyani, West Bengal. The plant is the result of vision and toil of GapCon Engineering Pvt. Ltd., an Indo-German joint venture between GapCon, Germany and Mr. Ranajoy Chowdhury, India. The plant is being seen as a major milestone by the Indian paper industry which is expecting a substantial reduction in servicing and rebuild cost of mill machineries. The country's industrialists are upbeat as this will significantly cut down expenses of bringing in foreign experts for technical advice and assembling and repair. Many representatives from major Indian paper mills were seen at the inauguration ceremony and expressed their relief at the start of the service workshop.
History in Making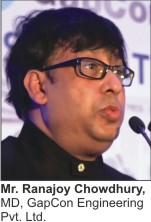 Welcoming the guests on the occasion, Mr. Ranajoy Chowdhury, MD, GapCon Engineering Pvt. Ltd., said, "For me, this has been fantastic few years with the group (GapCon). 60-70 representatives of paper mills from all over India are present here to grace the inauguration of this workshop. This is history in making. I don't say this is history in making because of German investment. I say this is history in making because all of the people who matter in paper business are here to bless us.
"I would say by and large, the industry needed a trigger to improve the investments and I am glad that we agreed to put up this beautiful plant here at Kalyani. I am sure we will be able to live up to the expectations of the industry.
Mr. Chowdhury said, "The Indian paper industry has been dependent on various European original equipment manufacturers (OEM) for technical sustenance since the last 60 years. The industry has been devoid of any indigenous or foreign-organized OEM and infrastructure, which could be in a position not only to complement and provide services but also the requisite incentive for cost-effective investment options."
Destination India: A Win-Win Situation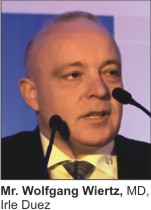 The ceremony was kicked-off with lamp lighting and cake cutting as per the Indian and the German traditions respectively. Mr. Wolfgang Wiertz, MD, Irle Duez, expressing his token of appreciation said, "I know this is not always easy to make time for events such as this. So, I would like to extend my appreciation to all of you being here at this momentous occasion of inauguration of newly established service centre at Kalyani.
Mr. Wiertz reminisced his initial days in India trying to get foothold for Irle Duez in this growing economy. The association with Mr. Ranajoy Chowdhury and his father dates back to those early visits where he claims to have learnt the nuances of Indian paper industry from them. He said, "We learned a lot from each other and together we were successful in securing a number of orders for our calendar business. Acting for the Irle's subsidiary Siwaco, we pitched for business around, and we literally secured an order from a well-known Indian corporation ITC which desired to convert an existing classic calender into a high-temperature calender. We succeeded and the calender produced the smoothest paper in the industry. After this, other successes followed."
Mr. Wiertz underlined the significance of quality and customer focus while designing the product. He said, "As the industry grows, there are opportunities for everyone who could provide products comparable to those established ones while maintaining the flexible customer focused approach. It was against this backdrop that my friend and I took decision in 2006 to establish GapCon. Since then, the business has registered consistent growth to the point today when Gapcon is a known brand in the paper industry. More so in India.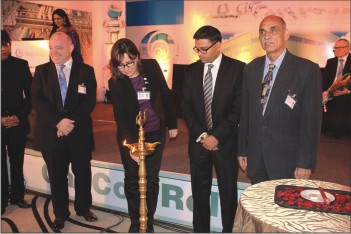 "Industry in India is well established. But, we felt that there is an opportunity existed in the market to introduce a level of expertise and consistency of the services that would see the Indian paper industry withstand the comparison to any benchmark internationally. This is how GapCon Engineering came to be launched in 2009 as a joint venture between Mr. Ranajoy Chowdhury and GapCon, Germany. This was the first GapCon facility established outside Germany."
On the rationale behind choosing India as investment destination for GapCon when others in the world are flocking towards China as their preferred investment hub, Mr. Wiertz said, "We didn't get where we are today following the crowd. We have gone different from the first minute. At this point of time, none of our competitors have made the commitment we have to India. Regarding financial stability and intellectual assets, the Chinese market becomes much less attractive for a company like us, especially when we look into long term future. In those regards, India is a secure market for a small entity like GapCon. This is why we chose to do business in India."
"This is primarily a service center with the capacity to make capital equipment. A clinching factor for selection of the spot at Kalyani was its proximity to a port. There are no reliable service centers in India so for assistance one needed to import expert help. Here, experts would be created by intensive training," said Mr. Wiertz. India was a natural choice as there is continuous growth in the paper industry while American and European paper industries are facing tough times, he added.
Mr. Wiertz emphasized on Kalyani as the best possible choice for the plant citing many reasons for it. He added, "For choosing the best location for our new venture, a lot of factors were taken into consideration viz. proximity to customers, logistical issues, and governance. All had to be considered and the best balance was tried to be achieved. Kalyani might not be very close to main paper industrial areas, yet it gives the best balance. Moreover, proximity to Mr. Chowdhury home town facilitates effective management. The presence of technical colleges nearby will enable the recruitment of efficient workforce."
Mr. Wiertz was all praises to the Government and local authorities for giving fast nod and desired clearances for the project. "WBIIDC offered great help in terms of facility and approach facilitating a speedy, hassle-free land acquisition. We got the approval for land acquisition in just 6 weeks which was a big surprise for us," said Mr. Wiertz.
The plant is being seen as great technological facilitators for the Indian paper industry. Speedy and timely servicing and equipment overhaul is sure to augment the productivity of the mills cutting the involved cost at the same time. Mr. Wiertz said, "We want a win-win situation. The Indian paper mills must improve or be squeezed out from competition from China and other countries. Slow machines beset by bottlenecks and inefficiencies will not survive in the developing marketplace. This fact has to be understood before it's too late. This is where GapCon comes in. GapCon today has solutions such as complete machines, sectional rebuilds, complete paper machines, relocation of projects, etc.
"We are a company build on a foundation of quality and excellence tailored to all customers' needs. If paper mills work with us, they will win by having sustainable, profitable business able to compete in global marketplace. They will win by having access to latest innovation and the very best of German engineering. We will win by having a sustainable market presence here in India."
Cutting Cost via Technology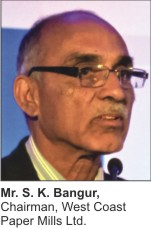 Mr. S. K. Bangur, Chairman, West Coast Paper Mills Ltd., said: "This is a momentous occasion for the Indian paper industry. The cost of production has currently shot up. For the industry to survive, we need local providers. Even for technical support we have to bring in foreign experts and that costs a lot. With trained experts available in India, we will get much-needed cost advantage." He added: "In India, there are 700-800 paper units but most of them are primitive. Now with local resources, they would get a breath of life."
Mr. Bangur also cited many factors accentuating the need of technological upgradation of paper mills in India. He said, "Environmental concerns are just one factor. The competition arising out of FTAs signed by ASEAN nations makes it imperative for us to look into technology matter seriously. Moreover, the expected demand contraction in the paper and pulp sector because of the emergence of electronic media also forces us to think in long terms. Besides, cost of the production has always been the most vital factor for the profitability of the mills. Taken together all this, efficient operation of the mills has to be ensured. GapCon has entered at right time in India and their presence will help the industry a lot."
Skilled Manpower: The Need of Hour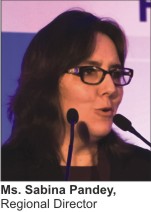 Ms. Sabina Pandey, Regional Director, said, "As Indo-German Chamber of Commerce for the Eastern Region, we welcome this good news for the investment with West Bengal as destination."
Ms. Sabina Pandey during her speech expounded on the German investment scenario in India and the aspect of vocational training. She, at length, compared the vocational training systems in Germany and India saying that there is need to revamp the vocational skill training in India learning from the German experiences. According to her, Germany's dual system of vocational training has been quite successful in bringing about high level of quality training to younger generations of the country. Almost 60 percent of school leaving generation enrolls for training under dual system which is reason why Germany has the lowest level of unemployment in the world. She said that Government and the businesses must tie up in this training exercise of workers, financially or otherwise.
She said, "It is pursuit of high standards of quality which earn German products and machineries a top reputation in the world. GapCon understands this aspect right and has sent their employees to Germany for having hands-on training. In India, a lot has to be done with regards to skill development. I think GapCon has seen the importance of skill training and is looking forward to providing good training to their workforce.
"As mentioned, GapCon, India is making a new beginning today with a new plant at Kalyani. We, at Indo-German Chamber of Commerce, are proud to be part of this event today and wish them great success."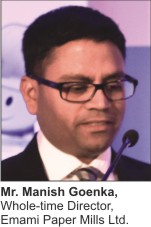 Mr. Manish Goenka, Whole-time Director, Emami Paper Mills Ltd., exclaimed: "History has been made." He said, "It's a great honor for India, especially for West Bengal which is desperately looking for investments. GapCon has made the right decision to invest in India and India, I am sure, will not disappoint GapCon."
.
.
.
.
.
.
.
Good Days Ahead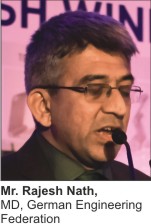 Mr. Rajesh Nath, MD, German Engineering Federation, c2015-03-27ongratulated GapCon for this initiative. He said that 2015 is going to be crucial for the paper industry. The last two years have been difficult where the GDP and industrial growth went down below 5 percent. However, signs are all positive and having a belief in the Indian market is what is required now, he said.
Mr. Nath summarized the paper industry's situation. "The Indian paper industry accounts for about 2.6% of the world's production. It is expected to see 7 percent growth during the next year according to experts. From the current turnover of about Rs 35000 crore, it is likely to touch Rs 60000 crore by 2025. As per industry estimates, paper consumption in India has now touched 13.10 million tonnes but per capita consumption stands at only 9.3 kg vis-a-vis China's 42 kg," he said, pointing at the growth opportunities.
Several industrialists including Anil Kumar, executive director of the Punjab-based Shreyans Industries Ltd, and Pawan Agarwal, the joint MD of Uttarakhand-based Naini Group of Industries, were upbeat with the development. "The paper industry in India is fragmented. We have tried the Chinese model but all of us burnt our hands. Now with European expertise and local production the industry will get a cost-effective boost," Kumar pointed out. "We are getting European quality at competitive rates. This is also a smart move on the Germans' part to choose India for its expansion. It is after all the world's fastest growing paper market."