Established in 1999, Gayatrishakti Paper & Boards Limited recently recorded a turnover of Rs 400 crore. In the last fifteen years, the company has increased its production by three times. It currently manufactures, high-quality coated paper board comprising Coated Packaging Board (grey back), Silkia (white back), Blister Pack Board (grey back), Blister Pack Board (white back) and playing card board. The company recently embarked on a major expansion, setting up a unit at Sarigam and acquiring a paper machine from Stora Enso, Poland, to produce kraftliner and testliner at the new unit.
The Paper Mart team (PM) recently interviewed Mr. Gajendra N. Agarwal, Managing Director, Gayatrishakti Paper & Boards Limited (GPBL), to have a proper understanding of the phenomenal growth of the company in the last fifteen years and its expansion plans. During the interview, PM also had the good fortune of interacting with Mr. Nikhar G. Agarwal, Director, GPBL; Mr. A.K. Bansal, Group President, GPBL; and Mr. Tonny D. Pereira, Sales Director, GPBL.
Here are some excerpts from this lively interaction.
.
PM: Tell us about your company's journey.

Gajendra N. Agarwal (GNA): The company was started in 1999. Initially, we put up a Kraft Paper plant and our capacity was 100 tons per day. Then the plant was gradually expanded: we bought a lot of balancing equipment. Then we got into Duplex Board making. Our current capacity is 300 tons per day. So we have increased the production by three times in the last 15 years. The turnover of the company is Rs 300 crore. We have one subsidiary unit – Kherani Paper Mills. It makes basic grades of Duplex Board; but Gayatrishakti makes better grades of Duplex Board. Kherani's capacity is 100 tons per day, so our total turnover is Rs 400 crores.

PM: Tell us about your expansion plans and the technical capabilities the machine will have?

GNA: We are putting up a machine at Sarigam near Vapi. We got this machine from Stora Enso, Poland, and it will be installed by the end of May. And commercial production will begin by January 2015. The building where it will be installed is almost 30 to 35 per cent ready. We will be making products such as testliner paper and white kraftliner. We have a big export market for kraftliner with white top. So, we will be exporting 25 to 30 per cent of white kraftliner to Dubai, Suadi Arabia and other places. We did a survey in Gulf countries and found that this market is very good; it has a lot of potential. We can popularise this product in India, as it is not available on the Indian paper market, especially the tiles packaging market. There is only one company in India that makes this product, but its volume of production of this product is not big; also the quality is not up to the mark. So we think we can capture this market – or rather create a new market for this product – in times to come. We aim to produce 2,000 tons of white liner every month. From this machine we will be producing around 9,000 tons of our products – 2,000 tons of white liner and 7,000 tons of testliner – per month. We intend to substitute the imports that paper dealers in the country go for. We plan to enter this market as well.

To reach these targets, we have procured a lot of balancing equipment. We have purchased a brand new pulp mill from Voith. We have scrapped the mill that was available before we bought the new pulp mill. This mill will have a positive impact on quality and consistency.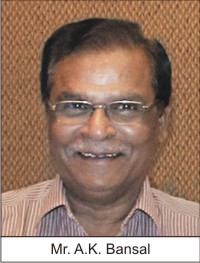 A.K. Bansal: The machine that we have bought is a Valmet machine. It is not a very old machine; it was bought in 1993. It is in a very good condition. And we are upgrading it from two wires to three wires. The addition of one more wire will give better strength properties to the final paper. This machine has a very good headbox, wire part and press section. It was producing 250 tons per day. Now the pulp mill will also add to our overall manufacturing efficiency and capacity. In all likelihood we will go for 500 tons per day. Also, we are now planning up to 350 gsm on the higher side; on the lower side, it will be either 140 or 120 gsm. And we will make paper up to 45 BF. The RCT and SCT value will depend on gsm and quality. The deckle of the machine is 4.5 m, and its current speed is 350 m; after one or two years, we will upgrade it to 500 m. We have already defined the margin and scope for future expansion. We will be producing 7,500 to 8,000 tons per month through this machine. Later on, we can go up to 9,000 to 10,000 tons per month. Our raw material will mainly consist of imported waste paper.

GNA: The total investment that will be made in this project will be around Rs 170 crore, including the land and the building. We have set aside Rs 25 crore for turbine and boiler; Rs 25 crore for the construction of the building; Rs 25 crore for the machine; and Rs 20 crore for pulp mill and electricals. We will think of further upgrading our manufacturing unit after one year. We are also planning to go for one more press, and if we require some coating on the white top, we will go for additional coating dryers; we will also go for some soft calendars – all that in the next phase of corporate development.

PM: What kind of value will this machine add to the packaging industry in India?

GNA: So many new commodities are coming to India. For high-end products most of the people depend on imported kraft or testliner – whether it is white liner or kraftliner. But when we start producing it here, they will have a wide range of choices as far as gsm and high-end products are concerned. It will be locally available. So, they will not have to keep a huge stock of it in their godowns. The packaging industry in India is growing by leaps and bounds. We will be able to meet, to a great extent, the growing demand of the packaging industry for the kind of products we manufacture. We are already exporting a considerable quantity of our Duplex Board. Even our customers abroad want us to supply them with white liners and testliners.

PM: In the last decade, packaging industry has seen a lot of highly automated and high-speed machines coming to India, while the suppliers – paper mills – have not been very much ready for them because of the challenges they face, such as core, rewinding, quality of paper, etc. What is your comment on this scenario?

AKB: We didn't purchase any local machine or any Chinese machine or any substandard machine. We went for a good European brand machine, a machine that gives good runnability to end product consumers – such as converters. We are getting very good pulp, no gsm variations, no profile variations, good runnability, better corrugation manufacturing… . For instance, we have a very good headbox here. We have a caliper control system, a profile control system and a gsm control system. And our plant will soon be a totally automatic plant… . So all this will help us in supplying the industry with indigenously produced high-quality products to serve the latest corrugation and packaging lines.

Further, in the finishing section, we have a very good rewinder with this machine. It is a Jagenberg rewinder. The reel quality is very good. It is stretched back and packed in weather-proof packing, and only then it is dispatched to the customer. And we can supply the reel diameter that the customer wants. Core pipe is also not a problem here – we can supply cores ranging from 76 mm to 300 mm.

PM: Where does your company's core strength lie?

GNA: It lies in our teamwork. Some of our employees have been with us for the last twenty to twenty-five years. It is a highly responsible and professional team. It is this team that has enabled us to grow so rapidly.

PM: What is your company's vision?

GNA: We believe in quality and consistency. If you maintain quality, your brand name will always be there. For instance, we have created a market in Duplex Board. Consistent quality is the key to success. The service you provide to your customers with is also very important.

In Dubai, people used to book and wait for 45 days for delivery. But our material touches the Dubai port in just ten days. People there just don't believe their eyes when they see that happening!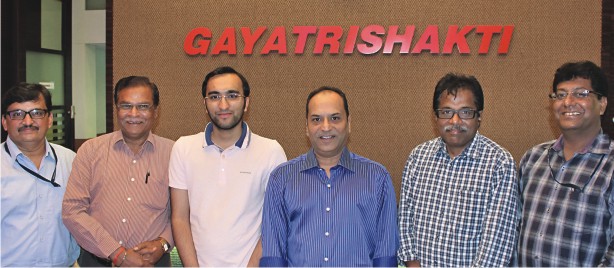 PM: What are your views on the Indian paper and paper board industry?

GNA: I think quality standards have gone up over the years. The main factor behind quality improvement is the printer. Earlier printers used to print using their old printing machines – machines that lacked good speed and printability. Also, the converting cost was very high. Nowadays, most of the printers use state-of-the-art printing machines that run at a high speed. And because the speed is high, high-quality paper is required. If your paper is not perfect, it will not run at such a high speed. So, printers forced paper industry – especially the Duplex Board and packaging industry – to produce products that could run in their high-speed machines. So that encouraged all the paper and Duplex Board manufacturers to improve upon the quality of their products. This is how the paper industry in India became quality-conscious.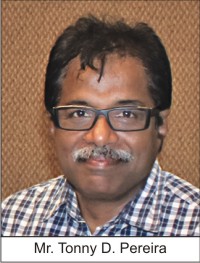 PM: How is the packaging market currently behaving?

Tonny D. Pereira: The Indian packaging industry is growing at an annual rate of 20 per cent. Now that FDI in retail market is entering the Indian market, packaging will definitely go up –especially of vegetables and fruit. There are certain types of fruit in India that are number one in the world; for example mango and chikoo (Sapodilla). So all the retail people – like Walmart – procure high-quality fruit from India and export them to different countries. As a result, packaging has been going up. Similarly tobacco industry – all the paper used by this industry is imported. It is a very big market – there is 100 per cent reliance on import. So, new segments will open for this kind of paper. Our company can play a major role in this area as well.