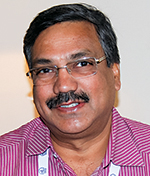 ITC-Paperboards and Specialty Papers Division (ITC-PSPD) has emerged as the largest manufacturer of packaging and graphic boards in South Asia. Its well-equipped manufacturing plants and excellent work culture have been the main factors behind its corporate success.
The Paper Mart team recently met Mr. Rakesh Gupta, General Manager-Projects, ITC Limited, on the sidelines of the Indian Pulp and Paper Technical Association (IPPTA) conference held at Delhi in March 2014 to gain an understanding of the projects ITC-PSPD has successfully carried out and the mega projects it intends to launch in the near future. Here are some edited excerpts from this inspiring interaction.
Work Culture @ ITC-PSPD

"ITC stated making paper board as backward integration… . When I joined ITC in August 1980, we had only one machine. It was located in the rural area of Bhadrachalam. But the excellent work culture that the company has been able to foster over the years more than compensates for the location disadvantages. The company's open managerial approach and open work culture give workers an equal opportunity to share their views and ideas with other workers. There is no bossism here. I have been working at ITC for the last thirty-four years but, thanks to its open work culture, I still feel so fresh – as if I had just joined the company. The freedom and work culture that ITC gives its workers are hard to find elsewhere. Perhaps that's the reason why many of those who left the company to join bigger companies want to come back to ITC. Our company gives it workers a lot of space for sharing their knowledge with one another," said Mr. Gupta.

Further he added, "ITC's excellent work culture has contributed a lot towards its corporate success. During its early days, it produced 45,000 tons of paper products per annum; it currently produces half a million tons. And we now have seven machines. During its early days, our power requirement was just 6 MW; it has currently risen to 89 MW. After Bhadrachalam Paper Limited merged with ITC and came to be known as ITC-PSPD, we became stronger. ITC enabled us to get the financial muscle."

Future Plans

Speaking about the projects that ITC-PSPD intends to carry out, Mr. Gupta said, "We currently have 350 acres of land and seven machines at Unit Bhadrachalam. The land, however, has reached the saturation point: So, we are trying to get a piece of land sanctioned by the government. We will get the clearance soon; it's just a matter of time. We are looking at half a million ton capacity with two machines, each having a capacity of 250,000 tons. One of these machines will be used for making writing/printing paper. This machine will have an online or offline coating option. The other one will be used for making multi-ply paperboard. All this will be associated with a pulp mill with production capacity of 350,000 tons, a BCTMP plant with production capacity of 150,000 tons and a power plant. The total investment will be around Rs 6,000 crore, and we should be able to complete it with in 5 years. Of course, we will go for technology that is cost and energy efficient – something that helps us in bringing down the consumption level of water, steam and power.

New Machine vs. Second-hand Machine

ITC has an enviable record of turning second-hand machines into efficient machines, especially in the packaging board segment. Speaking about the debate about whether a company should go for second-hand machines, Mr. Gupta said, "As a technocrat I would certainly like to have new machines. I would go for new machines also because second-hand machines can create bottlenecks in the manufacturing process. But when you buy a second-hand machine and use it after rebuilding it, you save on capital. Yes, we'd like to go for new machines, but we cannot ignore the possibility of saving money… . We are considering the pros and cons of using second-hand machines. Our decision of whether to get second-hand machine or go for new ones will be based primarily on value. If the possibility of getting value from a second-hand machine is greater than the possibility of getting value from a new machine, we'll go for a second-hand machine.

Board Machine (BM 7) at ITC-PSPD

Speaking about the board machine at ITC-PSPD, Mr. Gupta said, "We got machine No. 7 from Barcelona, Spain. So our first challenge was to rebuild machine No. 7. There is a good company in Coimbatore called Servall Engineering. It has an excellent workshop – perhaps the best in India. We contacted this company and soon shifted our machine in Coimbatore to this workshop.

"We have introduced a lot of the latest technology to our company. For example, we introduced turbo air, one of the high energy-efficient systems designed for the industry. We also introduced the closed hood system to ITC-PSPD for the first time. In addition, we introduced shoe press in board machine for the first time at ITC-PSPD. Besides, we went for stainless steel (SS) tanks. These tanks are more hygienic and do not entail high maintenance costs. ITC attaches a lot of importance to hygiene as it supplies packaging material to the food product industry. However, the cost of SS tanks is two-and-a-half times higher than that of the normal ones. The new equipment and upgradation of the BM 7 enabled us to raise the machine capacity from 60,000 tons to 100,000 tons. The plant got commissioned, and we are currently making the best board. We announced the commercial production in March 2013. We now have one of the biggest finishing houses in the industry."

Corporate Social Responsibility

Speaking about his company's social responsibility, Mr. Gupta said, "We plant more trees than we consume. Let me tell you, our contribution to environment protection is greater than that of many other companies. Surely, all paper manufacturers must try to contribute as much as they can towards tree plantation, as nothing is more important than protecting the environment. ITC has been planting trees for the last 25 years. Interestingly, many paper manufacturers come and take quite a bit of what we give to the environment."