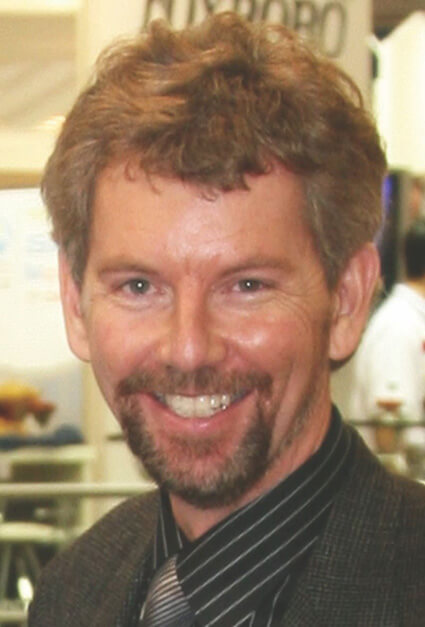 Paper breaks and various defects are an efficiency robbing reality on all types of paper machines, coaters and downstream converting operations. Eliminating breaks and paper defects has become more and more important with the increasing speed and operating complexities of today's paper, board & tissue machines. The paper maker usually observes the breaks at the wet press, size or filmpress, coaters, calenders, etc. But that is only the manifestation of the problem. The most common problems occur in the forming and press section and in many cases are originating from poor trimming on the wire. So it is critical to look at the origin of the problem and eliminate that. Breaks are typically classified as coming from either known or unknown sources. Breaks coming from known sources can usually be eliminated, but it is for the unknown breaks that a highly specialized system is needed.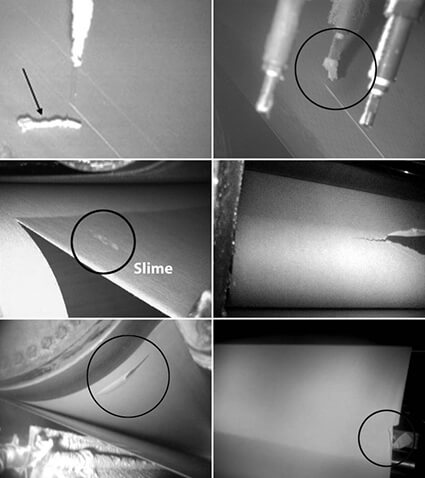 .
.
.
Papertech's TotalVision™ now offers papermakers a single high speed camera based platform allowing all types of defects (holes, slime, oil, etc.) at the reel to be seamlessly analyzed to their root cause right to the wet-end. This eliminates operator guesswork and rapidly allows breaks and defects to be eliminated. The system is based on fully digital high speed & resolution cameras from the winder to the wet-end that are combined into a single web inspection and web monitoring platform, with a single user interface, able to automatically pinpoint and analyze all types of process disturbances. It uses the latest GigE-Vision® based digital cameras, GigE digital video transmission and intuitive digital image processing software, to see at high machine speeds the event and find its origin. The cameras continuously monitor, in real-time, all of the critical locations from the wet end to the dry-end of the paper machine resulting in total 100% sheet analysis.
.
Web Monitoring System (WMS) Past & Present

In the beginning of the nineties, major advancements were made in CCD (charge coupled device) camera technology, which resulted in faster shutter speeds, improved image quality and higher resolution "Super" VHS format analog VCR's. But the real evolution has taken place in the last 3 years with the advancements in digital image technology that allows higher resolution and higher speed images to be generated than the old television broadcast standard. Analog broadcasting is now rapidly disappearing and is replaced by digital TV or DTV or HDTV. Over the last five years various digital formats have been evolving. The three primary ones for industrial applications are: FireWire, CameraLink, and GigE-Vision.

WMS: Must have Features

Today's WMS systems are able to provide a paper machine, or converting line, a host of powerful features that will allow the root cause of the efficiency robbing issue to be solved. When considering a camera system today the following should be the "must have" list of capabilities:

• Digital Cameras: high sensitivity, uncompressed high resolution, high image speed, noise free, and ability to "plug and play" accept different cameras including colour.

• No weak links: cameras that stays clean even in the dirtiest locations, effective and efficient lighting, robust mounting, cabling that minimizes noise, industrial class computers and reliable software.

• Operator friendly: intuitive, complete and easy to operate software allowing operators to rapidly find the root cause of the break or defect problem.

• Instant download: all event data can be immediately analyzed before re-threading, and breaks can be stored seconds apart without any loss of video information.

• Long video history: sheet wet-end to dry-end transport time plus 2 minutes typical with the ability to extend to several hours for solving defect related problems.

• Non proprietary: all system components including computers should be off-the-shelf, mill maintainable, allowing for easy upgrading and low cost ongoing maintenance.

• Full web inspection integration: using the same WMS cameras the system has to have the capability also performing detailed web inspection (WIS) defect detection complete with reel map display and classification of defects into various papermaking categories. This reel to wet-end total vision integration provides a powerful platform to allow rapid dry-end defect to its root cause detection right to the wet-end complete with defect image transfer capabilities and accurate same piece of paper synchronization.

• Millwide information system (MIS) intergarion: provides event summary statistics, highlights problem areas, automatic tracking of downtime, etc. and is typically today performed most effectively using OPC data linking.

Camera applications for web monitoring

Cameras and light housing technology is available today that can stay clean for extended periods and can withstand the highest temperatures, and have a small enough size and mounting flexibility, to fit into nearly any position on a paper machine, pulp machine, coater, supercalender, winder, and a multitude of tissue converting lines. In addition to this many important innovations have been made to ensure cameras can survive and provide good image quality without operator involvement for example EverClean.


The trim squirt application is very useful in ensuring that trim nozzle build-up, wear and plugging is not effecting the operation and causing breaks. In many cases poor trimming can account for as much as half of all the breaks, and eliminating this problem becomes very important. Fortunately the latest trimming systems, such as SuperTrim, are now able to eliminate trim related problems. In the press section the most common locations are the pick-up, center roll and last press. All open draws should be monitored. Viewing the sheet in the first dryer section is also important and particularly useful with unfelted uno-runs as this allows full cross direction viewing of the sheet. Coaters and size presses are always camera equipped due to their typically high break frequency. Calenders and the reel, for turn-ups, can also be problem areas. Winders can be equipped as well as other off-machine operations, the most important one being off-machine coaters. Further WMS helps in adopting preventive measures prior to a break occurring. This can be achieved today with automatic triggering of cameras as soon as they see a change in the sheet from a normal condition. Essentially all WMS cameras today perform in the same way as web inspection cameras, and can be set-up to trigger on all types changes in the sheet and surrounding conditions. Such break preventive examples are problems occurring on trim squirts, felts, sheet flutter, sheet tension, vibration and various condensation and operator error.

Web monitoring integrated with web inspection, WMS + WIS (Web Inspection System)

A further noteworthy WMS development is the opportunity to fully integrate web inspection (WIS) with it. For many years many WMS systems were set-up to receive a trigger signal from the WIS allowing same piece of paper synchronization of the hole or defect right to the wet-end cameras. Now these two systems are fully integrated allowing two-way communication between the two systems into what can be called a total vision solution. Now when a certain size hole, edge crack, surface defect is detected by the WIS, this image, with its exact time stamp, is sent to the WMS allowing operators to see the defect on the WMS screen together with all of the same piece of paper images all the way up to the wet-end. Similarly the WMS can send to the WIS images from certain defects further helping operators get to the root cause of quality disturbances. Many of the combined systems have allowed papermakers to, as never before, solve the root cause of the defects (hole, edge crack, dirt, slime, etc.), making the marriage of these systems a must have. The following provides examples of WMS (+ WIS) results based on the grade produced.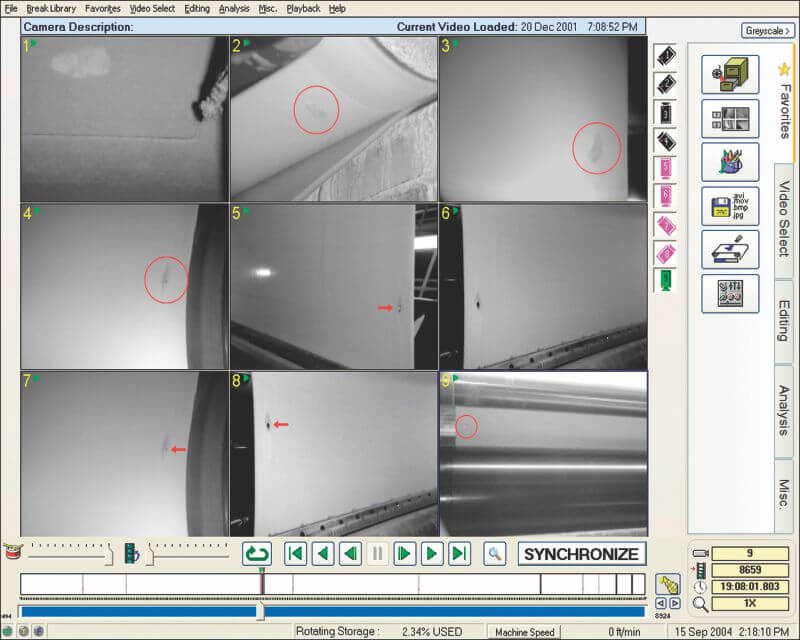 • Newsprint and fine papers: Fast running newsprint and fine paper machines generally experience breaks in the wet-end, as well as at size press, coater and other complex location. Generally 10 to 20 cameras are required to see all critical locations.

• Pulp: Pulp machines operating at slow speeds generally have significantly fewer breaks then paper machines. In general the higher the percentage of shorter hardwood fiber pulp, the more breaks. Typically pulp machines experience 4 to 8 breaks per month. However, when breaks occur it can take from an hour to several hours until production can continue due the time it takes to clean the floatation dryer, etc. As a result each pulp break is very costly particularly if maximizing production is important and the machine is running at full drying capacity.

• Board: Board machines range from fast running linerboard and corrugating medium ones with fairly uncomplicated sheet runs, to ones producing heavy coated board operating at slow speed with a complicated and long paper run. The number of cameras can therefore range from 12 to over 30 to satisfy all of the possible event locations.

• Tissue: Tissue is one of the more recent applications for WMS cameras, together with WIS, in not only the tissue machine but more importantly in the complex converting lines. Tissue machines can have many breaks (over 20/day), but most of them last no more than 5 minutes. These breaks can be identified with 4 to 6 cameras making the investment affordable and rapid payback.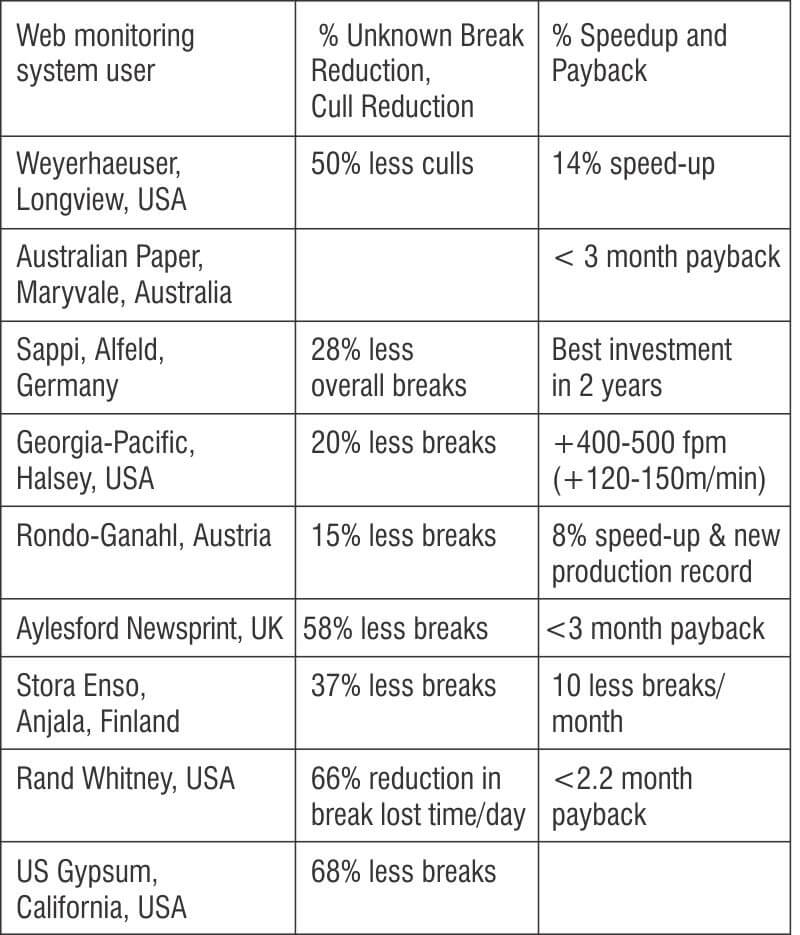 Results

These systems have now been proven on all types of paper machines, coaters, tissue machines and various converting operations. The TotalVision™ single platform provides a truly powerful, and easy to use, troubleshooting and papermaking optimization tool that has been shown to yield a less than six month payback. The use of this technology will continue to grow allowing papermakers to further improve their machine efficiency, production and product quality.