IPPTA's zonal seminar gave some highly optimistic yet provisional figures about the Indian paper industry, pegging the total paper production in the country at 24 million tonnes annually and the total production share of wastepaper based mills at 70 percent! With the largest production share, the wastepaper based mills also share a big onus to improve quality, become competitive, and conserve environment.
IPPTA conducted its zonal seminar and workshop on August 17-18, 2018 at Muzaffarnagar, UP with 'Developing Efficient and Environment Friendly Operation at Waste Paper & Agro-based units' as central theme. The seminar's thrust on export and value addition is quite timely when the industry is driving maximum efforts in increasing its export volume with consistent quality upgrade. With inaugural session setting the tone of the seminar, panel discussions and technical sessions covered many salient topics in depth. The panel discussion revolved around the opportunities and challenges for the paper industry owing to the ban of plastic in certain states. Three technical sessions took up various specialized and technical subjects in order to find answers for sustainable and optimized operations in various areas of a paper unit, covering economic sustainability, statistical approaches, and better environment.
Correct Production Figures, a Problem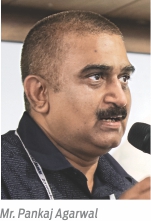 While delivering his welcome address, Mr. Pankaj Agarwal, MD, Bindals Duplex Ltd tried to highlight the inadequacy of data related to current status of the Indian paper industry, especially the total production figures.
As per his personal makeshift calculation, he quoted quite an optimistic figure for India's total paper production, i.e. 24 million tonnes per annum, which is way above the official data doing rounds for quite some time.
Providing ground for his calculation, Mr. Agarwal convincingly said, "There is no relevant data available in India which shows the accurate paper production figures. I however have tried to conclude some figures after a lot of research. Muzaffarnagar produces around 1.5 million TPA of paper. Looking at the expansions, this figure might become 2 million TPA within 4 years. The total paper production in Uttar Pradesh is no less than 3.6 million TPA. This figure reaches over 5.5 million TPA if we include Uttarakhand's production as well. Considering the entire North India, the paper production approximates 10 million TPA. Regions like Vapi and Morbi respectively produces 1 million TPA, slated to increase further amid vigorous expansion efforts in the region. My calculation reaches around 24 TPA for the total paper production in India if I keep including other regions in likewise manner."
"The promotion of the agro-based industry alone can change the face of the Indian paper industry. The farming community might see a three-fold increase in their remuneration if we can find optimum use of the agro-waste."
There are around 30 paper mills in Muzaffarnagar making grades like kraft paper, duplex board, writing-printing paper, newsprint, and tissue. Mr. Agarwal said, "People often ask me why there are so many mills in Muzaffarnagar. One of the reasons is that the mill owners in Muzaffarnagar maintain a transparency with each other. They come forward, discuss problems, and resolve issues for one another. The water quality and availability may be other reasons. Mill owners in the region have together done investments to the tune of INR 100 Cr in their respective plants for the adoption of better technologies."
Technology, Quality, and Competitiveness: Critical for Export Capability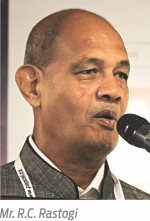 Delivering his keynote address, Mr. R.C. Rastogi, Chairman & Managing Director, Khatema Fibres Ltd stressed the need for the Indian paper industry to realize its export potential. Citing the example of recent flurry of export to China, he said, "Due to the ban on the wastepaper imports by China, acute shortage of the fiber has surfaced in the country.
What we are seeing today is an opportunity for India. Our country is now exporting its paper to China, something which we have never thought of before. We just need to realize our export potential and explore more.
Mr. Rastogi referred to the healthy balance sheets of the paper industry worldwide including India and exhorted his manufacturer colleagues not to become complacent by looking at profits they are making today. "The industry is in buoyant phase and everyone seems to be making profit at this point. We must however concentrate more on our technological improvements in this phase in spite of being just happy about it. We must figure out ways to export paper to the neighboring countries. All the people engaged in the pulp and paper industry must take this opportunity to improve the profitability and gain the technological edge to remain competitive in the world market," he said.
"The industry is in buoyant phase and everyone seems to be making profit at this point. We must however concentrate more on our technological improvements in this phase in spite of being just happy about it."
Mr. Rastogi also emphasized the need to adopt a holistic approach when adopting technology instead of going for partial rebuild practice as is the case with most of the Indian paper mills. He said, "As per my years of experience in the industry, I can certainly assert that the Indian papermakers don't adopt the technology in one go; they do it on a piecemeal basis. Moreover, neither the Govt. nor the technology suppliers have supported the idea of adopting the technology in its entirety." The best papermaking technology must be created at the mills' conception stage by integrating best possible alternatives suited to the objective and purpose of the mill, he said.
He further added, "There is no machine manufacturer who can supply for the turnkey project, i.e. right from the wastepaper processing and pulping machinery to paper manufacturing and finishing equipment. Even Voith, which has done many large projects, is not supplying the complete solution. Moreover, technologies of such companies are often out of budget. Even consultants seem to be lacking in knowledge for a turnkey project, most of them giving you partial view on what an ideal paper mill should look like. There is no one-shop or consultancy firm which can suggest integrated solutions for turkey projects."
Mr. Rastogi stressed the need to attain a quality benchmark in production in order to be internationally competitive. He said that much of the paper produced in India didn't even meet the quality requirement of domestic market. "Muzaffarnagar, Vapi, and many other clusters are making so much paper. However, their qualities even for domestic consumption remain doubtful. We are able to send the paper across the Indian market which is not a mature market and it is looking for something different," he said. "For instance, none of newsprint consumers are nowadays happy unlike the days when only few mills like TNPL were making quality newsprint. The prices of newsprint have become quite high due to cost economics, making us more opportunistic and less competitive. Today even mills not having adequate newsprint making capability are manufacturing it. This is not how we would become competitive," he added.
Taking the quality and technology issue further, Mr. Rastogi elaborated that how holistic or a whole view of technology is crucial in order to produce right quality on sustained basis and become competitive. Partial or segmented technology rebuilds and installations are never as much quality oriented as they are operational survival. "We often complain of not having adequate and quality raw material. How are Indonesia and China able to produce a world-class product despite the raw material crunch? This is because they don't have the habit of installing systems and mills on a piecemeal basis. We are not going for the world-class technology based paper mill. Therefore, when you are making a new investment, go for the world-class technology and equipment," he said.
Mr. Rastogi also told the industry not to expect too much from the government in terms of reforms and enabling legislations, especially on the raw material front. The industry instead should try itself to come over issues, like it is doing in social farm forestry to surmount raw material challenges.
Environment, a Concern for Wastepaper Based Mills Too!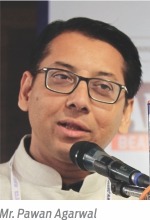 Environment and effluent management remained as always the focal point of the address by Mr. Pawan Agarwal, President, IPPTA. Mr. Agarwal, a staunch votary of mill level environmental management, in his presidential address said, "Environment as a topic has been at the forefront of IPPTA for the past 5-6 years. The environmental issue is not limited to Muzaffarnagar and has outreached the Gujarat belt and even the southern part of India."
Bringing the spotlight of environment on wastepaper-based mills, Mr. Agarwal said, "We are making 70 percent of the paper from wastepaper. There is a preconceived notion in our mind – making paper with wastepaper does not cause pollution. This is absolutely a hoax. The plastic in wastepaper is a major concern today. Are you prepared if the govt. decides to ban the wastepaper import in India? I suppose not! We need to find a solution for the plastics in wastepaper before it's late. Firstly, it is necessary for us to segregate the plastic. Then, we can identify a safe disposal area for it. By doing this, we can save ourselves from being a soft target in the eyes of people, who think we are causing pollution. Also, we need to keep a check on the people, whom we have given responsibility for disposing off the wastes.
"I have come to know through some sources that government of India is actually thinking over banning wastepaper import in the country. If such a thing happens, this will come as a big shock to us all. We must think of some technological remedies. Some gasifier technologies for non-recycled plastics have been developed. Energy recovery via gasification of plastics is an emerging conversion technology drawing increasing interest across world for its potential dual benefits of energy recovery and landfill diversion. I request everyone to think about such a technology. Though I firmly believe that we will soon develop some robust technologies, we presently need to take care of the disposal issue."
"By training the new employees on board in the areas of how automation actually works, we can actually fill up the gap visible in the human resource department of the Indian paper industry."
Mr. Agrawal also raised the issue of effluents and urged the wastepaper based mills also to take utmost care in fulfilling effluent norms. He said, "Even if we are making paper with wastepaper then also it is not necessary that we are fulfilling the norms of BOD, COD, TDS, and TSS. Do we improve our ETP systems at the same speed at which we are augmenting our production level on yearly basis? How many of us actually go to the ETP daily to inspect its working? We check the paper sample at least 10 times a day. What about the wastepaper sample? Do we ask for it? Mere thinking will not work and we need to put in some real effort. The technology exchange has become fast. We are well aware of the good ETP systems and must go for it."
Pointing to human resource development suited for mills in present times, Mr. Agarwal said, "We today don't require the skill set which was demanded 5-10 years back. Increasing automation has altered the skill set requirement patterns also. By training the new employees on board in the areas of how automation actually works, we can actually fill up the gap visible in the human resource department of the Indian paper industry."
Technology Development is Now a Must!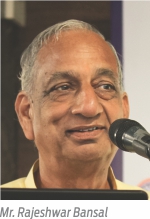 Mr. Rajeshwar Bansal, Chairman, Maruti Papers Ltd shared a good thought over how this is now essential for the paper industry to invest in developing technology, which could take care of various issues faced by the Indian paper industry. He said, "There is a dire need of investing in R&D for making some really breakthrough technologies needed by us, especially on environment front. I request to CPPRI and IPPTA to put some efforts in that direction for providing solutions that may resolve our real issues."


"There is a dire need of investing in R&D for making some really breakthrough technologies needed by us, especially on environment front. I request to CPPRI and IPPTA to put some efforts in that direction for providing solutions that may resolve our real issues."
Mr. Bansal even exhorted the industry to consider this proposal even if it turns out to be a costly affair. "If the solution is expensive, we may recover its cost by adding it to the paper cost. These solutions are much needed especially when the govt. is putting so much pressure and smearing us as polluters of the environment."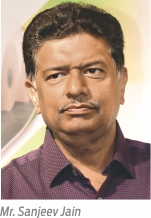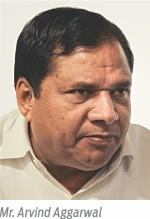 Mr. Arvind Aggarwal, Managing Director, Paswara Papers said, "If we start paying attention to the way we work and perform our tasks systematically, we can definitely reach heights.

This is because the demand for paper is increasing rapidly. If people in the industry have issues related to export, they can come together and discuss to find solutions. The market for us has become huge and we must try to export maximum amount of our production."
Mr. Sanjeev Jain, Director, Silverton Pulp & Papers Pvt Ltd expressly thanked CPPRI and IPPTA for their continued support to the Indian paper industry through continuous engagement in issues, which require immediate redressal. He said, "IPPTA and CPPRI will always receive support and appreciation from Muzaffarnagar mills for their work."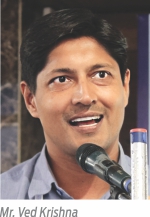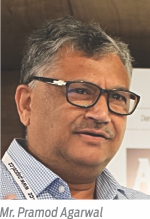 Mr. Pramod Agarwal, MD, Rama Paper Mills Ltd. said, "A paper mill provides employment to many people directly and indirectly. It's a huge investment and its contribution to nation and society can't be overlooked. However, being a huge industry, our responsibility to conserve environment is also huge and we should try every possible alternative to mitigate the pollution to minimum."
Highlighting the significance of manpower and the process of human resource development, Mr. Ved Krishna, Head of Strategy, Yash Papers Ltd said, "A human resource is such a thing which you cannot buy from the market. For that, you need a system and procedure to follow. Being in Yash Paper, I can tell you all about the importance of manpower. In fact, that's the main reason behind our success at Yash Papers."
Mr. Krishna further said, "For quality management, we just need to look at the input control. With technological advancement at peak, a person should be hired just to see the working of the equipment and not anything else. I am hopeful that we will be able to bring change with the help of instrumentation."