A dealer of paper and paperboard, Jani Sales Private Limited, does business with mills such as the paper giant ITC Ltd. (Paperboards and Specialty Papers Division), Gayatrishakti Paper & Boards Limited, and Deevya Shakti Paper Mills Private Limited.

Saifee Jani, Director, Jani Sales Private Limited, talks about his company and his future targets in an exclusive interview given to Paper Mart.

Excerpts.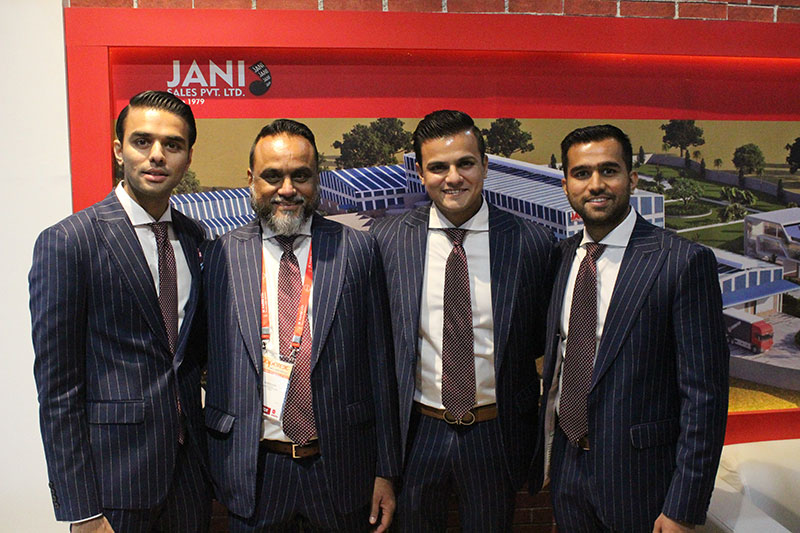 Paper Mart: Could you tell us a little bit about your company and product portfolio?

Saifee Jani: The Company is now 40 years old. It was started in 1979 as a small trading unit. Soon after its inception, it became an agency for paper business. We are agents for ITC Limited (Paperboards and Specialty Papers Division), Mehali Papers Private Limited, Gayatrishakti Paper & Boards Limited, and Deevya Shakti Paper Mills Private Limited. We specialize in packaging grades and have offices in Mumbai, Vapi, Baddi and Panchkula. In the last 20 years, we shifted our base to Dubai, and we are taking care of the entire market of the Middle East. We do indenting business from India for mills such as ITC, Mehali, Shree Gajanand Paper & Boards, Shah Paper and Laxmi Paper & Boards. As an agent, we do nothing under our name. We represent the mills and so we try to introduce, in the interest of the market, the name of India and the mill – those who are already manufacturing in India. Most of the traders in the Middle East represent mills but they make their own brands and they are selling the products under their own name. They push their own brand names. We work with a small margin, but we try to promote Indian mills under their own names so that people get to know the names of the mills and their products, which they get from India. Otherwise customers will know only the names of the traders; they will never know the names of the mills. They will never know the actual strengths of the mills. So we are different from the other traders in the Middle East. We take mill owners to the packaging units. We introduce them to the staff there. We also bring our customers to the mills. So, our intention is to establish a link between the buyer with the seller. That's why the name of our Company is Paper Link International.

We sell all the packaging grades of ITC from their Paperboards and Specialty Papers Division – from recycled board to virgin board and PE-coated board – for various applications and packaging. We do the same kind of work in Dubai for them. In 2000, we started trading for secondary fiber, which is known as waste paper. We are now a major supplier of waste paper. We supply paper waste to various mills in India.

Our main business is in the Far East. We supply waste paper to all the paper mills in the Far East. Buyers of our waste paper are also in Indonesia, Vietnam, and China. We are the approved supplier for China. Our Company is certified to supply waste paper to China. You see, China has stopped buying plastic-coated waste paper. But we can still supply plastic-coated waste paper to China under permissible limits.

PM: What are your future targets?

SJ: I want to get into manufacturing – and that's because we source our own waste paper and do our own exports. Because of the ban on single-use plastic, we are going to make products that can be substitutes for single-use plastic products. For example, in the food delivery business, such as Swiggy and Zomato, you need paper packaging products in a big way. I think there is a lot of scope for such products. We will also be manufacturing tissue paper. It is true that tissue is currently not a very popular product in India. Many people in India still use handkerchiefs, but there will be a huge demand for tissue in the coming three to four years. India is a highly populated country and so the use of tissue will keep growing.

PM: Procuring virgin fiber for tissue production poses a serious challenge to the paper industry. How are you going to meet this challenge?

SJ: We will be manufacturing recycled tissue paper, which is the next big thing in the industry. Quality toilet tissue and hand napkins can be made from recycled fiber. For example, the tissue paper that you get at Starbucks or McDonald's is 100 percent recycled tissue paper. There is a green logo on it, which signifies that the tissue paper had been made from recycled fiber. Only facial tissue is made from virgin fiber. Our target is to make tissue paper from both recycled fiber and virgin fiber. What matters is that our products should be cost-effective.

PM: Do you face difficulties in procuring waste paper?

SJ: Getting imported waste paper is not difficult. There is no dearth of imported waste paper. It is not difficult to procure it, mainly because China has stopped importing waste paper. However, getting local waste paper can be challenging. In our country, people don't go for separate bins. We have one bin in which we dump all kinds of waste. So, the quality of waste paper on the local market is not quite good. But we don't have a problem with that. We have been in this business for the past 20 years, and we know where to go to get waste paper.

PM: Could you tell us about the new developments that have taken place in your company?

SJ: We now have a unit for paper cups. We are also making plans for starting a paper mill. Later we will make other products using the same machines. We are getting a calendaring machine so that we could make greaseproof paper and other useful products. We are going for more value addition. Our current business activities involve 4.5 lakh tonnes of paper and paper board per year, including trading, exports, etc. Our target is to reach the 1 million tonnes per year mark in the next two years. Of course, our motto is, nothing is impossible.

Jani Sales has set up a new tissue production line for manufacturing 100 TPD MG Tissue MG Poster and MG Kraft. Located in the western region of India, this machine is one of a kind with a huge capacity. The machine has a wide deckle size of 4.2 meters and speed of 900 MPM. The grades we will focus on will be mainly recycled based, and the target is to give good quality high-strength paper in various applications.