In an interview given to Paper Mart, Mika Sjoholm, Vice President, Valves India, and Dinesh Mistry, Head-Sales and Services, Valves India, talk about Metso's intelligent valve solutions – how they can help Indian pulp and paper mills in achieving the best possible performance.
Paper Mart: At Paperex 2019, Metso displayed smart and reliable valve solutions for the pulp and paper industry. Could you tell us about these solutions?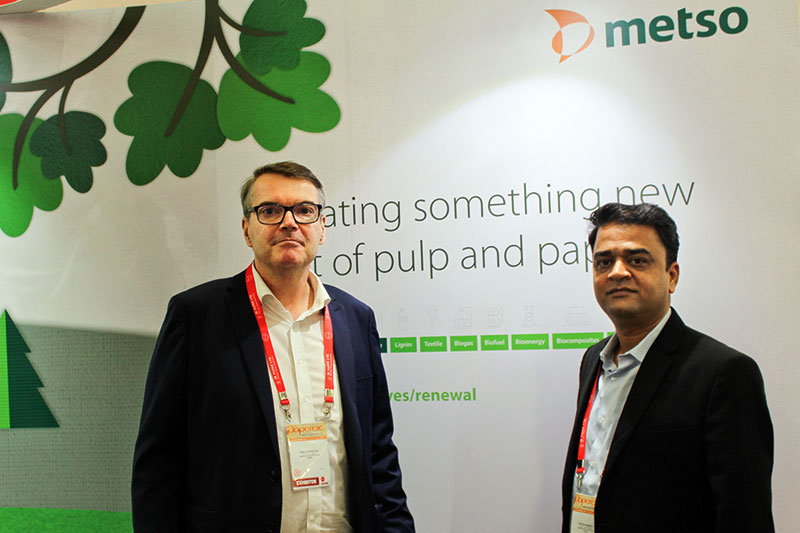 Mika Sjoholm: Metso has expanded its valve solution portfolio to fully address customer needs in flow control. We have built intelligent control valves to help optimize the flow of material in bioproduct mills. We have recently launched a third-generation intelligent valve-positioner range. The latest enhancement to our valve solutions offers more diagnostic features to the customers to achieve the best possible performance. Metso offers a comprehensive portfolio of valves products accompanied by service expertise and the latest digital tools, all aimed at helping customers make more with less.

Dinesh Mistry: With our unique and innovative valve solutions, we can help our customers improve their operational efficiency, reduce risks and increase profitability. We know the process well because Metso has been supplying valve solutions for decades. We understand the challenges that our customers face; and keeping that in mind, we have designed and built our products.

PM: Could you elaborate on the role that your valves, equipment and services would play in pulp and paper mills?

MS: Our valves can play a critical role in any process industry, including pulp and paper mills, ensuring a quality production process and improved output quality. The accuracy of the control valves diagnostics gives the required results to make sure quality is maintained. The control valves need to follow the input signals in a specific way so that the required output is delivered. The efficient valve control solutions lead the unstable process to a stable stage. With our valve solutions, we are able to deliver measurable business performance with the latest digital tools to the customers. Our valves help drive processes towards improved efficiency, reliability and environmental performance in the pulp, paper and bioproducts industry.

DM: A lot of expansion is currently taking place, and capacities are becoming larger. This also means that the customers do not want to waste unnecessary resources during the production process. Less wastage comes with less process variation, and valve is one of the key elements to deliver that result. A high-quality process consumes fewer raw materials and optimizes energy consumption. The process attributes achievable with our valves save both money and the environment.

PM: The ongoing transformation in the wood-based bioproducts industry puts new kinds of demands on producers regarding process efficiency, requiring a broad understanding of advanced automation and intelligent solutions to achieve sustainable performance. How is Metso Flow Control (future Neles) supporting the industry in this transformation?

MS: The traditional wood-based bioproducts industry is undergoing a radical transformation. The multi-layered process that we see in modern paper mills is similar to the one seen in industries such as refineries and power plants. By using recyclable wood, these bioproduct mills are pushing the industry towards resource efficiency, carbon neutrality and sustainability. Generally speaking, the new and emerging wood-based bioproducts industry is putting new kinds of demands on producers regarding process efficiency and profitability at the same time. Metso has been providing and delivering products to meet the ongoing transformation in the wood-based bioproducts mills both in Europe and Asia.

PM: Metso is planning to merge with its peer company Outotec in 2020. As a result of this merger, two new companies will be born – Metso Outotec and Neles. Could you tell us a little bit about this merger and the new companies?

MS: On July 3, 2019, Metso and Outotec signed an agreement to combine Metso's Minerals business and Outotec to create a leading company in equipment, services and process technology serving the minerals, metals and aggregates industries under the name of Metso Outotec. At the same time, it was announced that Metso's Valves business will continue as a focused standalone Flow Control company called Neles.

The two new companies with their unique offerings will start their operations in 2020 once the closing – subject to the receipt of all required regulatory and other approvals – has taken place. Both the companies will be significant players in their fields – Metso Outotec's illustrative combined sales in 2018 were EUR 4.2 billion, and the sales of Neles totaled EUR 593 million in 2018. The future Neles Corporation is a well-known flow control solutions and services provider to the oil and gas refining, pulp, paper and bioproducts industry, chemicals and other process industries. Neles will employ approximately 2,900 people and has operations in more than 40 countries.

PM: The world is changing. Digitalization is the very core of development. How does Metso help its customers succeed in this new reality?

MS: Some of the more recent pulp, paper and bioproducts innovations coming to market are based on strong utilization of digitalization through the data saved over the years. The current trend toward digitalization is not limited to new, greenfield plants. In fact, older mills may actually be in better position to reap the benefits of digital solutions. Metso, through its products, uses the available data to locate and analyze the risk and to look for improvement in a particular process.

DM: The pulp and paper industry is moving towards digitalization. Here, we are talking about Industry 4.0. The big companies have already included IoT in their processes. We are seeing a growing trend towards digitalization amongst small and medium mills as well. We have the Expertune PlantTriage PID tuning software, smart positioners and monitoring software to serve the purpose. Traditional pulp and paper processes, just like the many new bioproducts processes, can be improved by intelligent valves and real-time data. I think the industry has been focusing on digitalization. Like I said earlier, Metso has been offering related products for quite a few years. Right now, we are aligning more with the Indian market. We have the products and can offer the solutions.

PM: Do you think you need to invest more in innovation and R&D? What are the major achievements of your R&D team?

MS: R&D is an important part of our business operations. We accelerate development work and innovations through digitalization, with a focus on practical and concrete outcomes for the industries we serve. A significant amount of our R&D work is carried out in collaboration with a network of customers, research institutions, universities and other partners. We have third-generation, state-of-the-art valve controllers and digital positioners on top of Metso's own products. Furthermore, we have just launched the latest enhancements to our third-generation, digital positioner family Neles NDX®. We want to maintain our technological leadership with cost-effective and environmentally sustainable products, solutions and services.