Mr. PK Suri, Technical Advisor, JK Paper Ltd., talks about the upgradations at the company, and the way ahead in this regard.
"Our constant endeavour, over the last decade, has been to upgrade our manufacturing processes at grass-root levels to help create customer value."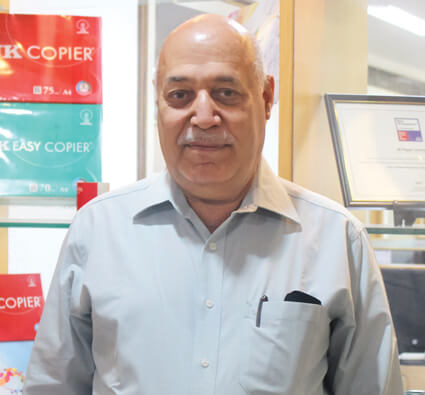 Paper Mart: Please highlight the technology or quality development or up-gradation that recently took place at JK Paper Ltd.
PK Suri: JK Paper Ltd. has always leveraged technology for constant product up-gradation and has been a pioneer in many areas, of the paper industry.
Currently, we are integrating technology in three major product developments. Firstly, we are focusing on the reduction and elimination of single-use plastic products by replacing them with eco-friendly paper-based alternatives. Secondly, we have been working on the development of food-grade and food safety packaging products that are aqueous-based, biodegradable, and completely devoid of plastics. Lastly, we are engaged in developing anti-fungal/anti-bacterial/anti-microbial papers. We have already developed anti-bacterial paperboards for trial purposes. Recently, we have also introduced a new range of copier papers, which are anti-microbial copier papers.
Watch: Evolution of Paper Based Packaging
PM: Could you shed some light on the R&D and innovations at the company?
PKS: On the pathway of moving the focus from commodity to branded and high-value categories, JK Paper Ltd. has undergone major technical up-gradation in the machines and processes for manufacturing paper. It was the first company to introduce surface-sized maplitho and laser paper in India. In a first-of-its-kind move in the branded paper segment, JK Paper joined hands with Hewlett Packard (HP) to avail of its ColorLok technology in producing copier paper.
A lot of R&D work is still going on, as we have recently commissioned a new board machine in the Central Pulp Mill that has a range of special features such as making online aqueous coated boards, which can be directly used for the cups, unlike PE coating.
PM: What are your views on the technology and the business roadmap of the company?
PKS: Our constant endeavour, over the last decade, has been to upgrade our manufacturing processes at grass-root levels to help create customer value. At JK Group, it has been a saga of continuous process development as we always strive to go ahead of our competitors in the market in terms of technology and other factors. As you might know, we have recently commissioned a bigger plant, and that can produce low-cost pulp in the country.
We are the first in the industry to use petcoke in the paper industry lime kiln to reduce the cost of production. Apart from this, we also happen to be the first paper company in India to convert the waste stream (SOG) to useful methanol and use it in the lime kiln to reduce further costs and also to reduce consumptions of fossil fuels like Furnace oil.
As I mentioned earlier, in our CPM unit, we have installed a new state-of-the-art packaging board machine with cutting-edge technology and unique features which only a few mills have in the world. In this way, we have always been trying to adopt newer technologies to reduce costs.
We are also working on how to reduce fossil fuels by replacing them with agro-based products. By adopting modern technology and process innovations, we have been able to reduce water consumption in our integrated mill to 27 cubic meters per tonne of paper which is one of the lowest in the industry. Our next agenda would be to reduce steam consumption and to generate more from the recovery boiler.
PM: Please elaborate on some of the Industry 4.0 initiatives taken by the company.
PKS: We have been working on Industry 4.0 for a long time. In 2017-18, we entered into a contract with ANDRITZ, who is the supplier for the pulp technology at our Rayagada plant. We had set up its Industry 4.0 enabled system to reduce the costs. We could optimize chemical consumptions and able to improve the quality of pulp by reducing process variations.
Now, there is a company-wide digitalisation program going on across the value chains, aimed at reduction of operational costs in all the three units including the Logistics, Sales & Marketing. We have partnered with Accenture to drive this Digital transformation Journey.
Recently, JK Paper was conferred with the first-ever FICCI India Industry 4.0 Platinum Award for Overall Digitalisation Transformation category.
Also Read: Yesterday, Today and Tomorrow of Technology
PM: Share your outlook on the Indian pulp and paper industry.
PKS: As per today's market, the pulp and paper industry is growing by leaps and bounds. The growth is mostly seen in the packaging segment. People are leaning towards online shopping and this change in consumer behaviour is playing a huge role in the growth of the packaging segment. The imports are now less. In the coming years, technology will play an important role in the paper industry.