The 172,000 TPA PM5 at JK Paper Limited's Fort Songadh Mill had a fast and smooth start-up in August 2021. JK Paper and Valmet are Partnering for creating a global benchmark on this machine.
March 15, 2023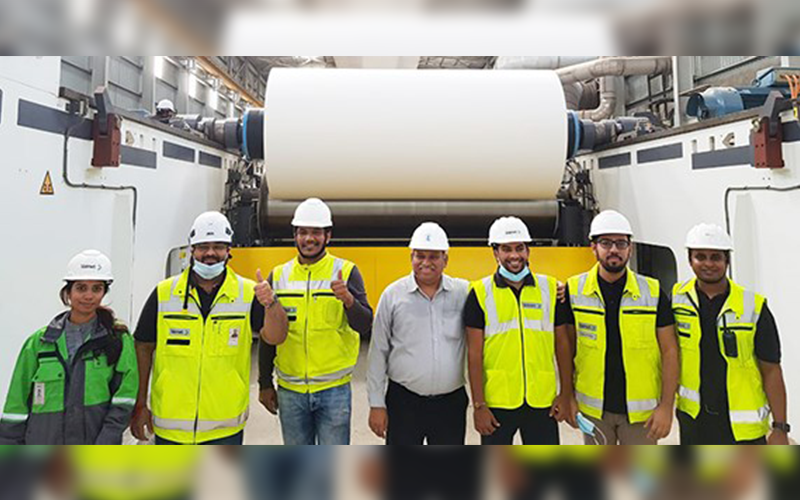 The Valmet delivered PM5 at JK Paper Limited's Fort Songadh Mill in India started up in August 2021. The start-up was successful, fast and smooth, and good operation close to the guaranteed production levels was achieved right in the beginning.
Watch: JMC Paper Tech Launches New Subsidiary JMC Papers
"This machine has been designed for a capacity of 172,000 TPA. Valmet has been supporting us well since the start-up. JK Paper is now looking forward to further optimizing the process conditions and auxiliary systems in terms of energy and capacity which were not part of Valmet delivery scope, to make the machine as one of the global benchmarks. Given the fact that it is a multi-supplier set-up, Valmet has been relentlessly supporting us in all the aspects irrespective of the scope of supplied items," says Mr. PK Suri, JK Paper Limited.
In order to further enhance the production to maximum potential, JK Paper has signed a Performance Agreement with Valmet for the PM5 machine. The agreement period is 6 months and will commence on March 1, 2023.
The target of the agreement is to utilize in cooperation Valmet's know-how and expertise to achieve trouble free operations and further improve machine efficiency. The defined KPIs are aimed to be achieved through necessary modifications / upgrades of the auxiliary systems and optimizing process parameters.
We are pleased with the cooperation with Valmet and support so far and would like to take the relationship to the next level to become a global benchmark," says Mr. Piyush Kumar Mittal, Chief General Manager, JK Paper Limited.
"This is a good example of moving our customers performance forward with improved operation efficiency and less resources which is in line with Valmet's Climate Program. This partnering approach is the best solution in terms of achieving desired results consistently and right Capex planning," says Mr. Varun Jain, Director, India Region, Asia Pacific, Valmet.
Also Read: JMC to Venture into Paper Manufacturing through 150 TPD Kraft Paper Mill in North America
A project team has been nominated to guide and monitor development, take development actions and give recommendations at the machine line.
Scope of Valmet's delivery in 2021
Valmet's delivery included the coated board machine from the headboxes to reel with air dryers, chemical systems, heat recovery and other board making systems. The coating is applied in multiple coating stations including a technologically advanced Opti Coat Layer coating station, which applies two coating layers simultaneously. The delivery also included a mill wide Valmet DNA Distributed Control System with all the controls in one platform for ease access of data as well as Valmet Performance Center services.