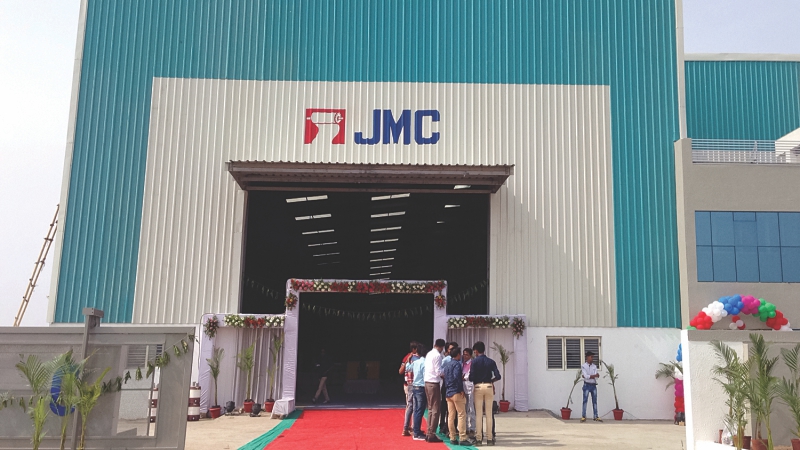 Innovation in the present technology forced JMC to set a modernized workshop with latest machinery.

JMC Paper Tech Pvt. Ltd. has undergone considerable modernization of its workshop and has shifted to prominent and prime location at highly developed GIDC, Sanand, Ahmedbad. The area is well known due to presence companies such as Tata Nano, Ford Automobile, Colgate Palmolive, and many other multinational.

JMC Paper Tech is a leading indigenous manufacturer of complete paper and paperboard machines including paper machine parts. JMC's multi fourdrinier machine with 4 wire and top dewatering unit is widely acknowledged by the Indian paper industry and has been found efficient for producing FBB / Ivory board, coated board, kraft liner board, and kraft paper. Besides, the company also designs and manufactures high speed former cylinder machineries, MF/Yankee machineries, and complete pulp mill with recovery system.

With help of new set up over an area of 5000 square meter, the latest technology machines and modified workshop infrastructure, the company is set to work on multiple project of large capacity up to 400 TPD. JMC has installed latest workshop machines, viz. core machine equipment (drill press, heavy duty lathe, surface grinder, CNC machine); dynamic balancing machine; different types of welding and cutting system (Mig, arc, oxy fuel, plasma cutter, CNC plasma cutting machine, etc.); heavy duty lathe & precision roll turning lathe; plano miller; and horizontal boring machine with DRO System. The facility has an outstanding surface finishing provision in the form of paint shop having down-draft-paint booth-cum-drying-chamber.

Engineering drawing and design are done with latest software producing 2D and 3D designs. JMC's design department is a pillar of strength of the company. This is completely based on AutoCad system and equipped with other latest engineering software. This is in compliance with Industry standards, optimizing machinery system to improve the performance of Indian paper industry. The company draws up its own quality policy and objective, based upon the customer satisfaction. JMC Paper Tech Pvt. Ltd. introduced revolutionary benchmark for multi-wire technology as indigenous and applied items in paper industry. The company's motto is Sound quality & Sound engineering.

JMC Paper Tech Pvt. Ltd. also takes up the job of running/maintenance of the paper plant, supply of skilled manpower, providing consultation in all technical aspects of pulp and paper mills under its subsidiary company, JMC Paper Tech Global Services Pvt. Ltd. The subsidiary also takes up the job of dismantling and re-installation of old mills, rebuilding the paper mills as per the customers requirements.