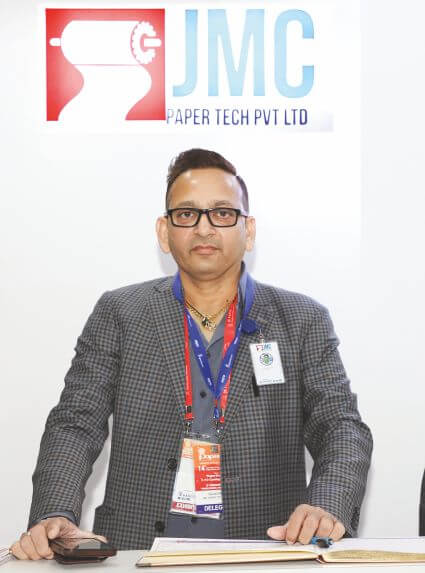 JMC Paper Tech Pvt. Ltd. is one of the leading manufacturers cum exporters of pulp & paper mill plant & machinery. With factories located at the well-established prime location of Ahmedabad at Gujarat, JMC Paper Tech is preferred by many multinational companies and domestic corporate giant groups. The company specialises in the design, development, manufacture, and installation of plant & machinery and claims to be a keen expert in applying state-of-the-art technology to provide cost-effective custom designed-solutions to fulfill the needs of customers. In a conversation with Paper Mart, Mr. Rajni Patel, Chairman & Managing Director, JMC Paper Tech Pvt. Ltd., talks about the product offerings, new developments, and future plans of his company.

Paper Mart: Tell us a brief about your company and its product offerings.

Rajni Patel: We, JMC Paper Tech Pvt. Ltd., are involved in manufacturing activities for pulp & paper mill machinery on a turnkey basis with a capacity of 500 TPD. We are providing various onsite assistance to our clients like:

Maintenance of paper plant & machinery (after-sales service);
Erection & commissioning of the paper plant;
Management systems & manpower training for the new projects as well as existing plants;
Single wire, twin wire & triple wire machine for high BF Kraft paper plant;
Four-wire Fourdrinier machine with top former (top dewatering unit) to product FBB and SBS;
Multi-cylinder former coated board machine;
Newsprint, writing, & printing machine.
Thus, we can say that we provide a complete solution to the paper industry under one roof.
"Following an initiative raised by our Prime Minister Narendra Modi, 'Atmanirbhar Bharat', we recently developed an air cushion type pressurized headbox for one of our existing and renowned customers."

PM: Throw some light on new developments or product launches.

RP: Following an initiative raised by our Prime Minister Narendra Modi, 'Atmanirbhar Bharat', we recently developed an air cushion type pressurized headbox for one of our existing and renowned customers. We also supplied the customer with a kraft paper machine and currently, they are achieving maximum output and satisfaction from our paper machine. After considering the machine performance, the same customer asked us to supply an air cushion-type headbox for their paper machine. The customer noted the great performance of the headbox in the sense of GSM variation, CD profile, sheet formation, etc.
We also developed a high-speed rewinder with an auto tension control system with a capacity to run at the speed of 1800 mm. Our regular design of the rewinder includes manual controls which is the main reason for paper web breakage and production losses. In order to avoid this kind of issue, we specifically introduced the auto tension control system in our high-speed rewinder which senses the proper operating speed and fluctuation in paper web tension. This newer system regulates the Rewinder speed and maintains proper tension. We recently supplied this newly developed rewinder with ATC system to one of our customers and per their review, they are getting rated output from the rewinder.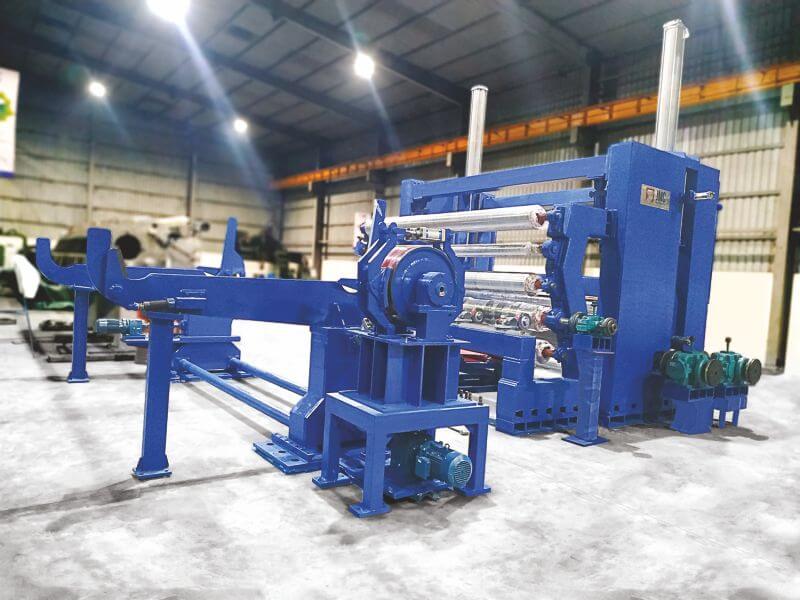 Following another initiative by our Prime Minister, 'Make in India' & 'Local for Vocal,' we are opting out of cast iron made drying cylinders and instead, we developed a concept of carbon steel drying cylinders. This provides our customers with a better option.

Currently, we are executing the carbon steel drying cylinders for one of our projects and these will soon be ready to serve the paper industry. In the next phase, we are looking forward to furthering developments such as the internal grooving in the drying cylinder.

Noted below are the comparisons between the two dryers to help our customers save money and increase their ROIs.

• Higher heat transfer: Steel dryers have a better thermal conductivity in comparison to Cast Iron material. Therefore, it can be utilized with lower steam pressure to get a better rate of heat transfer. This also helps minimize starting/stopping the paper machine in case of any maintenance.

• Lower Energy Cost: Due to their higher thermal conductivity, Steel dryers consume less steam to get heated and quickly transfer the heat for paper drying. This leads to an enhancement in the production rate of the paper machine. By consuming less heat, we can save big on energy costs.

• Operation at High Speed: We also provide an option for internally machining & grooving. By doing this, we can heat a larger contact area of the dryer shell which leads to higher heat transfer.

• Safety: CI Dryers have some poor material properties like brittleness and lower thermal conductivity. Also, due to the excess steam pressure and excess stress generated, the CI Dryers may explode. In comparison, Steel will perform better in case of any excess stress generated and in case it exceeds the allowable limits, the dryers will still remain intact. This will prevent any kind of damage to the machine.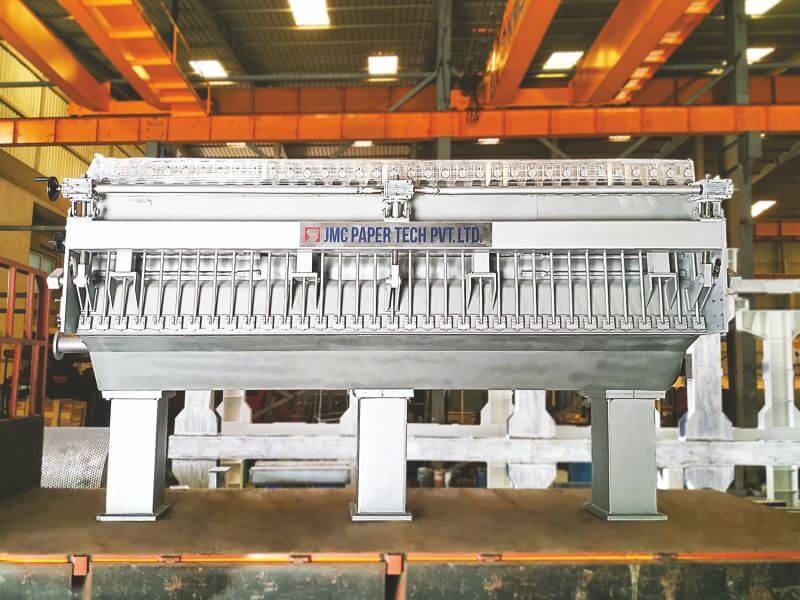 PM: What are your future plans for the coming 2-3 years?

RP: Considering the current growth of the paper industry at both domestic and international scales, we are planning to expand our workshop area to increase our manufacturing capacity with the goal to provide earliest or on-time delivery.
Also Read: JMC Paper Tech: Sustainable and Tech-Driven Paper Industry is the Future.

As the current trend is moving towards automation and an accurate manufacturing process, we are planning to extend our manufacturing range by adding advanced and state-of-the-art machineries. We have already started on this milestone as recently we imported a CNC lathe machine (2 mtr width X 10 mtr length) and a CNC horizontal boring/milling machine (2 mtr width X 8 mtr length).