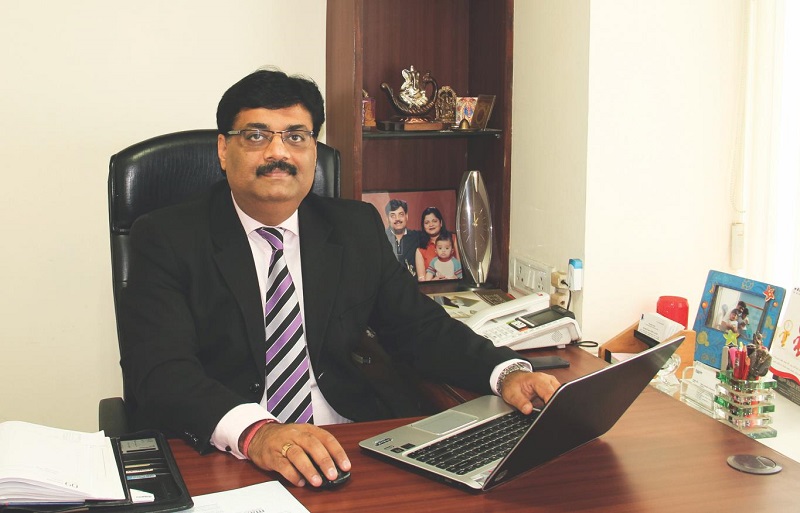 With a new tolling and blending facility at MIDC, Ambernath set up recently, Maxim is looking forward to expand its team vigorously and is toying with an idea of a large chemical manufacturing plant in near future.

Maxim Specialty Chemicals Pvt. Ltd., founded in January 2010, offers a comprehensive range of Paper Process & Water Treatment chemicals to paper mills across India & SEA. The company has recently introduced equipments such as R.O Plants & Waste Water Treatment Plants .It has increased productivity and profitability in very short time span through its problem solving approaches, continuous monitoring and taking immediate and effective actions to attain great performance.
Maxim has recently tied up with Systea S.p.A., Italy to promote their Online Analysers for BOD/COD/TSS/pH to paper mills across India. The collaboration has helped it complete its ETP portfolio which already included chemicals and O&M contracts.

Expanding the team and setting up a large chemical manufacturing facility are Maxim's short and long term plans respectively. Paper Mart recently interviewed Mr. Sanjeev Jain, Director, Maxim Specialty Chemicals Pvt. Ltd. to know more about this tie-up and future plans. Excerpts:

Paper Mart: Detail us about the Joint Venture which you have recently done?

Sanjeev Jain: We have recently tied up with Systea S.p.A., Italy to promote their Online Analysers for BOD/COD/TSS/pH to paper mills across India. This was mainly a forward integration for us as we were already very active in ETP area wherein we are proving chemicals for various applications such as TSS reduction in Sedicell/DAF/Krofta, Sludge Dewatering and Color Reduction. All these solutions are mainly aimed at meeting discharges norms for BOD, COD & TSS as per the guidelines by CPCB.
Further the values of those parameters directly indicate the operational efficiency of any ETP; so, monitoring them is very critical. Now, CPCB has made it mandatory for paper mill to install Online Monitoring units so as to have an online access to those ETP parameters; so, having this unit in our portfolio was logical step for us. In last few months, we have already done many successful commissioning and installations across India along with data transfer to CPCB.

PM: Tell us about the company and its offering with which you have tied up?

SJ: Systea S.p.A. is a MNC which is mainly into manufacturing and selling Integrated Solutions for Analysis including Online Monitoring of complex chemical compounds in: Surface Water, Waste Water, Drinking Water and Sea Water. They have more than 20 years of experience in this field and have many installations across the globe. Their head office is near Rome, Italy while Asia Offices are in China and India. They have a local office in Delhi/NCR catering to all the technical service requirements across India.

PM: How this venture will strengthen/compliment your portfolio?

SJ: As I mentioned before, it was a very synergistic and logical step for our company as it helped us complete our ETP portfolio which already included chemicals and O&M contracts. This will now help us to offer a complete package to paper mills looking for a one stop solution for their ETP needs. This Online Monitoring unit is meant for only those mills which are discharging some water; but Maxim also offers Online System to mills even with Zero Liquid Discharge (ZLD).

PM: What are benefits of this venture to the Indian paper industry?

SJ: Currently such Online Monitoring units are being supplied by companies which are either disconnected or remotely connected with paper mills; this has lots of disadvantages. Since this online unit comes with free 2 and 5 years warranty, it is pertinent that supplier remains in touch with paper mills on a regular basis to be able to meet their service requirements. Now, Maxim being a regular ETP and Process chemical supplier offers that advantage which most other companies don't.
Furthermore, our principle, Systea, Italy has a local Office at Delhi/NCR, whereas our competitors are either distributors or agents of those companies manufacturing Online Units. So Maxim has an added advantage of providing local service support directly through its principle and also spare items locally which could be an issue for most other companies.

PM: What is your immediate focus and future plans for next 2-3 years?

SJ: Maxim has already been dealing in paper process chemicals with a special focus on "Water & Waste Water Treatment" chemicals across Asia Pacific and Middle East region for last few years. As we know that water is a very valuable resource which must be conserved for our future generations. So, we at Maxim, are always striving hard for this by using our various chemical solutions aimed at reducing TSS, TDS, Color and Sludge to help industries to reuse most of its effluent back into the process and minimize its effluent discharge within CPCB specified norms. We are also taking O&M contracts for the complete ETP to help paper mills run their plants efficiently to meet CPCB norms.
Maxim has recently set up a new tolling and blending facility at MIDC, Ambernath, Mumbai to help us meet growing volume for our export needs and also to cater to its domestic customers in West & South India regions. Also, we have set up a new warehouse at Nhava Sheva Port, Mumbai mainly to cater to our OEMs whom we are supplying mainly our Powder Flocculents (Cationic, Anionic & Non Ionics) and Coagulents ( Polyamines, Poly DADMAC & DCDA).

As for our future plans, in the short term we plan to add more people in our existing team in order to expand and strengthen our presence in "Water & Waste Water Treatment" solutions across various Industries including paper mills. In the long term, we plan to set up a large chemical manufacturing facility to support our growing customer base as well as OEM markets both within and outside India.