MATTHEW MILLER & ALAIN LASCAR
James Cropper UK & KADANT France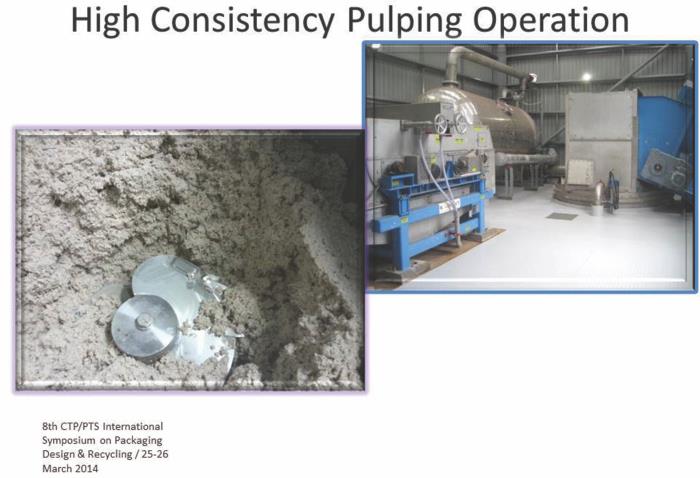 Poly-cup grades are a very challenging raw material. James Cropper Speciality papers target was to recycle poly-cups, getting very clean fibers to replace virgin pulp in their luxury board.
James Cropper selected Kadant to build their recycling line.
This paper will review how James Cropper overcame challenges and demonstrate mill results, using poly-cups as a raw material.
.
THE RECLAIMED FIBRE PLANT

Why invest in Recycling and Sustainability?

While paper is one of the most sustainable and recyclable products available, there has been an increasing demand from consumers and customers to reduce the use of virgin pulp and increase recycled content. At the same time, the specific and demanding quality requirements of the bespoke, premium, coloured paper markets are not well served by the recycled pulps available in the market.

To meet both of these potentially conflicting demands, we developed our own source of recycled pulp.

Why Cups?

Disposable drinks cups offer some unique benefits for the products being considered. A typical cup weighs around 14 grams. Of this, 12-13 grams is very high quality bleached pulp, ideal for making high quality dyed paper from.

The issue to overcome is the remaining 1-2 grams of polyethylene that forms the barrier layer on the cup surface. Whilst this is essential to the consumer in preventing their drink leaking out, it represents a challenge in recycling terms; one that James Cropper and Kadant had to solve together to allow the benefit of the fibre content to be realised.

A further driver to the reuse of drinks cups comes from the cup production and retail industry. The challenge of recovering cups is a large one. Recovery rates of cups are low and contamination very common, and most cups in the UK go to landfill after use. It is estimated that 2.5 billion coffee cups are used in the UK alone each year – with cold drinks cups, yogurt and ice cream tubs being additional to this.

James Cropper decided to exploit another aspect of the cup production process: brokes and trims, coupled with test material provide a consistent source of material from a relatively small number of sources.

This approach allowed investment in the plant. At the same time, if offers a suitable outlet for any post-consumer material that can be collected, stimulating development of the infrastructure for post-consumer cup recovery in conjunction with the cup producers and retailers.

From Concept to Reality – The Reclaimed Fibre Plant

After 3 years of development and 1 year of build time, the Reclaimed Fibre Plant was officially opened on the 17th of July 2013 by Her Majesty The Queen and The Princess Royal.

The Plant has the capacity to produce up to 10,000 tonnes per annum of high quality pulp from disposable cups.

The pulp produced from the plant is used in a blend with virgin pulp to produce a collection of 32 shades of smooth uncoated papers and luxury boards available in a wide range of pastel and intense colours.

Each product contains reclaimed fibres, at levels between 10% and 60% of total furnish depending up shade, weight and application.

Through the introduction of recycled cup material, James Cropper have moved from manufacturing papers almost exclusively from Virgin fibre to the inclusion of significant quantities of recycled material, with no adverse impact on the quality of the product produced, demonstrating that recycled content, if approached correctly, does not have to be a compromise.

ADVANCED PROCESSS DESCRIPTION

General Line Design

Using their experience in UBC (Used Beverage Carton) recycling and unique line design developed for this subject some years ago, Kadant designed for James Cropper a very compact and efficient line,including :

HC Pulping(Fig A) using a customized HC turbine in order to have high friction and keep plastic film close to the present size, and produce plastic reject in as close to fibre free condition as possible. Recovery of plastic is also a target, and fibre content in the plastic is one of the main recoverable issues.
One stage coarse screening
HD Cleaner
One stage fine screening in the form of ScreenOne, offering :
— a full 3 stages screening system in one machine, which means a very compact design, no intermediary pump, chests, screens.
— a very high efficiency due to optimization of the passing speed, which is getting more homogeneous.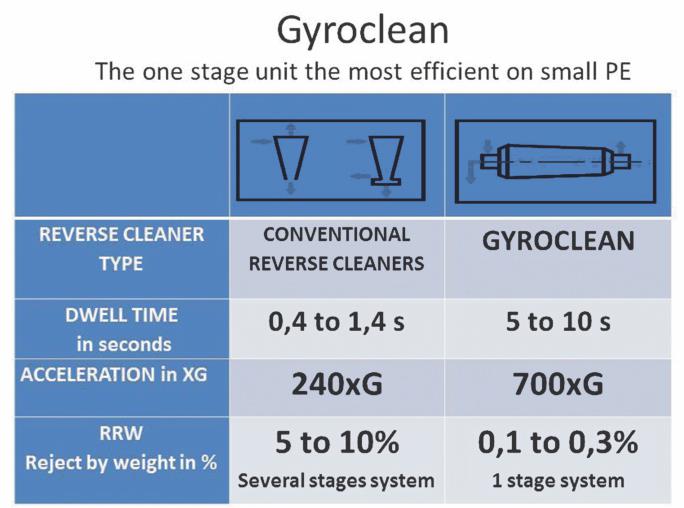 The challenge was to be able to screen at the highest Consistency, using pulp in an almost virgin pulp condition (long fibre with no ash and fine elements) with a slot size that is very small and with extremely accurate slot dimension (0.10mm) in order to prevent any plastic film from appearing on the accept side of the Screen. Conventional technology was tried by James Cropper in our pilot plant and in a competitor's line, but with no operating success. The new innovative FiberWall basket technology, a fabricated wedge wire cylinder made without any structural welding or without the need for rolling,was one of the key to achieving the aims of the project.
Gyroclean, which is a unique device on the market to remove the remaining micro plastic pieces. Gyroclean has a unique design due to the high G Forces it produces and the high retention time inside the cleaner when compared to a conventional Reverse flow cleaner (Fig B).
Washing steps and kneader for special final pulp treatment.
Unique specific process water management
.Mill Results
To measure efficiency, theuse of conventional Somerville methods was not valid, as we were finding results of 0.00 %. A new method was defined. The idea was to find a specific dye that could stain plastic film to allow microscopic and image analysis.
The resultant values have been above the excellent level of requirements set out by James Cropper and that the Mill has been able to surpass their target for replacing their existing virgin pulp with this stock and also been able to include it in the products of their most demanding luxury boards.
.
CONCLUSION
With this unique recycling process developed by the cooperation of James Cropper and Kadant, quality of final stock is on a par with virgin pulp.
The challenge to replace cellulosic bleached kraft pulp has been reached even for the most demanding luxury board manufacture.
This technology also gives the feasibility to bring further added payback from the reject polyethylene stream.
The industrial achievement has been possible due toJames Cropper innovative approach and ideas, key Kadant market leading products, such as HC pulpers, ScreenOne, FiberWall baskets, Gyroclean along withthe advanced process design.This has resulted in a strong collaboration and extremely fruitful job that has been completed between James Cropper and Kadant technology and their respective R&D teams.