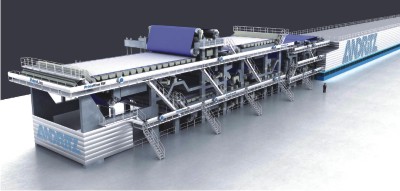 April 23, 2014

ANDRITZ received an order from Middle East Paper Co. (MEPCO), Kingdom of Saudi Arabia, to upgrade three paper machines. MEPCO is one of the leading packaging grades producers in the Middle East and North Africa and targets to increase production and improve paper quality with this order. The start-ups are scheduled for 2014 (PM1 and PM3) and 2015 (PM2).

ANDRITZ's scope of supply comprises:

PM1:
New approach system
Rebuild of the wet section with a PrimeFlow SW headbox including flexible lamella technology and dilution profiling system; rebuild of the dewatering table

PM2:
New approach screens and rebuild of the wet section as at PM1
Rebuild of the wire section to consist of two Fourdriniers and a PrimeForm HB hybrid former for higher drainage capacity and improved formation
Rebuild of the film press and the drying section: relocation of 10 dryers from the existing after-drying section to the pre-drying section; the PrimeCoat film press is designed for operation both as film press and size press, combining the advantages of both systems and opening up a broad manufacturing range
New air-driven air turn system (PrimeAir Glide) that changes the direction of a continuous web without any direct contact
PM3:
Rebuild of the approach system and of the wet section, including dilution profiling system
Rebuild of the press section with a higher nip load for more efficient dewatering
The drying section is equipped with PrimeRun web stabilizers to enable a stable sheet run
ANDRITZ will also install TwinFlo refiners in the OCC lines in order to improve the fiber properties. The OCC pulping plant will be upgraded by installing a modified FibreFlow drum pulper with a capacity of 1,400 tons per day in order to enhance the fiber quality and to reduce operating costs.