Precision custom rolls, a critical component of all paper producing machines, have few excellent makers all across globe; MRL is one of them.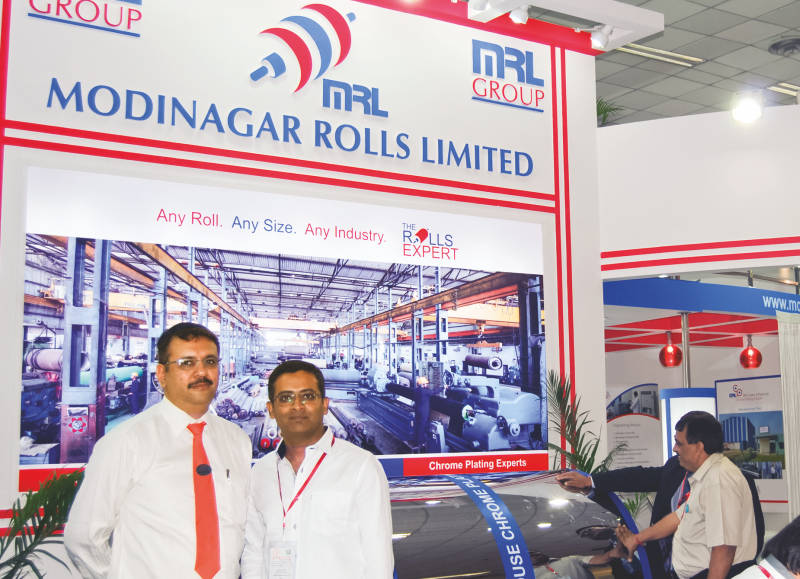 Modinagar Rolls Limited (MRL), founded in 1995, has become quality leader in the Industrial Rolls over a period of time. High quality precision custom rolls and a variety of repair and maintenance services form the core portfolio of MRL.

The company commands a comprehensive clientele in India and overseas including Pakistan, Nepal, Lebanon, Malaysia, Bangladesh etc. MRL has improved in technology and has grown its shop floor area since 1995 more than 5 times. Acquiring adjoining land and new businesses has been seamless and continuous. Paper Mart interviewed Mr. Vikas Gupta, Managing Director, Modinagar Rolls Limited to know about the company and what makes Modinagar rolls stand out. Excerpts:

Paper Mart: To start with, tell us about your journey since 1995, the year of your beginning.

Vikas Gupta: Beginning was very modest, since then the journey was very exciting and full of challenges. In this journey, I can say that now we have come to know our strengths and weaknesses. We are working hard to improve upon our weaknesses.

Also our decision of sticking to our core competence was the best decision we made through all these years, though we have grown more than 10 times since the start but we are still making rolls and rolls only.

PM: Being a manufacturer of quality rolls for various industries including paper, would you brief us about the criticality of rolls in the manufacturing process? Where and how do your rolls make a difference?

VG: For any type of sheet making industry, ROLL is the heart & soul of the manufacturing process, which makes it a critical component.

Apart from the high performance roll covers and the best manufacturing processes with state-of-the-art machinery, we make a difference by first understanding the user's needs and then educating them where things can go wrong, and what care should be taken to extract best performance out of these rolls.

PM: Modinagar Rolls, serving the paper industry for about two decades, must have witnessed changes in the industry (paper) from technology view-point. What are your observations?

VG: Talking about the past 2 decades the paper industry in India has grown tremendously in terms of Deckle and thus production per machine. To handle these deckles the technological advancement is apparently visible in all the areas, whether electrical, mechanical, fabrics or process etc. Rolls being a major mechanical component, has also evolved during these years.

PM: Back then when you started delivering rolls to the paper industry and now, what are the major upgradation steps for your rolls? In other words, how your rolls changed as per the industry evolutionary demands?

VG: As I told you, rolls have also evolved with the industry during all those years with regards to size, weight, machine speed, cover performance etc. and this evolution is happening simultaneously at MRL also. MRL roll covers are now accepted all over with regards to the requirement of the paper making machines. Few of our roll covers are performing almost 3 times the life given by the conventional covers e.g. our brands Ultima-BD, Ultima-XP, and Ultima-Sz.

PM: During last 2-3 years, the paper industry has done some major capital investments towards new plants, machinery and technology. Did Modinagar Rolls have its share of supply to the paper industry?

VG: Of course, in this calendar year only we have supplied rolls to 7-8 new projects. Not only within the country but abroad also. We are supplying rolls to all the Paper Machinery manufacturers of India.

PM: Any new development on product, technology, or business front that we should be aware of?

VG: Technological advancement is a daily activity at MRL and we have given many new products to the industry, due to this culture of MRL. Latest development is the PU (PolyUrethane) coating on Press Rolls. The on-machine trials are complete and successful and we are coming in a big way for this coating. Also, we will display our embossing rolls at the PAPEREX 2015, this November.

PM: Being a supplier to the paper industry, your comments on the present sluggishness in the paper demand and industry's growth?

VG: I can only say that yes we are also witnessing this sluggishness, but we are very hopeful for the future.

PM: How do you think 'Make in India' would be spurring the indigenous manufacturing sector?

VG: We should wait and watch, but definitely I am truly hopeful for better results from Make in India campaign.