Nestlé began introducing Smarties sharing block packed in recyclable paper in the UK last year.
March 30, 2021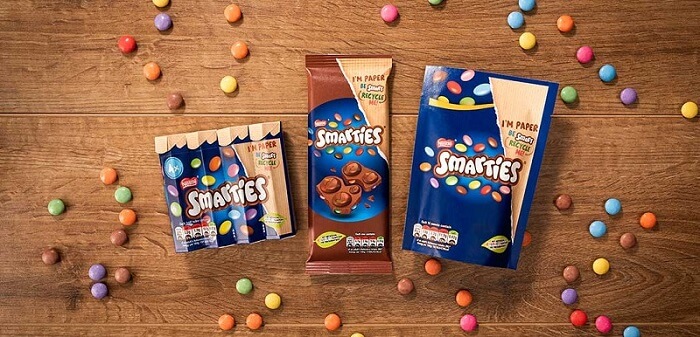 Nestlé has announced that its popular Smarties brand is now using recyclable paper packaging for its confectionery products worldwide. Smarties is the first global confectionery brand to switch to 100% recyclable paper packaging, removing approximately 250 million plastic packs sold globally every year.
Watch: Paper Mart Fortnightly News Roundup.
The new Smarties paper packaging is sourced sustainably and is made of a coated paper, paper labels or carton board. Information about how to properly dispose of Smarties paper packaging is also included on its labels to raise consumer awareness. In Romania, the Smarties product portfolio consists of Smarties tube 38g, Smarties tube 130g and Smarties Mini 158g.
Also Read: Nestlé Committed to Sustainable Packaging.
"Nestlé's initiative to use exclusively recyclable paper packaging for the entire Smarties range globally represents further evidence of the company's commitment to addressing the packaging waste problem in all countries where the company operates, thus contributing to the development of a sustainable future. The company has ambitious plans for the entire confectionery portfolio, but we wanted to start, symbolically, with a brand designed for children. Nestlé wants its products to be both tasty and healthy and better for the environment. Thus, the transition of the entire global Smarties portfolio to 100% recyclable paper packaging is a step that the company takes for a sustainable future and also an invitation to consumers to take part in this process.", said Silvia Sticlea, Business Executive Officer Confectionery & Dairy South East Market Nestlé.