One of the leading manufacturers cum exporters of pulp & paper mill plants & machinery, JMC Paper Tech Pvt. Ltd. specialises in the design, development, manufacture, and installation of plants and claims to be a keen expert in applying state-of-the-art technology to provide cost-effective custom designed-solutions to its clients.
"JMC Paper Tech has not only fostered a lasting legacy by spearheading the machinery manufacturing through cutting-edge innovations and technology but also developed fruitful relationships with clients from across the globe."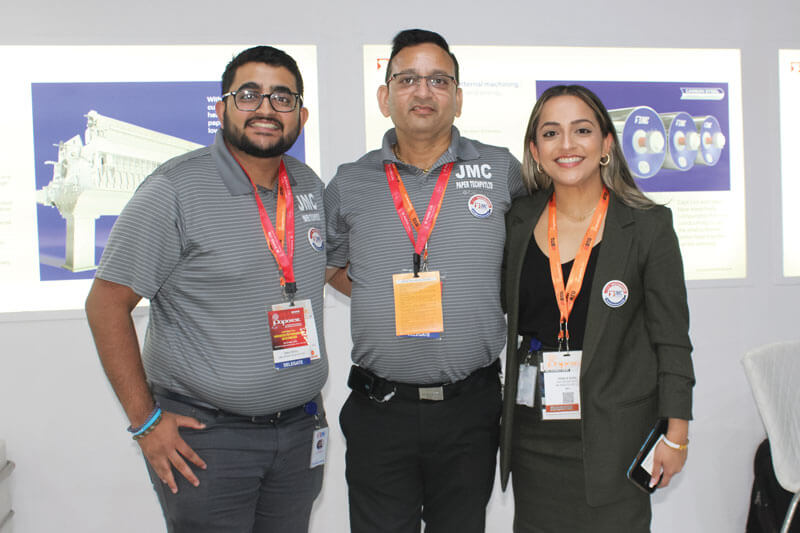 With factories located at the well-established prime location of Ahmedabad in Gujarat, JMC Paper Tech continuously monitors global trends in the industry, ramping up its infrastructure in terms of quality and service standards. As the next generation of business leaders joins the team, Paper Mart interviews Dr. Yesha Patel, Chief Executive Officer, and Mr. Sneh Patel, Chief Operating Officer, JMC Paper Tech Pvt. Ltd., to know more about their roles and upcoming projects.
Paper Mart: As you both have recently joined JMC Paper Tech, what are you looking forward to in your leadership roles respectively?
Yesha Patel: I'm absolutely thrilled to have recently joined JMC Paper Tech as the Chief Executive Officer. JMC is committed to spearheading the change in the paper and pulp industry by continuously chasing excellence, innovation and sustainability and we are excited to be a part of this growth. As of now, we are getting to know our management roles. We are familiarising ourselves with the other names of the pulp and paper industry. Our future plan is to expand the footprint of the company globally. We both have completed our studies in the United States and our plan is to use that access and exposure to penetrate into North America and South America and expand the operations of JMC in the international market.
Sneh Patel: I graduated with a B.Sc. degree in Computer Science from the University of North Texas in Texas, U.S.A. As the Chief Operating Officer of the company, I plan to use my knowledge in computer science to further develop the latest technology and software for JMC and help expand the company globally. Since South America has a lot of scope for growth, we plan to focus on that region after which we will extend our reach to North America.
PM: Tell us a brief about the journey of the company along with milestones.
YP: JMC has been a family-run company for over 20 years. The company began its journey in 2002 and soon became a leading name in the pulp and paper industry. In 2016, it established its manufacturing facility, spread across 6500 sq m, in the industrial hub of Sanand GIDC, Ahmedabad. The company now boasts a state-of-the-art manufacturing facility spread over 10,000 sq m.
JMC has not only fostered a lasting legacy by spearheading the machinery manufacturing through cutting-edge innovations and technology but also developed fruitful relationships with clients from across the globe by providing them with quality products and bespoke services. We, at JMC Paper Tech, are involved in the manufacturing activities for pulp & paper mill machinery on a turnkey basis with a capacity of 500 TPD and our qualitative offerings have helped us serve valued customers from across 40 countries.
Along the way, we have won a number of awards and accolades including the Award of Excellence (for the pioneering efforts made in the field of technology for paper machinery manufacturing in India) from the Indian Agro and Recycled Paper Mills Association (IARPMA), Glory of India International Award from International Friendship society of India and Great Achiever of Industrial Excellence Award in 2005 from Indian Organisation for Commerce & Industry.
PM: Throw some light on the product offerings along with some projects successfully executed by JMC.
SP: From land development to executing civil work, designing the machinery, and providing maintenance services, JMC handles all the paper machinery needs. We provide onsite assistance to our clients such as maintenance of paper plant & machinery (after-sales service), erection & commissioning of the paper plant, and management systems & manpower training for the new projects as well as existing plants. Our product portfolio includes single wire, twin wire & triple wire machines for high BF kraft paper plant, four-wire fourdrinier machine with top former (top dewatering unit) to produce FBB and SVS, multi-cylinder former coated board machine and newsprint, writing, & printing machine.
JMC has successfully delivered over 20 turnkey projects in India and abroad. We have recently supplied 150 TPD capacity file board plant to Tirthak Paper Industries, 150 TPD capacity absorbent kraft paper plant to Gloris Paper LLP, 100 TPD capacity high BF Kraft Paper Plant to Evernew Paper LLP, 150 TPD Capacity high BF kraft paper plant to Nioni Paper LLP, 150 TPD capacity high BF kraft paper plant to Caliber Paper LLP and 120 TPD capacity high BF Kraft Paper Plant to Shivay Kraft Papers Pvt. Ltd.
We have recently bagged a turnkey project of 55 TPD single wire high BF kraft paper plant of Wecycle Ltd. in Mauritius and received an order for 120 TPD mould paper plant from Maya Paper & Board Mills Ltd., Bangladesh.
PM: Has there been any new development or product launches?
YP: We have recently introduced carbon steel drying cylinders following the 'Atmanirbhar Bharat' initiative by our Prime Minister Narendra Modi. Truly, 'Made in India', the steel dryers provide numerous advantages to the paper companies in terms of safety, speed, flexibility and costs. Steel dryers can be utilised with lower steam pressure to get a better rate of heat transfer. Also, due to their higher thermal conductivity, they consume less steam to get heated and quickly transfer the heat for paper drying which leads to an enhancement in the production rate of the paper machine. We are focussing on expanding our reach into the integrated pulp mill.
Also Read: JMC Paper Tech: Moving Towards Automation with State-of-the-Art Machineries
PM: What is your outlook on the Indian pulp and paper industry?
SP: The per capita paper consumption in India at 13 kg is way behind the per capita consumption of 200 kg in North America. This shows that there's a huge amount of growth still left. With the expansion of the e-commerce industry in India, the growth of the paper industry is inevitable. In the coming times, technologies like the internet of things, artificial intelligence and analytics would help the paper industry to become more efficient. Besides the safety and quality assurance of a product, such technologies leave no scope for human error.