At the Pulire exhibition, Lucart presents an example of circular economy unprecedented in Italy. The sustainability and innovation of this product have allowed Lucart to win the coveted EU Ecolabel award.

May 24, 2017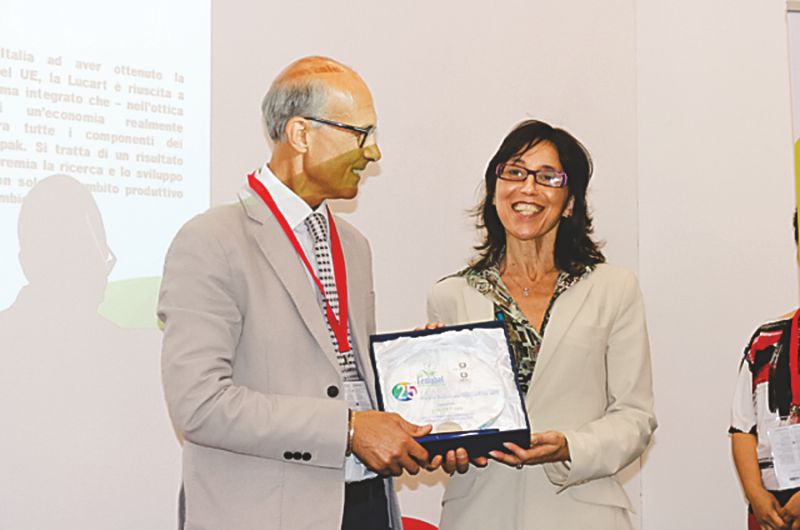 Can a recycled paper product be supplied inside a dispenser made with reclaimed materials? Now it can: this is the successful case history presented by Lucart at Pulire, the largest professional cleaning industry trade show in Italy, a world-leading event in the sector held in Verona from 23rd to 25th May.

Thanks to the Fiberpack® project, the innovative and sustainable project developed in collaboration with Tetra Pak®, Lucart can now recycle 100 percent of the components of a beverage carton, allocating 74 percent of cellulose fibres to the production of recycled paper products and the remaining 26 percent, consisting of 22 percent polyethylene and 4 percent aluminium, to the production of AL.PE.®, a recovered material intended for industries that produce building materials, urban furniture elements and objects of everyday use. Lucart used this material to create a full range of washroom area dispensers, combining the concept of sustainability with the three key elements that are most in-demand on the market: manageability, design and reliability.

This way, Lucart achieved a major goal: offering a superior quality recycled paper product contained in a dispenser made from recycled materials, thus providing an actual example of circular economy also for beverage cartons.

This project focused on sustainability and innovation is the reason why Lucart was chosen by Ecolabel – which, today, celebrates its 25 years of activity at a European level – as the winner of the Ecolabel Award on the occasion of the second edition of the EU Ecolabel National Awards. EU Ecolabel is the ecological quality brand of the European Union (EU Ecolabel) for products and services, which, in addition to guaranteeing high performance standards, are characterised by a low environmental impact throughout the entire life cycle.

Lucart Professional received this prestigious award for category B, which is dedicated to the most innovative products and/or services from an environmental point of view, in terms of design, use or initiatives taken.