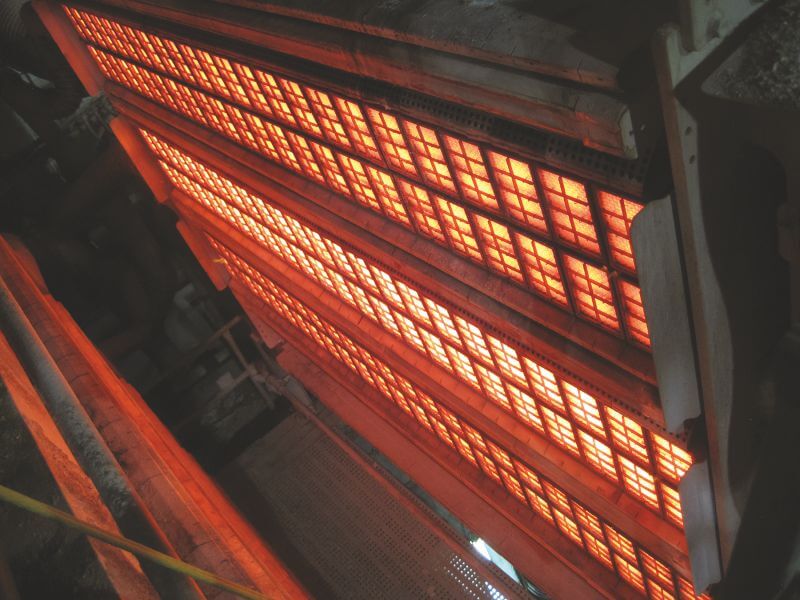 When it comes to improving the paper production process in terms of drying density, gas infrared systems provide the best solution. In this range of systems, Bekaert infra-red technology does not only stand out because of its high efficiency but also because of its compact size.
Why choose Bekaert infrared systems?

Infrared technology allows drying the coated paper excluding contact with the coated surface. The infrared radiation penetrates the paper and transfers its energy into the web. This energy is then transferred to the paper from within.

Bekaert uses solid ceramic components in all its gas emitters. This technology does not only make them very durable, it also enables maximal power density, allowing a compact size system to achieve a quick drying process in a limited space.

Bekaert infrared systems can be applied in several steps of the drying process. For example, it can be applied right after the coating station or (metering) size press to improve the coating drying process. It can also be linked to a scanner to improve the moisture profile in the cross direction. Infrared systems are also very efficient to reduce moisture peaks.

Save 250 US$ per year* per emitter by upgrading your gas infrared system with GemE

The newest and most innovative addition to Bekaert' range of gas infrared emitters is the GemE range. Thanks to the patented second screen and unique surface treatment of the ceramic components, GemE emitters feature an excellent conductivity and emissivity. This technology allows papermakers to decrease their annual gas consumption with the same drying capacity by no less than 10%.

GemE emitters can be installed in existing infrared systems with limited modifications and a minimum downtime.

Bekaert drying solutions for paper and board

Bekaert supplies customized drying and heating systems based on gas and electrical infrared technology to a wide range of industries including paper and board, converting and metal processing applications. Today, more than 1,000 systems have been installed worldwide, of which 60% come from repeat orders with existing customers. The company provides service and maintenance options worldwide for the upgrade optimization and improves energy efficiency of existing systems.

About Bekaert

Bekaert (www.bekaert.com) is a world market and technology leader in steel wire transformation and coatings. Bekaert (Euronext Brussels: BEKB) is a global company with headquarters in Belgium, employing 27,000 people worldwide. Serving customers in 120 countries, Bekaert pursues sustainable profitable growth in all its activities and generated combined sales of € 4.4 billion in 2012.