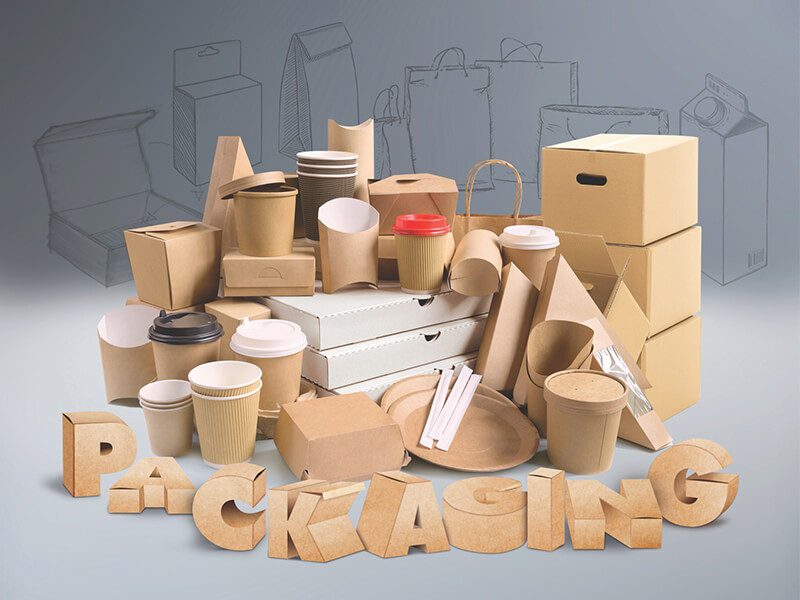 Packaging is not just the technology of containing, protecting, and preserving a product but also the face value of a commodity. A creative aspect of marketing – packaging is an art that has the potential to make or break a product. Being cost-effective and highly efficient, paper is one of the most common materials of packaging. Even if we talk about sustainability and eco-friendliness, paper packaging has it all – it's recyclable, reusable, and made from renewable natural resources.

Sturdy but versatile, paper-based packaging products can be used in many forms such as wrapping paper, paper shreds, paper bags, paper sacks, mono cartons, and corrugated boxes. The latest innovations in design and quality of the materials have made paper & paperboard packaging a practical choice for any brand. Known to provide convenience as well as visibility, products can showcase their distinctive packaging and graphics to tell a brand's story.

Impact of the 'New Normal'

As per a report by McKinsey & Company, more than two-thirds of US consumers worry about contracting COVID-19 from food packaging, which has added new pressure on the food companies. According to a study by researchers from the Indian Institute of Technology (IIT) Bombay, the novel coronavirus may survive for a lesser time on porous surfaces such as paper than on impermeable surfaces like glass and plastic. As a result, food and beverage companies are inclining towards paper and paperboard packaging. With this trend, there could be plenty of room for enhanced packaging designs as well.

"Consumers have become used to various conveniences during the pandemic, and these will not go back to the old normal (flexible work hours/work from home, online shopping/delivery services, virtual meetings/reduced travel for work, etc.). All of these have an impact on the kind of packaging needed, how branding is to be done, etc.," said Mr. Harsha Paruchuri, Director at Pragati Offset while talking about the impact of the pandemic on the packaging sector. As consumer intent to shop online continues to increase, the demand for packaging boards is set to rise in near future. "The market for packaging boards is likely to grow 9-10 percent annually in India, compared with around four percent globally," said Mr. Gajendra N. Agarwal, Managing Director, Gayatrishakti Paper & Boards Ltd.

Watch: Paper Mart News Roundup
A Sustainable Alternative to Plastic

Today, consumers widely view the paper as a more environment-friendly alternative to plastic. Commissioned by Two Sides in 2020, a European consumer preferences survey concluded that 62 percent of consumers see paper and cardboard packaging as better for the environment. The United States is one of the largest paper-producing countries and around 62 percent of the paper produced in 2018 was used for packaging, primarily corrugated boxes. Paper relatively has a higher recycling rate than other packaging materials as it can be re-pulped. As per a report published by the United States Environmental Protection Agency in 2020, it has a 68 percent recycling rate compared to 9 percent for plastics. According to ResearchAndMarkets.com, the global paper recycling market is estimated to be USD 45.5 billion in 2020 and is expected to reach USD 56.2 billion by 2025, growing at a CAGR of 4.3 percent.

An increasing number of cafes in India have replaced plastic cups with paper cups. The paper cups market size in India reached INR 2,139 crore in 2020 and expects to exhibit strong growth during 2021-2026, as per the latest report by IMARC Group. Fast-food chains and restaurants are also switching from single-use plastic tableware to biodegradable tableware and recyclable paper cutlery. For instance, McDonald's claims to source 99.6 percent of its paper food packaging from recycled or sustainable fiber. "Paper packaging accounts for more than 80 percent of all packaging, including over 50 items of paper bags, paper cups, paper straws, and paper boxes," said Rajeev Ranjan, COO, Connaught Plaza Restaurants Pvt. Ltd.

Uttar Pradesh-based Yash Pakka Ltd. is being marketed at restaurants for its comprehensive line of bagasse tableware products. Mr. Shailesh Singh, Paper Sales Head of the company feels that the Government of India's recent circular to ban single-use plastics may become a driving force and an opportunity to push sustainable products to the consumer market.

"The size of the disposable tableware market is valued at around USD 320 billion. We are estimating 10 percent of that market has shifted towards sustainable packaging options," said Mr. Sanchit Gupta, Director of Kuber Packaging Industries Pvt. Ltd. that manufactures eco-friendly tableware under the brand Ekopak.

Not just food and beverage companies, even FMCG and luxury companies have started focussing on eliminating plastic in packaging. After launching the first paper-based tubes under the La Roche-Posay brand, L'Oréal has announced that it would soon use cardboard bottles developed by the start-up Paboco. Meanwhile, Procter & Gamble has unveiled its first paper bottle for Lenor.

Also Read: Evolution of Paper-Based Packaging
Summing Up the Success Story

According to Valuates Reports, the global paper and paperboard packaging market size are expected to reach USD 224.74 billion by 2027, from USD 189.32 billion in 2020, at a CAGR of 2.9 percent during 2021-2027. A recently released report by Reportlinker.com projected the paper and paperboard trays market to reach USD 7,319.26 million by 2028 from USD 4,942.09 million in 2021; registering a CAGR of 5.8 percent from 2021 to 2028.

Seeking to make India single-use plastic-free by next year and deal with the menace of huge uncollected plastic waste across the country, the centre has recently notified a ban on single-use plastic items from July 1, 2022. With this announcement, every sector is gearing up to implement economical, plastic-free packaging/eco-friendly options with paper being one of the most popular alternatives to plastics.

"Major factors which will drive the demand going forward include e-commerce, industries which will benefit from PLI scheme, food processing industry which will also benefit from agricultural reforms announced by the government, FMCG and consumer durables industries which will benefit from a rise in discretionary income of the Indian masses," said Mr. Kirit Modi, Chairman & Managing Director, Horizon Packs Pvt. Ltd. and President Emeritus of Indian Corrugated Case Manufacturers Association (ICCMA).

"Huge investments in the food processing, personal care, and pharmaceutical end-user industries are creating scope for expansion of the packaging market," added Mr. Nikhil Borkar, Director, Borkar Packaging Pvt. Ltd. while commenting on the current market scenario of paper packaging in India. Keeping up with the evolving trends, paper packaging is going to be the next big thing in the future!