The 8th edition of the CII National Conference on Pulp and Paper – "Innovative Water Management Strategies towards Enhancing Competitiveness of the Pulp & Paper Industry", was organized by the CII Triveni Water Institute, and supported by IPMA, on July 14, in New Delhi. The event was organized by the institute to continue its engagement with key players in the pulp and paper sector and to discuss future prospects of a sustainable Indian pulp and paper industry. The conference, divided into 3 sessions, brought together industry leaders, experts, and stakeholders to discuss the latest trends, challenges, and innovations in the pulp and paper industry. The conference aimed to provide a platform for knowledge sharing, networking, and collaboration among the participants.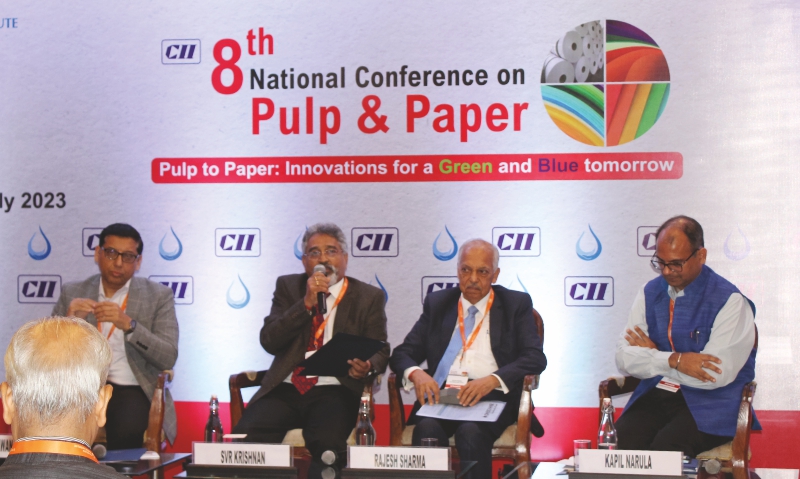 The CII 8th Conference for Pulp and Paper Industry kicked off with an inaugural session where key industry leaders and government officials highlighted the importance of the pulp and paper industry in driving economic growth, job creation, and sustainable development. The session emphasized the need for innovation, technology adoption, and sustainability practices in the industry. In the beginning, Dr. Kapil Narula did a brainstorming session with the attending delegates, industry leaders, and other participants, wherein the session derived its focus, with Green standing for the environment and Blue for the water.
The first address was of Mr. SVR Krishnan, Conference Chairman & Executive Director (Operations) of Tamil Nadu Newsprint and Papers Limited, who said "We need to focus on the practical aspect of making the industry sustainable while talking about Circular Economy, NetZero, Recovery, Recyclability, etc. Although Indian paper mills have done great work in controlling water usage and its treatment, there is a need for micro-management in the recovery of water. Indian industry is great at crisis management, as proven by TNPL in 2017 when Kauveri River went dry and the team had to brainstorm the entire water usage system. Now we need to strengthen our system management, by understanding current domestic and global scenarios, and the requirements, and work the best strategy. This will help us elevate our fears regarding profitability margins, even as prices all around are dropping. Internal control can help us elevate our profits. Digitization can help this mission of becoming a Green and Blue industry, and applying system management effectively."
Watch: JMC Paper Tech Launches New Subsidiary JMC Papers
Mr. Pawan Agarwal, President of Indian Paper Manufacturers Association (IPMA) & Managing Director of Naini Group of Industries, stated "In 2014, Mrs. Uma Bharati was given the job of rejuvenation of Ganga river. In a meeting, she said she is a doctor who has to choose between saving the mother or a child, and she chose the mother. The message struck us and hence the charter of pulp and paper industry was adopted by the paper mills in Uttarakhand and Uttar Pradesh. In the charter, we simply benchmarked the adoption of the best available technologies for each and every process of paper mills. This brought to light the unorganized mills in the basin and they were written off by the CPCB. Since then, the Indian paper industry has come of age, and we are on the cusp of sustainable development. In every sector, agro-based, waste-paper-based, or wood-based, we are involved in sustainable paper production. We are in fact wood surplus in terms of farm forestry. In terms of technology, the basic problems of fiber deficiency and high capital costs in India, do not stop us from employing the best available technology in the world. However, we have to be conscious of the footprint of our employed technology. The thing to be highlighted here is that of the said nearly 850 mills in India, a very minimal portion have organized systems. To the rest, I say keep your basics right, measure everything, technology, and most importantly, invest in the right human resources to run your mill, environment, and system. A strong HR will help us analyze our stock of historical data and apply AI to the best of results."

Mr. Rajesh Sharma, Chairman of CII National Committee on Water; & Chairman and Managing Director of Ion Exchange (India) Limited, further commented, "Green and Blue, the consumption of both energy and water, will grow as India becomes the fastest growing economy. The paper industry is imminent for sustainable growth and its growing water and energy consumption will have an impact on the national economy, ecosystem, and overall sustainability. In order to control our consumption, the entire process needs to be assessed. It is after such assessments, that paper mills have successfully shifted towards energy conservation in manufacturing along with effective treatment of water. Technology and human resources are available, but in terms of environment-friendliness, their efficiency needs to be focused. The need of the hour is to manage the source of water, as fortunately, we get a lot of rain, but then 40 percent of mills are facing a rain shortage. We need better storage and water management. The paper industry must try to survive on its recycled water and mitigate dependency on public and government sources. The cost of recycling is in fact lower, and in many industries, it has proved profitable."
Dr. Kapil Narula, Chief Executive Officer & Executive Director of CII Water Institute, concluded the session by saying, "India's specific water consumption needs to come down, and source diversifications can play an important role in this. Each mill must be aware of the impact of their share in the watershed they use as the source. Secondly, we must not wait for a crisis to trigger a change but should manage, measure, and monitor our consumption beforehand. The systems must be optimized and adhered to the water policies that the government levies. CII Water Institute is raising awareness of good practices through publications and case studies, like A Cup of Joy book, which compiles case studies on pulp and paper mills that have implemented optimum processes and systems to mitigate their fresh water and energy consumption. The book aims at furthering the adoption of these systems across the Indian paper industry. The pulp and paper industry has made a significant impact on reducing their water consumption. The watershed health must not be ignored. It feeds your mills and you must be aware of it, understand its uncertainties, and use water scanning. We have come out with a certificate on line of water neutrality for the industry, it will help ZLD (Zero Liquid Discharge) benchmarks to be attained better. The certification has been proposed to NITI Aayog already. Lastly, the Blue rating system will help the mills to certify their operational efficiency, supply chain health, etc. The system considers global 80 plus parameters for assessing plant health."
The conference featured a series of panel discussions on various topics related to the pulp and paper industry. Some key panel discussions included: "From Trash to Cash" and "Future of Pulp & Paper Industry for Green & Blue Tomorrow".
Session I: From Trash to Cash
The session was moderated by Mr. Arun Bijur, Chairman of the Board of Directors of SPB Projects and Consultancy Limited. According to recent projections, by 2050, India would require 1.2 trillion cubic meters of freshwater, in comparison to 850 billion cubic meters currently. 80 percent of this demand goes to agriculture, 10 percent to industries, and 10 percent to per capita consumption. Water consumption needs to be controlled as it is possible that freshwater availability will go down. Although the paper industry responds well to regulations, there is a need for self-regulation. Water Neutrality, and Blue Rating steps have already been initiated.

The panelists for the session discussed wastewater management for a sustainable future and self-reliant water recovery systems. Mr. Manish Gandhi, Senior Vice President (Infrastructure Business and Head of North & East Operations) Ion Exchange (India) Limited, talked about Advanced Anaerobic Technology for mill wastewater treatment, and the difference between aerobic and anaerobic technology. He shared how the anaerobic treatment process covers the disadvantages of aerobic treatment. For instance, no-aeration helps in reducing power consumption, sludge disposal is six times less, and footprint is four times less, anaerobic treatment can take a high biological load and produces methane indirectly, which is a type of fuel. He further explained External Separation Sludge-Back Reactors, which is a vertical reactor and offers anaerobic ways of digesting and separating. Mr. Rakesh Uniyal, Manager of PPS Solution AS, Asia Pacific West & South Valmet Technologies, joined the session by VC and shared a presentation on measurement technologies while addressing the cost, treatment, odor, and separation challenges faced by the mill in sludge treatment. He also presented the application of optical measurements, their cost-effectiveness, microwave travel measurement technology for microplastic assessment, etc. Mr. KG Rajan, the conceptual founder of Minimill Management, joined from the USA through VC and shared a presentation on various technological breakthroughs, which resulted in cost-reduction at paper mills, especially mini-mills. Mr. Akhilendra Verma, Product Manager (Molded Fiber) of Parason Machinery, hashed the conversation for bagasse-based products, and responsible packaging for the session. He also discussed white pollution, and how bagasse-fiber and other EPS items are serving food packaging markets by controlling plastic production. Mr. Hitul Naik, Regional Manager of Rochem Separation Systems (I) Private Limited, shared key figures tantamounting to high capital costs for pulp and paper mills on the water usage and recycling front, including chemicals, nutrients, pollutants, and alkaline products during the recycling process. He acknowledged the impact of industrialization on water consumption and discussed the requirements of industry, such as ZLD combined with effective consumption, and proper ETP, and solutions like reverse osmosis, chemical consumption, anaerobic treatment, etc. Mr. Nandan Prabhune, Head-Technology & Innovation (Water & Waste Solutions) of Thermax Limited, presented technological solutions offered by Thermax Limited on wastewater treatment and its proper recycling. His presentation expanded on solutions like color removal, advanced ultrafiltration, and IoT for water purification.
Also Read: Paper Mart Emagazine Jun-July, 2023
Session II: Future of Pulp and Paper Industry for Green & Blue Tomorrow
The session was moderated by Mr. SVR Krishnan, and the topics discussed during the session included lifestyle, market, compliance, regulations, reforms, social and governance rating systems for sustainability, etc. According to a NITI Aayog report, India's population share is 18 percent and freshwater share is 4 percent. Water availability is an issue across India in every sector, hence for the pulp and paper industry as well. In the wake of industrialization and economic growth, the problem is expected to worsen, hence system management for a Green and Blue future was discussed by the panelists for this session. Mr. Veman Ramasahayam, Senior Manager of ITC (PSPD) Limited, presented the context of the industry being a water-extensive industry, and preparations worked upon by ITC in regard to physical risk, regulatory risk, and reputational risk. Mr. Ashok Kumar Singh, Vice President (Operations) & Mill Manager of Andhra Paper Limited, shared how Andhra Paper is integrating the world's best technological solutions with its traditional roots, and building fundamentals of energy efficiency, material efficiency, green capture and storage, etc. He also highlighted the importance of collaborative work with the government and within the industry. Mr. Sanjay Chechi, Process QC Head QC of Kuantum Papers Limited, addressed the myths about the pulp and paper industry, especially the sustainability of using paper in the long term. He addressed applaudable initiatives of the industry, such as carbon neutrality, energy, and water efficiency, farm forestry, reducing water consumption, green chemistry, digital optimization, Co-Gen plants, etc. Mr. Kandarp Kishore Shivpuri, Counsellor of CII Water Institute, focussed on the geo-political impact on the Indian pulp and paper industry, the CAGR of the industry, the high-water consumption by the industry, and sporadic water availability in India. He also discussed the Blue-Rating system. Mr. Santosh Wakhloo, Executive Director (Marketing) of Tamil Nadu Newsprints and Papers Limited, discussed the need to convince the market that the pulp and paper industry is a green industry and a non-polluting one. He said that the global pulp and paper industry is growing at nearly 3 percent, with a concentration in Asia, while North American and European markets are declining. Paper applications are changing as there is a demand transition from communication and writing & printing to packaging and kraft paper applications. TNPL has hence diversified into the packaging boards segment. He shared that 66 percent of the fiber used in production is recycled, and so TNPL, like the rest of the industry, is plantation or wood surplus.
The CII 8th Conference for Pulp and Paper Industry proved to be a significant platform for industry players to gain insights, exchange knowledge, and explore collaborations. The discussions and presentations emphasized the need for sustainable practices, digital transformation, and market intelligence in driving the growth and competitiveness of the pulp and paper industry. The conference successfully facilitated networking and knowledge sharing, contributing to the overall advancement of the industry.