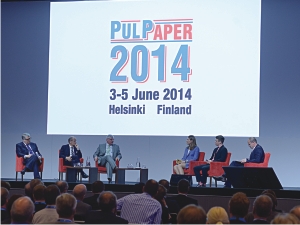 The 8th edition of PulPaper was held in Helsinki 3-5 June, 2014. The three eventful days once again confirmed PulPaper's status as the world's premier and most progressive meeting place for the industry. Just like it set out to, the event enabled participants to share knowledge, innovation and new ideas with each other and created a platform to meet, network, do business and stay updated.

For first time exhibitor Richter Karhula, PulPaper was a great success. – Richter has been active on the German market for over 40 years. After having taken over the Karhula plant a year ago we wanted to get better known in the Northern market, says Dirk Richter, General Manager of Richter GmbH&Co KG. – By exhibiting at PulPaper, we made many new and valuable contacts in the Finnish market. The arrangement was very well implemented and we had a great time in Helsinki with customers and colleagues. We feel even more at home in the Finnish market now and hold a very positive attitude towards the future.

Richter Karhula attracted a lot of attention in the hall due to special marketing activities and visibility around the Messukeskus. The company works independent from any machine supplier and performs service for nearly every part of the paper machine and offers spare parts, new roll covers as well as manufacturing, repair and regeneration of rolls.

PulPaper 2014 had a final visitor figure after three days of 9428. The visitors travelled to Helsinki from 72 countries worldwide, making it the most international event of its kind. The exhibition floor hosted 453 exhibitors from 29 countries in 193 stands.

The feedback from exhibitors, visitors and conference delegates of the event has been very positive, says Adforum CEO Marcus Bergström. – The Biofuture for Mankind and the IMPC2014 conferences offered participants highest quality content and the social activities, the Pulpaper After Work and the PI 100th anniversary Gala Evening provided guests with a great mix of entertainment and networking opportunities. We are very happy with the general outcome of PulPaper 2014 and would like to welcome everyone back to the next PulPaper event scheduled to take place in the late spring/early summer of 2018, dates to be announced.