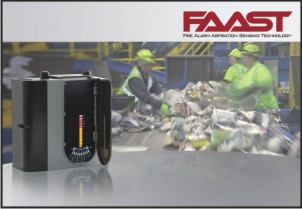 The threat of fire is ever present in recycling plants; stored paper, plastic materials and glass pellet processing all have high associated risks. Fires can be devastating and costly, but developments in aspiration smoke detection technology are helping to enhance plant safety, whilst limiting false fire alarms.

There were over 360 recycling plant fires in the UK alone in 2013 (Environmental Agency statistic). The prevalence of such events is highlighted by the 11 fires experienced by an East London plant in just two years, requiring a total of 2,000 firefighting hours. Fire events incur considerable costs. Contracted waste coming onto the site must be redirected and stored materials moved to safety, causing considerable process downtime and insurance reclamation administration costs. Not to mention the impact of total asset loss and the threat to safety, urban disruption and pollution.

Fast and accurate smoke detection is imperative for plant safety, but traditional methods of fire detection can be problematic. Dust-rich environments cause a high frequency of false alarms; one per week or more in many cases. Just one nuisance alarm can result in 30 minutes of unplanned downtime and resources to investigate (26 or more lost work hours every year). This creates an increased need for onsite device maintenance (such as optics cleaning), leading many facilities to implement solutions designed to meet regulation minimums. This trend has put many plants at an increased risk as they work hard to balance business efficiency with site safety needs, leading to the emergence of new Environmental Agency guidance.

Next generation aspiration smoke detection solutions are addressing these issues. Many recycling facilities have turned to aspiration detection as a technique as it allows air to be drawn via a pipe network for analysis of smoke particles. Whilst an improvement on traditional methods, these systems can still cause false alarms. Honeywell's next generation FAAST Fire Alarm Aspiration Sensing Technology redefines the concept of recycling plant fire safety by combining the earliest and most accurate fire detection with false alarm immunity.

Tim Checketts, Business Development Manager, Honeywell Fire Safety said: "FAAST mitigates the detection issues and risks associated with fire protection in recycling plants. Unlike other aspiration solutions, FAAST uses a sophisticated three-stage filtration technique, dual-optics particle analysis and intelligent algorithms that effectively distinguish smoke from dust particles. This is vital in plants which are recycling large volumes of fiber rich materials such as paper around the clock. FAAST is able to withstand temperature and humidity variations as it is able to auto learn its environment. Integral replaceable components minimise device failure and improves maintenance which can be costly in hostile environments."

Gintare Budriunaite, Marketing Manager for Honeywell Fire Safety, said: "We are seeing an increasing number of waste recycling plants opting for next generation aspiration detection technologies to provide accurate and robust smoke detection. Additional benefits such as the ability to cope with high levels of dust and humidity, as well as easy device installation and maintenance makes it an ideal choice for any facility manager under pressure to guarantee undisrupted and safe operation. We believe that these new technologies will provide greater protection of people and processes in what is a growing industry."