The SALOMIX family is a well received brand in the industry as it offers the possibility to mix and match the agitators to find the best solution for pulp and paper industry applications.
January 10, 2019

Sulzer has launched the new SALOMIX SSF side-mounted agitator family to the global. Sulzer was honored to have Mr. Pawan Agarwal, the President of the Indian Pulp & Paper Technical Association, present at the event. Sulzer's expert team at the stand also included specialists from the global sales, segment and product portfolio management.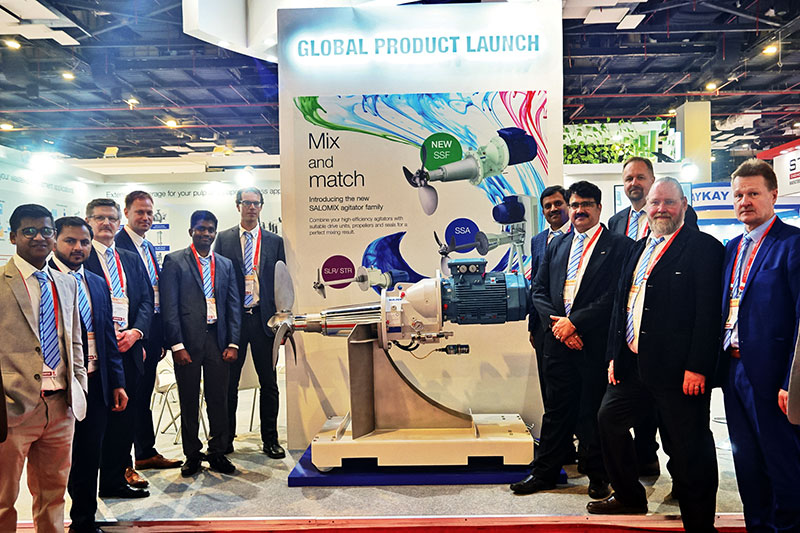 Sulzer also presented the newly released Sulzer Sense wireless IoT condition monitoring system and the successful magnetic bearing HST turbocompressor.

Mr. Arvind Singh, Head Sales Industry for India said, "At Sulzer, we are committed to bringing the latest technology and products to our industrial customers. Our aim is to help them manage their demanding applications with the best possible reliability and efficiency."

The new SALOMIX family is a versatile mixer range of modular design that offers the right agitator option for each specific application. The SALOMIX side-mounted agitators meet the process requirements in a wide range of industries and applications where clean and slightly contaminated liquids, viscous liquids as well as fibrous and other slurries are agitated. The combination of maximum propeller efficiency and optimum agitator selection will reduce the overall power consumption of the mixing application significantly. The SALOMIX agitators stand for high reliability. Their smooth hydraulics and rigid construction ensure low vibrations and a long lifetime for both seals and bearings.

The new EX3 propeller was developed with the latest computational fluid dynamics (CFD) technology and tested in a full-scale laboratory. By adjusting the propeller blade angles, the agitation intensity can be adapted – either to save power or to increase capacity. The EX3 stands for high efficiency and minimized total cost of ownership (TCO), low power consumption, low vibrations due to smooth hydraulics ─ and, in the end, a reliable and cost-effective agitator.

The new, high-efficiency hydraulics (patent pending) of the SALOMIX family provides substantial savings in energy consumption. Thanks to the robust construction, the need for service is cut to a minimum, and the service-friendly design makes maintenance easy. Preventive maintenance can be optimized by using Sulzer Sense condition monitoring. All these features add up to a minimized TCO.