Valmet Performance Centers are an easy-access channel for customers to Valmet's Industrial Internet applications and remote services. Five newly established Performance Centers offer extensive support for pulp, paper and board, tissue and energy customers.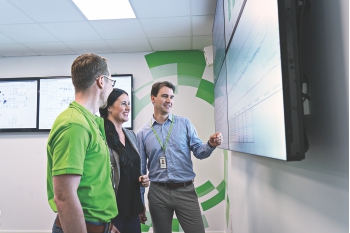 Performance Centers make Valmet's expertise easily available for customers through remote connections and tools. Valmet's specialists have a deep understanding of machinery, processes and automation. By bringing all this expertise and experience together and accessible through a Performance Center, Valmet can offer the needed help and guidance to its customers without delay – and more broadly than before.
Typically, customers utilize the services of a Performance Center after new machine installations or through Performance, Cooperation or Service Agreements.
.
Extensive expertise gathered in one room
Performance Centers were established to bring Valmet's expert network to the customers' reach more quickly and effectively than before. Valmet's experts work in the centers both physically and virtually through remote connections.
The The Board and Paper Performance Center in Jyväskylä, Finland, offers services for paper and board customers. Its operations have started effectively, and several customer cases have already been solved.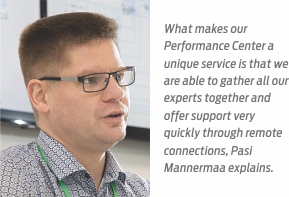 "We have had a powerful start, and our customers have really demonstrated their interest in this type of service. In the paper and board business, we have a long history of collecting data, and various remote services have also been available before. But what makes our Performance Center a unique service is that we are able to gather all our experts together and offer support very quickly through remote connections. In addition to our staff, we have a large team of experts available virtually for help, if needed," explains Pasi Mannermaa, who heads the Board and Paper Performance Center.
By using external experts for problem-solving and process development, customers' own resources are better allocated for running their daily operations.
"We have noticed that our customers appreciate our ability to bring in extra muscle for thorough problem-solving. As they're in a hurry, customers' specialists often find quick fixes to get something working again, whereas our experts are dedicated to the problem, identify the root causes, and find longer-lasting solutions. With our experienced team, we look at the problem or the process from various angles," says Mannermaa.
Valmet's paper and board experts are strongly represented in Jyväskylä, so it was a natural choice for a Performance Center location. The other four centers are located
in Tampere, Finland (Energy and Automation), in Sundsvall (Pulp) and Karlstad (Tissue) in Sweden.
.
Remote connections enable rapid service
Valmet's Performance Center services are divided into three categories. First, through remote monitoring and optimization services, Valmet's experts suggest actions for improving processes or predictive maintenance to avoid unexpected breaks in the production process. Secondly, on-demand expert support is offered as part of service agreements. The third service category is data discovery and analysis, to identify the root causes of issues related to frequent process variations, for example, in energy, efficiency and quality.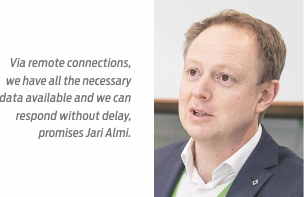 "Traditionally, our experts have travelled frequently to remote destinations to respond to our customers' needs and solve different kind of problems. Via remote connections, we have all the necessary data available and we can respond without delay. Also, instead of one service specialist travelling to a site alone, we gather a whole group of experts to solve our customers' problems. In addition to increasing the speed, the Performance Centers lift the quality of our customer service to the next level," says Jari Almi, Director of Industrial Internet at Valmet.
Launching new ways of working and new services always requires a change in mindset and a willingness to accept new things. Technically, the biggest issue has been data security and reliability. Protecting customer data is one of the main design principles in developing Valmet's Industrial Internet applications and services.
"Naturally, we have discussed data security issues a lot with our customers, as confidential data is collected and stored. We take the concerns seriously and that is why we have selected only top-of-class certified partners to co-operate with us. We utilize the newest technologies and have a very competent IT department supporting us. The only thing our customers need to provide is an acceptance to utilize their data – we take care of the rest," promises Almi.
.
Expanding global coverage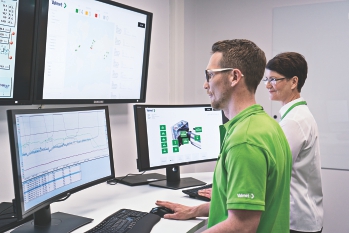 New technologies are being developed at a rapid pace. As customers' processes and the analysis methods are further automated, the Performance Centers will also be able to offer services more effectively. The Performance Centers, Valmet's Industrial Internet offering and the upcoming Customer Portal will form a platform with infinite possibilities for new services.
The new remote service concept was launched with five Performance Centers, but there are already plans for new locations.
"Of course, our focus at the moment is to get all our current Performance Centers running at full speed, but at the same time we are looking to the future. We've already made plans for other locations, and in a few years' time, I believe that we will have fully operating remote centers in all our areas, backed up by current customer segment-specific remote centers. That means we would be offering service in several languages in all time zones, and working with our customers 24/7, all year round," Almi says.