Valmet OC2R offers the possibility to measure ash in recycled pulp manufacturing applications as well as general stock preparation applications in paper, tissue and board.
September 5, 2019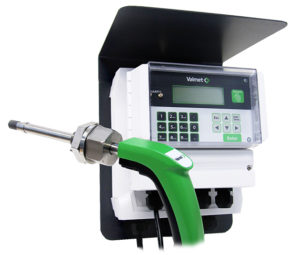 Valmet has launched a new Valmet Optical Consistency Measurement (Valmet OC2R), which has been developed for recycled pulp manufacturing applications, as well as general stock preparation applications in paper, tissue, and board.
Valmet OC2R shares the total consistency measurement method utilized in the original Valmet Optical Consistency transmitter with the added capability of ash content available as a second measured value. Particularly in low-consistency measurements, Valmet's optical transmitters are frequently the only possible measurement technique to provide reliable results. Valmet OC2R offers easy and low-cost installation with a measuring probe that makes insertion and removal possible without requiring special tools or a process stop.
For mechanical and chemical pulp, as well as for recycled fiber furnishes, Valmet OC2R is an ideal choice for control applications, from re-pulping and screening all the way to the machine chest.
"The addition of the ash measurement to total consistency opens new possibilities for recipe management in pulp blending, better broke handling, and reducing machine chest furnish variability. In recycled fiber processing, the benefits of the two measurements include better end product quality with improved strength and optical properties," says Heikki Föhr, Product Manager, Valmet Optical Consistency Measurement, Automation business line, Valmet.
Valmet OC2R joins the Valmet Optical Consistency Measurement (Valmet OC) family of transmitters, each optimized for use with eucalyptus pulp, recycled fiber and chemical pulps in addition to mechanical furnishes. Installed in an area of turbulent flow, the temperature and vibration resistant probes are self-cleaning even in the demanding environment of recycled fiber processing. Sharing the same basic components and modules optimized for each application, they have gained a deserved reputation for accuracy, reliability, and ease of installation.