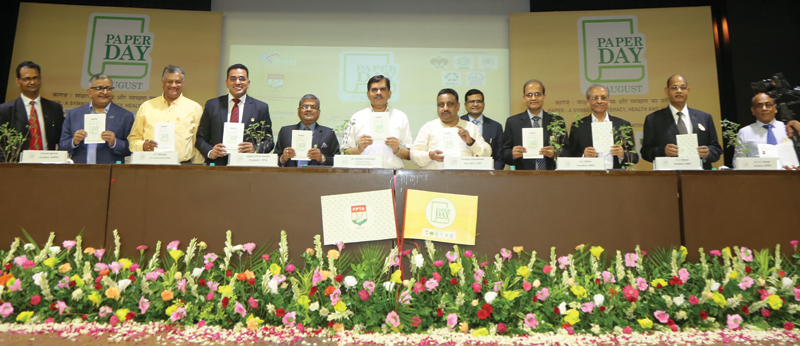 Federation of Paper Trader's Association (FPTA) celebrated this year's Paper Day with gaiety and fervor across the nation. Held in Delhi on August 1, 2019, at NDMC Convention Centre, the event was attended by all stakeholders associated with the paper industry, including paper manufacturers and paper traders and other people. Members of FPTA and other paper industry associations, such as IPMA, INMA, IARPMA, IRPMA and IPPTA, actively participated in the annual event, which was held to promote the use of paper in daily life and to debunk the myth that papermaking destroys forests.
Paper Day is celebrated on August 1 because Jawaharlal Nehru, in a bid to revive and preserve the rich heritage of handmade papermaking in India, inaugurated Handmade Paper Institute at Pune on August 1, 1940. The first copies of the Constitution of India were printed on paper manufactured at this institute. According to FPTA, Paper Day is all about spreading awareness about paper. This year, FPTA organized various events, including drawing and essay-writing competitions, at quite a few schools.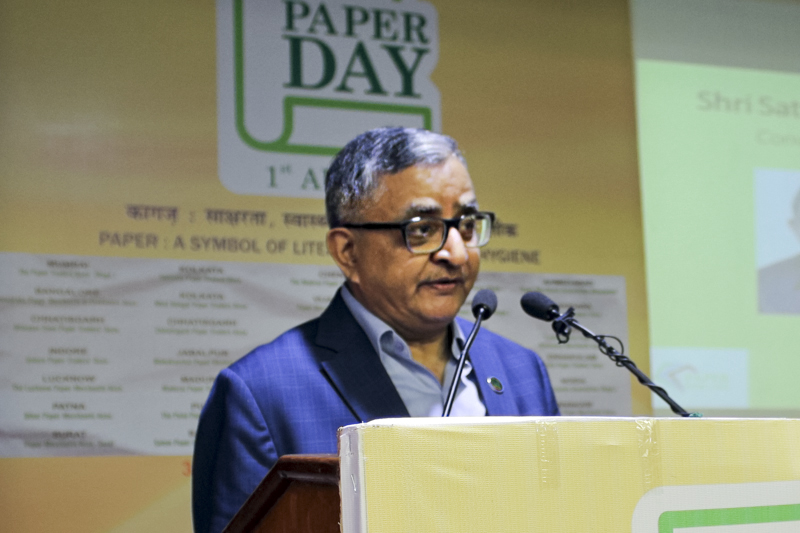 In his welcome address, Satyapal Gupta, Convener of Paper Day, said, "At FPTA, we believe that success results from partnerships. We also believe that what looks good should also do good. Paper draws inspiration from Mother Nature; and by way of planting trees, conserving water and other natural resources and recycling, it gives back to her what it takes from her. Paper makes every single day a little more beautiful for you and the things around you. Use paper every day, and every day will become beautiful. Paper brings beauty. Paper Day is not about paper only; it is about you, the stakeholders; it is about changing lives and communities and, ultimately, the nation. Paper Day is about the economy, the environment and social responsibility. Paper is sustainable, unique, nature-friendly, biodegradable, compostable, recyclable, safe and healthy. Little can happen in modern life without paper and board. Paper can be permanent or transient, delicate or strong, cheap or expensive, in abundance or scarce. It can be preserved in museums or thrown away. Paper has many good qualities and uses.
"With every new technological advance, the amount of information has multiplied and the volume of paper has risen as well. Paper remains the best, most cost-effective and most prevalent way to view and store different types of information. Many advances in the areas of writing, printing, distribution, display and storage have had an enormous effect on the volumes of different grades of paper. Also, every major application of paper is developing along a unit path affected by core technology developments, economic factors favoring or opposing the use of paper and cultural issues promoting or inhibiting change. Some applications actually offer opportunities for increased use of paper. All these trends include opportunities and threats, and the total demand for paper continues to rise.
"We believe that those who refuse to take care of the planet – the environment and natural resources – are doomed to failure. We believe in using and consuming the resources and commodities in a responsible manner, respecting both the planet and the people. As users of paper, plastics and digital technology, we need to evolve as responsible citizens making an attempt to reduce our carbon footprint and show more concern for the planet. We need to source and use paper responsibly – reuse, reduce and recycle paper. We need to write on and use both sides of a sheet of paper, reduce print output and recycle paper waste. Let us start by becoming a responsible buyer and user of paper. All the stakeholders must join hands to set up a national museum for paper to showcase the history of papermaking, technological advancements in the field of papermaking, plantation, etc. We wish to deliver the message that clear, concise and transparent policies are essential for all the stakeholders to invest, compete and innovate at home and around the globe. There is no one or single solution. We need to work from every sector and from every angle. We need to design new materials; we need a policy change; we need education; and we need the art of shifting mindsets. To overcome the challenges we face today, we need to work together. "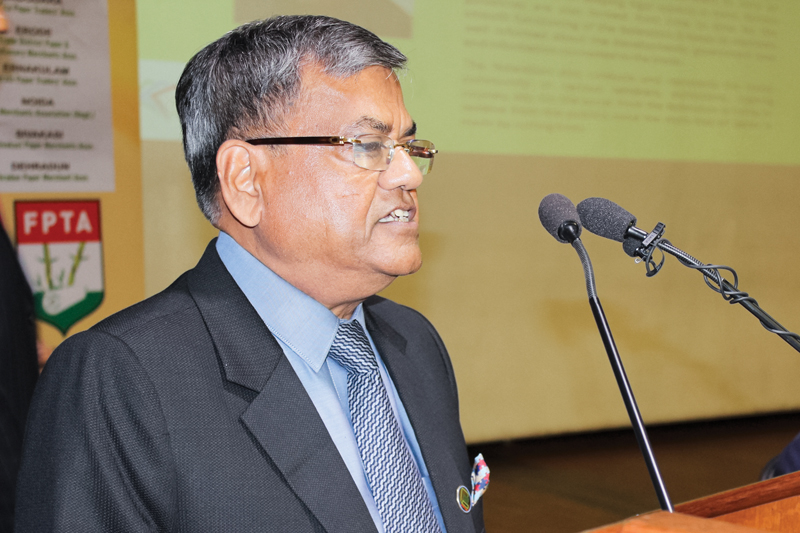 Speaking at the event, Sajjan Kumar Goenka, President, FPTA, said, "Paper Day is an important day for the paper industry in India. We have requested the Central Government to declare Paper Day as National Paper Day. It is important that each one of us creates awareness among the general public that paper is a great thing for us. In society, there is propaganda against the use of paper. It is wrongly stated that increased use of paper leads to increased destruction of forests. This statement completely ignores the fact that 75 percent of paper in India is produced from recycled and agro-based materials and the remaining 25 percent is made from wood and agro procured from social forestry, which is getting additional employment for the rural population. I request all of you to promise to be the true voice of paper. Let us all inform the nation about the advantages of paper."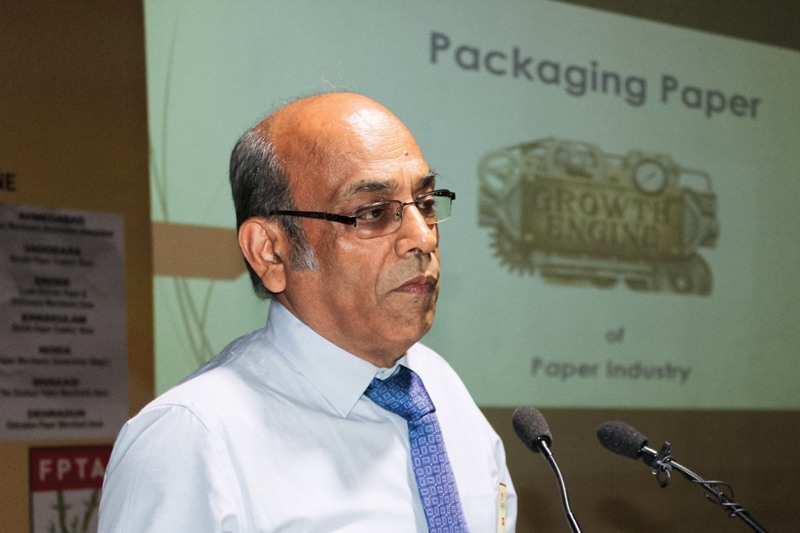 During his presentation on packaging paper as a growth driver, Mohan K. Goyal, Secretary General, IPPTA, said, "We have 464 running mills with 677 machines. The overall production of paper is 23 to 25 MT per annum. Gujarat is the topmost state with 4.6 MT per annum of production followed by U.P., which is at 4 MT per annum; Tamil Nadu is 2.5 MT per annum; and Maharashtra is 2.4 MT per annum. So, this is a state wise analysis. It should be noted that Morbi, a city in Gujarat, records more than 1.25 MT per annum of production. It should be noted that the production of Kraft is 12 MT per annum. Around 80 percent of paper is made from waste paper; 15 percent of it is from wood; and 5.37 percent of it is from agro. When we look at these facts, our thought process changes considerably – the questions that are answered are What is happening in the paper industry? What is causing pollution? What is not causing pollution? What is the magnitude of recirculation? and so on.
"What are the growth drivers in the packaging sector? The premium segment in this sector is virgin board, and the biggest growth driver here is pharma exports. The other growth drivers are FMCG and food. What are the challenges in this sector? India is the biggest exporter of generic drugs, and regulatory issues such as approval or non approval of plants are the biggest threats or worry for board manufacturers with blackout looming large periodically. What are the opportunities in the virgin board segment? Mostly large houses are in this field, and they ensure consistency of quality and supply. In the past, growth in this segment was 12 to 13 percent. We can expect a modest growth of 10 percent in the coming years.
"In the recycled board segment, growth is taking place through FMCG and pharma. What are the challenges in this segment? The challenges come from 'reducing' import duties. In ASEAN countries, including South Korea, the import duty has come to 0 percent. Import duty from China has been reduced from 10 to 7.5 percent. Let's take a look at the opportunities for people in the recycled board segment. We have seen exponential growth in FMCG products, and high growth is expected in pharma usage.
"The growth drivers in the Kraft paper (including multi layer) segment are the e-commerce platform, POY tubes, general packaging and FMCG products. Opportunities for Kraft paper mills come from export, carry bags and replacement of plastics. We can expect a growth rate of 7 to 9 percent on volume in the Kraft paper segment. What challenges do Kraft manufacturers in India face? Paper odor is a big challenge in this segment. We have seen rejection of exported paper because of odor. In the Kraft segment, strength properties have to meet RCP, not BF. The strength properties that India is getting for Karft is through chemicals, and it is going to remain a challenge because we do not use virgin fiber in our Kraft paper. Environmental compliances – lack of effluent treatment faculties – and fluctuating international prices of raw material also pose challenges for Kraft manufacturers.
"What are the common challenges that manufacturers in the packaging sector face? The challenges are availability of fiber; menace of plastic coming along with waste paper; scale of operation, which is fragmented and small; and ever tightening environmental regulations. Let's now take a look at the projected growth in the packaging segment. For virgin board, it is 1 million tonnes growing at 10 percent; for recycled board, it is 2.6 million tonnes growing at 5 to 6 percent; and for Kraft it is 12 million tonnes growing at 7 percent. The total is 15.6 million tonnes, out which 0.5 percent is through export and domestic manufacturing is 15.10 million tonnes. The additional demand per year is going to be 1.1 million tonnes. Is the industry ready to meet this additional demand? The answer is yes."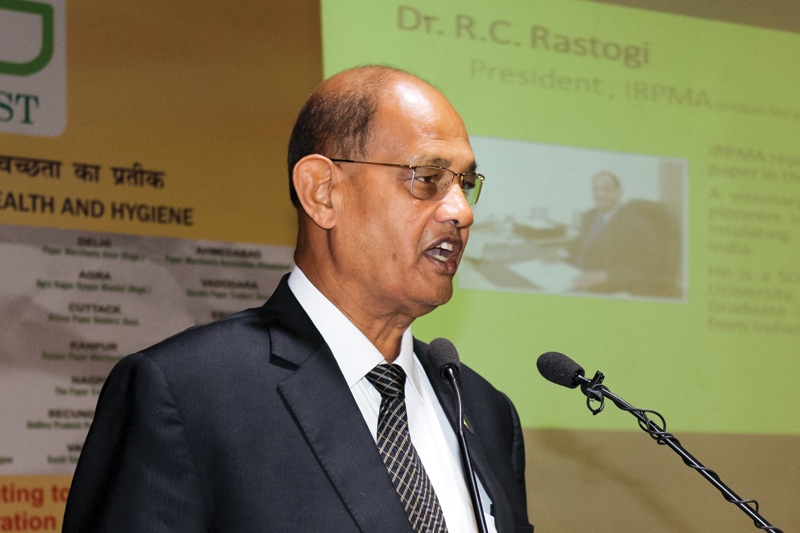 Sharing his views on the environment, its concerns and its benefits to the paper industry, R. C. Rastogi, President, Indian Recycled Mills Association and Managing Director, Khatema Fibre Ltd., said, "The paper industry is not using any forest; rather the paper industry has created a forest. Against plantation of two trees, the paper industry uses one tree for papermaking. Paper manufacturers must make efforts to convince our Ministry of Forests and Environment to help us by locating forest land for the creation of social farm forestry. Paper and paper board are used for textbooks, notebooks, print media, cartons, corrugated boxes, packaging products, etc. Today, there is a challenge to save the environment: there is plastic all over the world. China has stopped importing recycled fiber of ungraded variety. So, there is shortage of paper pulp in China with the result that paper crisis has grown all over the world. But now paper prices are falling. Any packaging material which is being used by the industry is not or will not be allowed to be used in future course of time if the material is not recyclable, biodegradable and compostable.
"We need to grow forests. Growing forests will be very good for the environment and the industry. The rising demand for paper should be met through the agro or forest route. So, social forestry and the use of bagasse need to be encouraged. From the point of view of the environment, we need to reduce our water consumption and develop water-based coatings so that we can make food grade packaging paper for cups, etc., without harming the environment."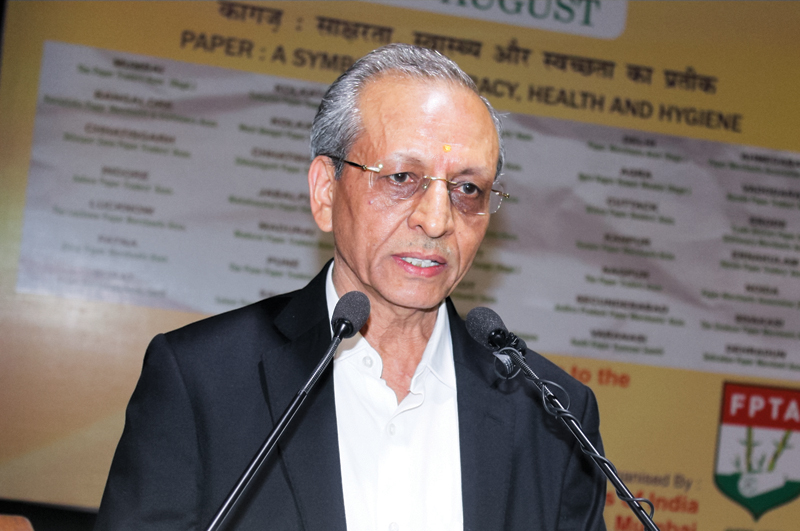 Speaking on the topic, "Paper – Print Versus Digital", P. S. Patwari, President, Indian Newsprint Manufacturers Association, and Executive Director, Emami Paper Mills Ltd., said, "Nowadays, consumers are exposed to the digital medium at least as much as the print medium. The growing prevalence of smart phones, tablets and wireless networks means that more and more people will view media on digital devices. This is not to say that print medium is dying out, not by any means. The print medium offers a more physical and tangible medium to consumers. Print has a much localized presence which is much harder to achieve with the digital medium. Signs and banners can draw attention and help consumers physically find them themselves. According to the Research Center Survey of America, which was carried out over a period of ten years, 65 percent of Americans read printed books whereas only 20 percent read eBooks and 14 percent listen to audio books. It clearly shows that printed books are alive and well. In our country, the percentage of the printed book is more than 90 percent. According to the Nielsen survey done in America, the print edition of 51 largest American newspapers reaches 28 percent of circulation areas, while the digital version reaches only 10 percent and digital readers don't stick around. According to another research agency, Pew Research Center, people in America going directly to news websites stayed there for less than 5 minutes while readers coming from Facebook leave in less than 2 minutes. The data from Pew show that print remains the most popular way of getting news. More than half of the people surveyed read printed newspaper every day. This happens in America. In our country, people go more for the print medium than the digital medium. While digital transformation is definitely happening, print remains an integral part of our communities. In a world where information is much more accessible but far less reliable than it used to be, the potential for print to thrive remains strong and the human attachment to physical books, newspapers and magazines is undeniable. At the same time, it appears that the digital medium is poised to dominate in future. The number of purely digital offerings is multiplying. But technology is not going to tilt the print medium. When used effectively, technology can help digital and print media in different ways. Research indicates that when humans successively use the digital medium, it can negatively influence their behavioral pattern and even their mental and physical health. Hyper connectivity – the digital interaction of people and things – has the potential to change patterns of social interaction, as face-to-face time may be substituted by online interaction. It has time and again been proved that the print medium has higher receptivity and recall than the digital medium. So, the education system across the world is now trying to strike a balance between the digital and print media. Paper is sustainable, nature-friendly, biodegradable and recyclable, whereas all gadgets of the digital medium are not. The ecological factor and impact on the environment are big threats, so a balanced approach is necessary to use the digital medium on a rational basis. The increased use of the digital medium through smart phones and other gadgets has started affecting human relationships, emotional bonding, concentration power, creativity and imagination. The digital medium should be used to make the print medium much stronger and should be used efficiently to build a stronger nation. The negative impact of the digital medium has already been experienced by more developed nations. So, we should act responsibly and use the digital medium in a more productive way and keep improving the print medium to continue to enrich our nation."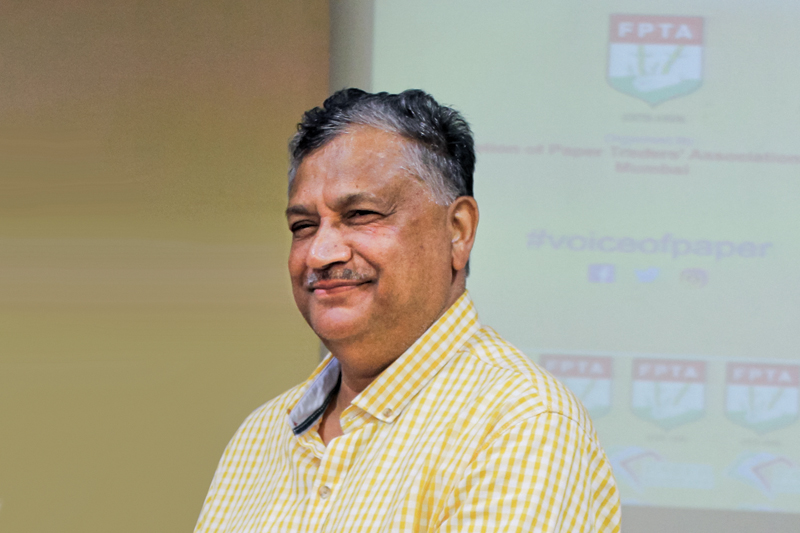 Speaking on the topic, "Paper – The Circular Economy", Pramod Agarwal, President, IARPMA, said, "Paper, an environment-friendly product, has become an important part of our lives. But we should make and use paper efficiently, keeping in mind the health of the environment. We need to adopt an approach that is based on the concept of circular economy – an economy that includes three Rs, namely reuse, recover and recycle."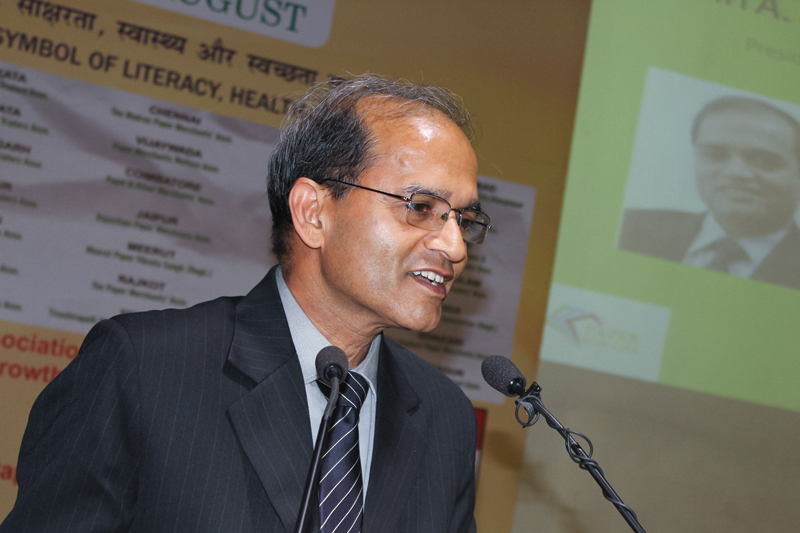 Speaking on the occasion, A. S. Mehta, President, IPMA, said, "We use paper from the first to the last day of our life. Before we are born in a hospital, paper is used for getting admission in the hospital. Our birth certificate is a paper document. Then, at school, we use books and notebooks made from paper. Our adhaar card is a paper document. In the last stages of our life, we make our will on paper. And our death certificate is again a paper document. Paper figures in our social and religious life. Our spiritual books are paper books. Business agreements are made on paper. Paper figures so prominently in our lives that we cannot even think of living without it. Paper is surely a friend to all of us. So, we should be proud of the fact that we are part of the paper industry. In the past, the paper industry was based on forest produce because there was no farm forestry during those days. Unfortunately, many in today's world think that the paper industry is destroying forests. Ever since the Forest Rights Act was passed, the paper industry has not used a single tree of the forests. According to a survey, 1 percent of the forest cover has been increased through the farm forestry propagated and carried out by the paper industry. On average, 1 lakh hectares of plantation is done by the paper industry every year. As of today, 9 lakhs hectares of plantation is standing on land. Who has done it? It is the paper industry. We have increased greenery, not destroyed it.
"Plantation can add a lot of value to farmers' income. Also, let me tell you that without the farmers, the paper industry cannot survive. We need true cooperation of farmers for plantation. In the past, we used to talk about 6 to 7 years of harvest cycle. We now talk of a harvest cycle of 3 years. Can we further reduce the harvest cycle? – that is the question.
"The digital medium is of great importance today. We cannot ignore it. But it should co-exist with paper. The digital medium should support the print medium. The print medium is the main medium of communication, and the digital medium is just a helping tool for us. In fact, digitization has acted as a growth driver for paper consumption. For example, in the past, we used to make corrections in the paper document and used the document because we wanted to avoid retyping the entire document. Digitization has enabled us to overcome this problem. We can now make corrections in the soft copy and get a fresh printout. So, the paper industry will continue to grow and digitization will continue to play a supportive role."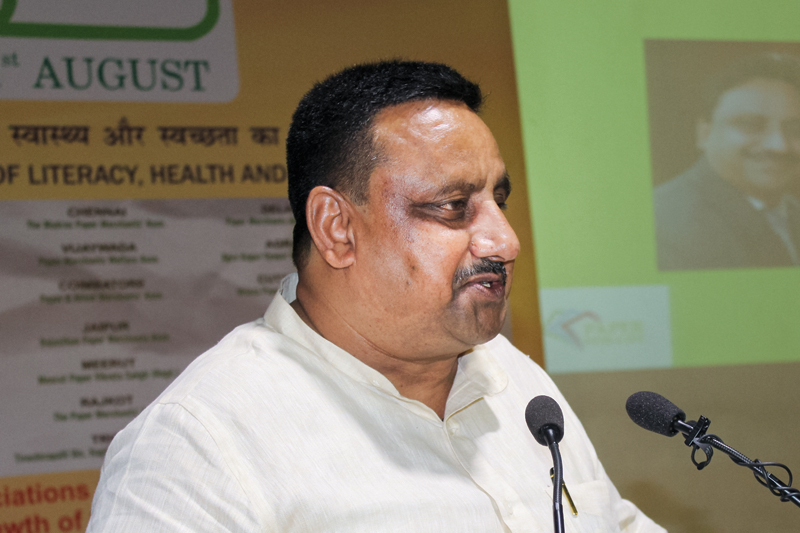 Speaking on the much-needed adoption of digitization in business, Guest of Honor, Praveen Khandelwal, National Secretary General, Confederation of All India Traders, said, "Confederation of All India Traders is connected with small traders and businesses in India, with around 6 crores merchants across 40,000 affiliates. Small traders and businesses have been taking care of the Confederation for years.
"The Indian economy is changing. Businesses are shifting from traditional methods to digital technologies. If we analyze the policies drafted by the government, digitization is poised to change nearly all the sectors of India's economy in the coming 2 to 3 years. In the coming years, small and medium business owners should be ready to perform tasks digitally, which would create significant economic value and change the nature of work for tens of millions of Indians. Those who disregard the digital space would be left behind or may just perish. In order to survive in the digital era, organizations must evolve, because the importance of technology cannot be ignored. Those who embrace the digital shift would find it easy to compete and thrive. Interestingly, in an evolving digital world, pulp and paper companies have been quite successful in finding new ways to innovate."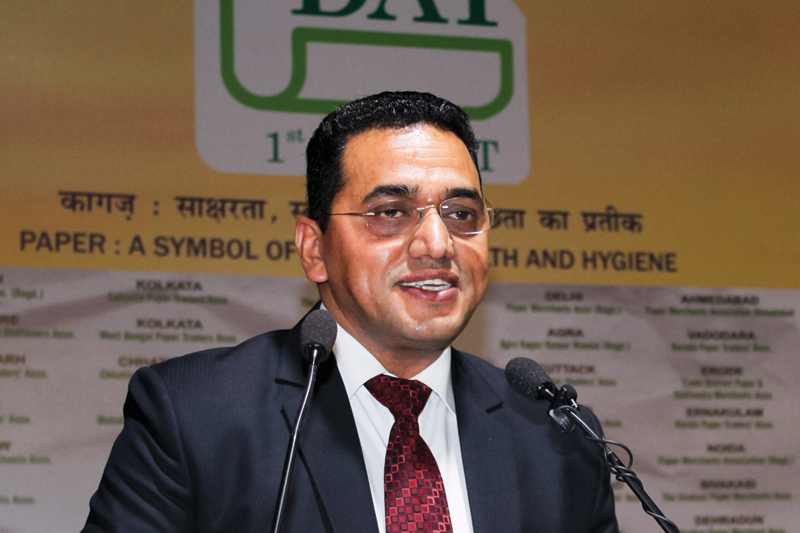 In his keynote address, Guest of Honor, Jai Prakash Narain, CEO, Century Pulp & Paper, said, "Paper has a very long history. The year 105 AD is often cited as the year in which papermaking came into being in China. Around 600 AD, woodblock printing was invented; and by 740 AD, the first printed newspaper was seen in China. Paper soon spread to the rest of world through the Silk Road. Around 610 AD, the art of papermaking went from China to Korea and Japan. It came to India after 645 AD. The first paper mill in India was established in the year 1890 in West Bengal. However, the country's official paper mill was commissioned in 1940.
"Let's now look at the present scenario. Let's begin by taking a look at the paper industry's performance over the years. What threats and challenges does today's industry face? What steps should the industry take to leap forward? If we look at the global paper consumption scenario, we will see that over 400 million metric tonnes of paper and paper products are consumed globally, while India's consumption is somewhere around 20 million metric tonnes, which is 4 percent of the total global consumption. In spite of the sustained growth witnessed by the industry, the per capita paper consumption in India stands at a little over 13 kg, which is well below the global average of 57 kg. The pulp and paper industry in India, therefore, has enormous scope for further growth.
"In India, newsprint is growing at 1 to 1.5 percent, writing and printing at 5 percent, packaging at 8 to 10 percent and specialty paper at 10 to 12 percent. The domestic demand for paper is expected to grow at a robust pace with segments like packaging, board and specialty registering the fastest growth rates. The contributory factors to the growth of demand for paper in the country are rising income levels, growing per capita expenditure and rapid urbanization.
"The share of packaging is 49 percent. This segment is growing at the rate of 10 to12 percent. It was said that digitization may darken the future for paper. Even if there is a reduction in the demand for writing and printing paper, the packaging segment will make up for the loss.
"As mentioned earlier, FMCG, food companies, pharmaceuticals, FMCD and the drive to substitute plastic with paper are the key drivers for the growth of the Indian paper industry. Currently, India is using 30 million tonnes of plastic every year, and if we believe that 25 percent of the plastic can be substituted by paper, I am sure the requirement would be around 12 million tonnes of paper.
"The Sarva Shiksha Abhiyan initiative started by the government will further push the demand for writing and printing paper. The tremendous growth of tissue, which is growing at the rate of 10 to 12 percent, can be attributed to the increasing awareness of health and hygiene in the country.
"As you already know, India is a fiber-deficient nation. It imports a large amount of raw material every year. The industry has gone for plantation but still there is a huge deficiency of fiber in India. If the industry, farmers and the administration join hands and go for plantation in a big way, the country will soon have a huge green cover area, improved environmental conditions, socio-economic upliftment for farmers, revenue for states and sufficient fiber for the industry. Water scarcity is another challenge that the industry currently faces.
"How can the paper industry become sustainable in future? The pulp and paper industry requires three types of raw material: recycled fiber, agro-based residue and wood pulp. We are consuming somewhere around 20 million tonnes of paper produced using recycled fiber, whereas production from wood pulp is 75 to 80 percent. Some forward-looking organizations can take the lead in collecting recycled materials for papermaking and make the paper industry more sustainable.
"As far as future trends are concerned, India has a prosperous and thriving market for paper because the global consumption of paper has been declining. With innovations, new technologies and new ideas, we can surely compete in the global market."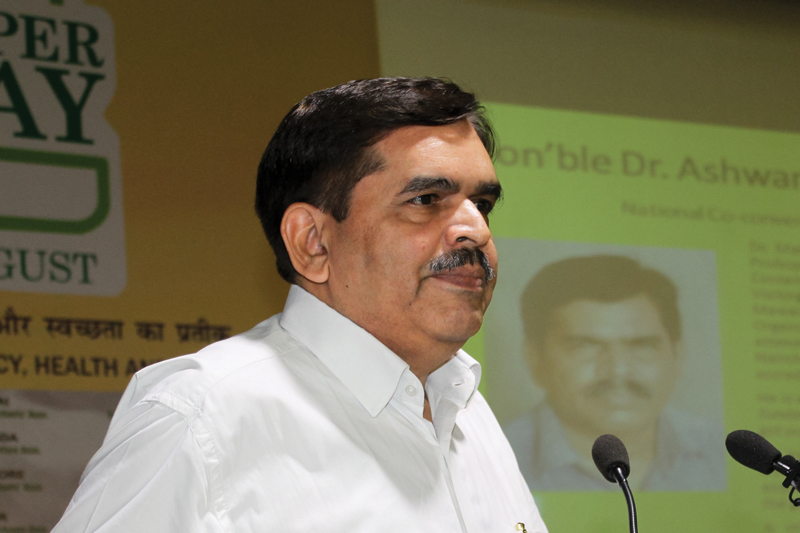 Speaking on the occasion, Chief Guest Ashwani Mahajan, National Co-Convener of Swadeshi Jagaran Manch, said, "The paper versus digital debate is often portrayed as a battle between the old and the new. Today's digital space may be quite dominant, but paper will never lose its importance. If you think the paper industry is going to disappear, think again. Despite the fact that paper is being squeezed by digitization, paper continues to have a bright future. The paper and forest-product industry as a whole is growing, albeit at a slower pace than before, as other products are filling the gap left by the shrinking paper market. The demand for packaging and tissue paper and hygiene products is growing all over the world. Though a relatively small market, pulp for textile applications is also growing steadily. The paper industry is undergoing a positively radical transformation. It surely has a great future.