The BlueLine stock preparation portfolio is a part of Voith's sustainability program – "Papermaking for Life".
November 3, 2022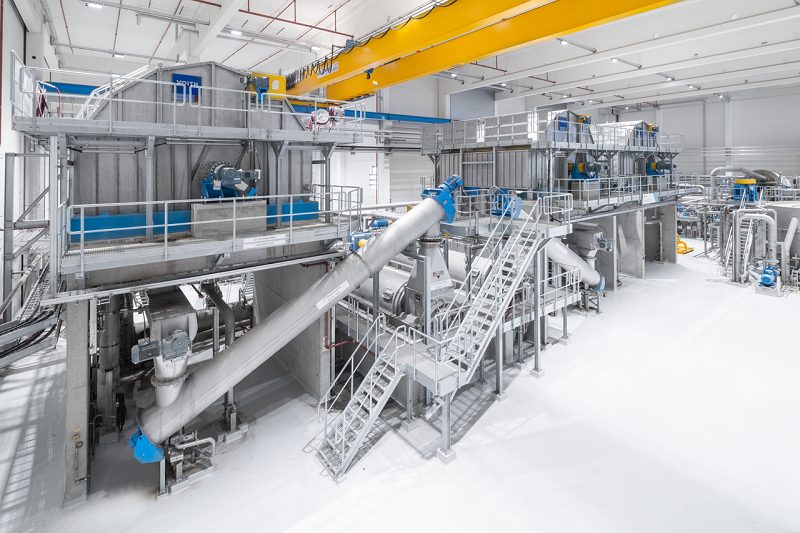 Many existing plants benefit from solutions from Voith's leading BlueLine stock preparation portfolio. In the last five years, Voith experts have commissioned more than 30 plants with a total production capacity of 12.8 million tonnes per year. Additionally, the technology group has introduced over 20 new innovative machines in recent years. The development of new solutions is part of Voith's sustainability program – "Papermaking for Life." Every year, around 100 million euros is invested by Voith in the R&D of impetus-giving innovations that are intended to further increase sustainability and efficiency.
Watch: IVAX Paper Chemicals Interview
As the leading full-line supplier, the Company's focus is on the individual machine components as much as on the entire stock preparation process. Its BlueLine stock preparation portfolio is used in new plants worldwide. "But upgrading existing plants to our solutions also pays off – both economically and in terms of sustainability and efficiency", explained Mr. Andreas Heilig, Vice President Products Fiber Systems at Voith Paper.
Mr. Falk Albrecht, Head of Process Technology Fiber Systems at Voith Paper, mentions, among other things, pump energy, which accounts for up to 50 percent of the energy consumption of a stock preparation system. In order to minimise energy consumption, the solutions strive for the highest possible consistency level of the achievable quality parameters with the same technological performance. Savings of between 20 and 30 percent are already possible through this measure. At the same time, great attention is given to low-pressure levels. Another product example for increasing energy efficiency is Voith's LowEnergyFlotation technology (LEF). Through its use, energy savings of up to 50 percent can be achieved in the flotation pumps.
Customers also benefit from significantly lower water and energy consumption with the AquaLine water and wastewater management system. The system, developed and optimized by Voith and Meri over many years, treats the process water biologically, reducing the COD and calcium content. This saves fresh water and reduces the consumption of additive materials on the paper machine. The AquaLine Flex system variant enables freshwater consumption to be reduced to less than 5 liters per kg of paper produced. With the very technologically advanced AquaLine Zero solution, freshwater consumption is reduced to 1.5 liters per kg of paper produced. The use of biogas produced as a substitute fuel for fossil fuels also led to a CO2 reduction of around 10 percent in one German installation.
In addition, high-performance process components are important in stock preparation, such as modern disc filters. The additional primary clarification is no longer required, which is beneficial in terms of yield, investment costs, and the environment. Significant energy savings can be achieved with the InduraClean heavy-weight cleaning system. As part of the BlueLine stock preparation, Voith presented the system, comprising an improved cleaner bank, the new InduraClean IDC-4, and the optimized InduraClean IDC-5.
Also Read: Shanying Suzhou Paper Commissions Voith to Supply Two XcelLine Paper Machines
The OnView.MassBalance digitalization solution is another example of how sustainability and efficiency are combined in Voith's portfolio. The innovative digital tool displays losses in stock preparation in real-time, allowing the operator to identify optimization opportunities in specific areas at a glance and initiate appropriate countermeasures.
As part of "Papermaking for Life", Voith Paper presents versatile technologies and initiatives that lead to more efficient and sustainable processes in papermaking. The emphasis is on the topics of water, energy and fiber savings as well as digitalization, innovations and partnerships as levers for more sustainable production. Another focus is on Voith's own activities at its locations worldwide.