TC-PSPD recently commissioned a new virgin fiber based paperboard facility at Bhadrachalam (Telangana) and a décor paper machine at the specialty papers unit at Tribeni (West Bengal), both adding significant capacities in their respective segments. These capacity additions are poised to further strengthen ITC's share in the market and enable it to introduce new grades in sync with growing applications and emerging requirements in the market. The company considers the present time opportune for capacity expansion.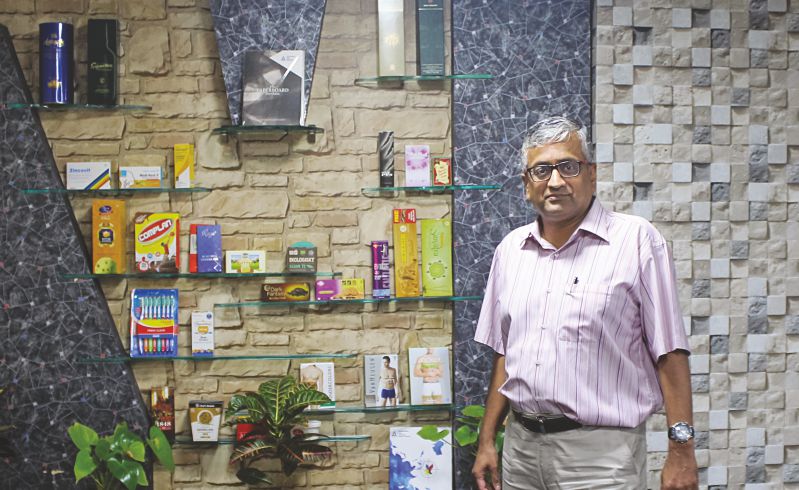 Mr. SN Venkataraman, Div Head – Marketing, ITC-PSPD talked to Paper Mart on ITC-PSPD's priorities, recent expansions, and product development keeping in view the present growth phase of the industry. Excerpts:

Paper Mart: Tell us about the new developments at ITC-PSPD in particular and the industry in general.

SN Venkataraman: The quarter beginning September 2017 has seen a revival in the demand for packaging boards after the earlier disruption caused by demonetization and GST. As far as the paper industry is concerned, with GDP picking up to 8 percent growth level, almost all sectors are doing well. We are present in many sectors – folding carton paperboards, graphic paperboards, specialty papers and writing-printing papers. As far as the demand side is concerned, these sectors are doing quite well now. In order to address this growth we have recently increased our virgin paperboard capacity at Bhadrachalam. We have also commissioned a new décor paper machine at our specialty paper unit at Tribeni and the machine is running to capacity. We have increased our supply of print base and surfacing grade of papers to the laminate industry, powering its growth.

There are a few global developments worth mentioning, for instance, China taking a big step in becoming more environmentally responsible and restricting imports of several grades of wastepaper. This has had an impact. The overall commodity cost of fiber and pulp has increased along with fuel and chemicals, resetting the prices in most of the geographies. I think the industry can now look forward to a period of sustainable growth, with some challenges in managing costs.

PM: Please tell us about the Omegabev and Omegabarr products and how these products have become more pertinent considering their overall environmental impact.

SNV: We have these products with us since the year 2013. A lot of R&D has been done on these products, which were slightly ahead of the times. Now with the increasing focus on plastic waste management and move towards higher recycling, and further towards composting, these products have become more significant and important.

If we are considering a closed loop in the consumption of packaging material, especially with food service chains, canteens, large events such as musical concerts, sport tournaments, and festivals, I think Omegabarr and Omegabev would be ideal. Omegabev is a virgin fiber based board with a bio-based barrier coating exclusively made for cups and Omegabarr is a fully coated Folding Box Board (FBB) with special bio-based barrier coating. The bio-based barrier coating makes these products completely biodegrade under composting conditions. Omegabev and Omegabarr should be the ideal choice for such needs, where they can be collected on site and composted.

The collection mechanism for the used packaging is also coming under increasing focus. Even municipal corporations collect directly or authorize various agencies for the collection , recycling and final disposal of waste. We definitely think the market for such biobased and biodegradable products will grow, especially with environmentally and socially responsible brands. We are working with such brands today and through recycling agencies to support collection and final recycling and composting of packaging and food waste

PM: Your thoughts on the challenges and opportunities for the packaging industry on the market side!

SNV: The challenge right now is to keep pace with the demand. Concerns on food safety and regulations on packaging and plastic waste, also throw up challenges and open up opportunities. The personal care, food & beverage and pharma sectors continue to grow and evolve, creating new packaging formats. Increasingly, supply chains are getting digitalised with emphasis on traceability and interface with mobile devices, requiring integration of the package. Sustainability continues to be a driving force and paper-based packaging will play an even larger role. Emerging regulations especially with respect to management of waste presents an opportunity for innovation both on the product front and in the ecosystem of segregation, collection and recycling. When managed well this can also address the issue of urban litter and provide livelihood opportunities

PM: Tell us about the R&D of ITC at paper side. How do you develop new grades of paper based on some emerging applications?

SNV: Our primary R&D is focused on the fiber, plantations and yield. On the market side, we work on broad areas of : improving functional properties, graphic reproduction, better runnability and adding barrier properties. The adaptation of a product to deal with applications is a continuous process and a key differentiator which enhances our engagement with our customers.

Based on our customer engagement and our study of trends, we identify projects and form teams which work on a charter and specified outcomes. For instance, we developed our barrier boards when we saw a surge in the food and beverages industry to change their packaging to paper from plastics. ITC's presence in food grade packaging is perhaps the longest in India with many pioneering products. Our Bollaram unit is making such products for quite some time and we were able to develop, working closely with customers, a new product called 'Indobowl'. This product is an extension of earlier products and has gone through rigorous tests to meet packaging requirements of typical Indian food in order to be kept in hot conditions for a longer while. The product is ideal for liquid based food too to avoid spillage.

Related to the food services, we have also developed a food wrap paper "Wrapwell", with barrier and a kit value range of 4-12 to meet diverse requirements for foodservice and bakery segments

PM: What is the raw material scenario at ITC? Are there some new initiatives by ITC for the raw material security?

SNV: On the raw material side, we have become the first Indian mill to set up a mechanical pulp mill. ITC-PSPD commissioned India's first Bleached Chemi Thermo Mechanical Pulp mill at Bhadrachalam in 2017. That's a big advantage for us going forward. Now that we have a secure supply of good quality mechanical pulp, we are confident that our entire FBB series can be developed even further. We have already revised the specifications last year with appreciable improvements in key parameters like caliper (7-8 percent), and stiffness (15 percent).