Growing with the Indian paper industry, Anmol Polymers Pvt. Ltd. has evolved some of the most diverse chemical and enzymatic ranges aimed at complete processes of pulp and papermaking, starting from pulp making to paper manufacturing and water treatment. Joining hands with global leaders like Novozymes and others, the company is busy expanding its product portfolio and market across globe.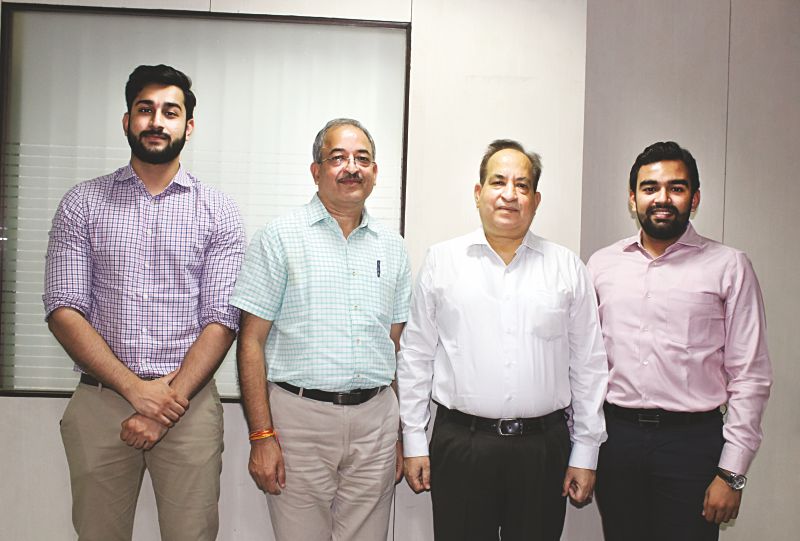 Paper Mart conducted a joint interview with Mr. Arvind Sharma, MD, Anmol Polymers Pvt. Ltd. and Mr. Sagar Sharma, Director, Anmol Polymers Pvt. Ltd. to know the chemical business of the paper industry and how the company is helping it overcome many quality and yield optimization issue with chemicals and enzymes. Excerpts:

Paper Mart: First share with us the journey of Anmol Polymers Pvt. Ltd. as a manufacturer of specialty chemicals for the pulp and paper industry.

Sagar Sharma: Anmol Polymers, established in the year 1990, started with the manufacturing of chemicals for the paper industry. During that time, we had a limited range of chemicals which evolved over a period because of our continued association with the pulp and paper industry and its growing demands. We now produce a full spectrum of chemicals for the paper industry including pulping, paper making chemicals, and water treatment solutions. We have two manufacturing units in Himachal Pradesh – Anmol Polymers Pvt. Ltd. and Raghav Industrial Products. Raghav Industrial Products is a sister concern of Anmol Polymers, set up in 2006 for AKD manufacturing. We constantly remain in the quest of new products and are trying to indulge multinational partners and suppliers to bring the latest technology to the paper industry.

Arvind Sharma: We started the business as first generation entrepreneurs without any prior experience in the paper industry. At the outset of our business, the Indian paper industry's scale of operations was quite small with only few mills having a capacity of 200 TPD and the rest falling in capacity range 30-50 TPD. The production systems and processes were also far from being sophisticated and technology oriented. Our focus remained quality control and we developed some effective indigenous solutions that later became import substitutes, bringing the prices down drastically and benefitting the industry.

PM: Do you have any plan for expansion, inorganic or organic? Or, maybe market or product expansion plans?

AS: We are now planning to expand and export our chemicals to Africa, the Middle East, and other countries. Recently, we have joined hands with some partners in the Middle East. In this venture, we are planning to manufacture paper chemicals in Egypt and the commercial production is slated to start within this year itself. The response is quite good because we have already supplied them a few containers for trial purpose. It has been well accepted. The production may start by October end or early November. It will be called as Greentech Middle East. It is for a whole range of chemicals.

PM: You have a paper mill in Ethiopia. Please tell us about that.

SS: The unit in Ginchi, Ethiopia was started in 2009 and the machine was imported from Europe. We started with a small machine with a production capacity of 45-40 TPD and haven't increased the capacity yet. We are scaling up the unit to 80 TPD. The grades being produced in the unit are writing-printing and kraft paper. We also have plans to increase our product range and enter into specialty grades.

AS: There are some factors that attracted us to start a facility in Ethiopia. First, Ethiopia had just one paper mill and that too under govt. control, making the rebuild of obsolete technology difficult because of red-tapeism. Second, the country's population being around 100 million, there was a big gap in demand and supply. The total paper requirement at that time was more than 100,000 tonnes per annum whereas the local production was hardly 10,000 tonnes. We started this project with a second-hand machine from Europe. As on date, this mill is the largest paper mill in Ethiopia.

PM: As a supplier of a range of chemicals for different pulp and papermaking stages including water treatment, kindly update us about some of your vital products used by the industry in large quantities.

SS: We started with sizing chemicals and are developing ourselves with time in other chemical ranges. The chemicals for pulping applications like cooking and defoamers are being produced by us. There are chemicals for size press applications and de-inking as well.

In the year 2002, Anmol started producing chemicals with Novozymes (then known as Biocon). We started developing enzymatic solutions and became the pioneers to start off enzymatic applications for the Indian paper industry. Right now we are able to produce enzymes for the four process segments, viz. starch modification, deinking, refining, and drainage. Our focus lately has grown on water treatment chemicals and we are trying to develop enzymes for effluent color removal, which is the need of the hour. With our partners, we have been able to get some good results overseas, but we are yet to bring this product to India.

On the pulping chemicals side, we are developing few chemicals to reduce the bleaching chemical cost and increase the pulp yield. The Indian paper industry doesn't operate on a huge scale, so there is a pressure to reduce the production cost through other alternatives. Anmol Polymers Pvt. Ltd. is putting constant efforts to develop products to help reduce the production cost of paper.

PM: What about the international partners you are working with? Brief us about them.

SS: We have partnered with Denmark based Novozymes, the world's largest enzymatic solution provider. We are working with them to develop the deinking and de-coloring enzymes. We are also planning to bring coating chemicals range in tie up with a Korean company.

PM: When reducing chemical consumption has become an utmost environmental requirement for the pulp and paper manufacturers, how do you think they can achieve this and still not compromise with the paper quality?

SS: There was a time when the consumption of chemicals was very high. However, of late, some good companies have entered the market with extremely efficient products, working on the same line as Anmol Polymers. There are few efficient chemicals where we've been able to work as a catalyst to bring them to the market and these products are performing really well in the paper industry.

AS: We are trying to bring some innovative solutions to the Indian industry according to its own set of challenges. The scarcity of fiber is one of the main challenges. For instance, the quality of fiber coming from agricultural residue is different. We overcame its inherent shortcomings by developing some chemicals to take care of the problems that the agricultural residue-based pulp mills normally face.

Besides, our company is trying continuously to bring down chemical consumption. Earlier, most of the chemicals were used in the wet-end and stock preparation. We are now gradually shifting the focus on our chemicals to be used in size press so that the water circuit is clear and the chemicals going out of the mill stops. Through these measures, the mills are concentrating more on high retention of fiber and chemicals in order to reduce chemical consumption and loss of fibre.

Moreover, the optimum dosage and application of chemicals at the right position is vital. We are trying to change this according to the conditions and requirements of plant. By now we can say that we are near to our targets and our progress is steady and visible.

PM: Water is very crucial and the industry is water intensive. Do you have some solutions for the effective reuse of discharged water back in processes?

AS: We are providing some chemicals to the paper industry to maximize their water usage through recycling. Most of our customers, especially in the kraft industry, are producing paper with totally closed loop system, using less quantity of fresh water. They believe more in recycling of the water. But recycling has certain issues. After repeated reuse, the water gets contaminated. The wastepaper already has so many impurities which create issues like slime and foul smell. We are providing some solutions which take care of these issues and increase productivity. The solutions also help the system to get cleaned. The paper mills are able to recycle water a couple of times more than the usual.

SS: Flocculants are being used to bring down the hardness of water. These flocculants are high charged cationic polymers. We are working on this concept as well.

PM: How do you maintain the constancy in the quality of chemicals? Please explain about your in-house R&D facilities and procedures therein, in brief.

SS: I joined the company three years back. I noticed some inconsistency in few of our chemicals. We chose to act on the complaints, which we received from our customers about the inconsistency in chemicals. We started working on this issue and with time we improved our facility in terms of production by installing some crucial automation processes.

Among our quality control processes, the main thing is the quality control lab, where we have well qualified chemists equipped with the cutting-edge testing equipment. Right now we are focusing a lot on R&D for the quality and consistency of chemicals. If the quality is not consistent, we will never get the optimum results at the customer's end. We are dispatching every chemical after thorough and rigorous testing in labs. The record till now has been really great. We are not getting any further complaints and the chemical consistency is pretty good.

PM: The industry faces challenges when it comes to doing the proper use of chemicals. How do you work with the industry to help them use the chemicals in the right way?

SS: Our industry is essentially a service provider to the paper industry. We have specifically positioned our teams at different sites so that if any problem arises, our representative should be there within 24 hours to solve the issue. These application teams are assigned to all the customers we have. The team is there to take note of right dozing of chemicals; to see if the product goes at the right flow; and also to check that the right application is there. Using a chemical is a different thing but using it at the right point is very important which our rich and experienced application team takes care of.

AS: We have a team of paper experts. There are seven paper technologists, with a vast experience ranging from 20-50 years, to help the papermakers in getting right solutions. Most of our big customers are having a dedicated team on site, who are monitoring their dozing system around the clock. We don't only supply chemicals but help our customers to overcome their regular issues.

PM: You have been serving the pulp and paper industry for long. Please elaborate on the trends of chemical usages in the pulp and paper industry.

SS: We have been in this industry for almost 26 years. The chemical consumption patterns have progressively changed in the industry. The scale of operations of paper mills have undergone considerable changes, from 20-30 TPD to 200-400 TPD, and accordingly the nature, quality, and quantity of chemicals have also changed noticeably. We have developed chemicals which are good enough for modern high-speed machines. It is important that the chemicals are able to fulfill their purpose on high-speed machines, huge deckle size, and fast processes with lesser retention time. The retention time of the chemical is very important. There are chemicals that require large retention time but certain chemicals perform very well in less time.

AS: I am associated with the pulp and paper industry since 1976, i.e. almost 42 years. In the last 40 years, the Indian paper industry has totally transformed itself from very small scale of operations to now sizeable scale. With this transformation, the role and nature of chemical usage have also undergone tremendous change. Earlier availability of resources like water and fiber was not under so much pressure which is now the case. The mills therefore could not think chemicals as a vital ingredient for papermaking because of abundance of raw material as no one cared for fiber retention or quality control. However, things has now changed and the industry knows that resource optimization is indispensable.

Around 10-15 years back, the paper made was yellowish and used to get brittle with passage of time because of paper's acidic pH level. Now, most of the mills are producing at neutral or alkaline pH levels. In alkaline pH, the brightness is more because they can use cheaper and good fillers like calcium carbonate. Paper surface properties and printability are even better now. Even if you keep the papers for years now, there will be no yellowness or brittleness in the pages. This is a major change.

Secondly, the primary focus now is to produce maximum pulp out of wood or agricultural residue. That's why mills now want to reduce the usage of hazardous chemicals like caustic or sulfate. Instead, mills are using some surfactant or other soft chemicals to increase the pulp yield, and at the same time, the hazardous bleaching chemicals can also be reduced by using some chemicals. Today, the use of chemicals has become relatively important aspect in contrast to yesteryears.

PM: What are your future goals as regards to overall chemical business in general, and the Indian pulp and paper industry in particular?

AS: We always want to stick on our first principle – cost effective and quality products to the paper industry. We are under the process of improving ourselves. Looking at the international scenario, we are trying to associate ourselves with some of the reputed multinationals globally. In India, the market is growing at around 10 percent. The paper industry's growth in western world is not as encouraging as it is in India. The business of reputed global chemical players has squeezed in and they are eying the Indian market. We are joining hands with them and trying to serve the industry with some better products.

SS: The paper industry in India looks extremely positive. Going by the statistics the per capita consumption has gone up by 10 percent in the year 2017-18. Looking at the future, I think we have a good scope for the paper industry in India. It is important that customers should interact with us and tell us about the solutions they want us to develop. We are also producing some chemicals for kraft paper mills such as chemicals for anti-cracking purposes and for increasing the RCT value in kraft papers.

PM: Would you like to add anything?

AS: In India, we have tried our best to produce some indigenous solutions for the paper industry. In recent years, the tissue industry has started to come up. Till now, there was no Indian company manufacturing tissue chemicals and we are the first one to produce some such chemicals in India. We are today producing a full range of tissue chemicals, sharing 30 percent of our kitty.