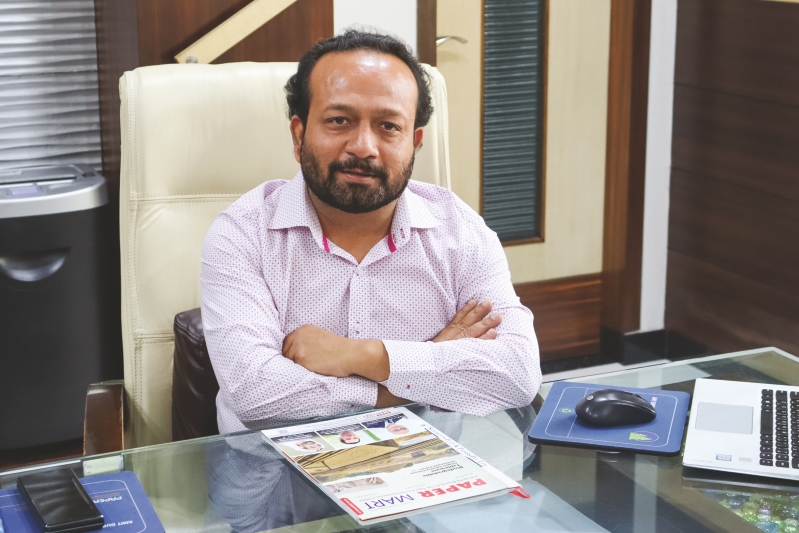 Dev Priya Industries Private Limited started their manufacturing journey with kraft paper production in December 1992. Starting out with a 12,000 TPA production capacity, the company now produces fluting, testliner and recycled kraftliner with an installed production capacity of 2,00,000 TPA. The company's USP is its consistent and unadulterated production, and it is focused on enhancing production quality and quantity, which can be observed in their recent development of installation of hi-tech shoe-presses on both their machines. In a recent interview with Paper Mart, Mr. Amit Gupta, Technical Director, Dev Priya Industries Private Limited, shared about the company's journey, product portfolio, manufacturing capacity, market footprint, the major challenges being faced by the Indian paper industry and how manufacturers can overcome the situation.
Watch: JMC Paper Tech Launches New Subsidiary JMC Papers
Paper Mart: Kindly share your business journey, outlining the product portfolio, manufacturing capacity and market footprint.
Amit Gupta: Dev Priya Industries Private Limited was incorporated on February 9, 1990 under the name of Dev Pulp Private Limited. The unit started its kraft paper production in December 1992, and the company was renamed Dev Priya Industries Private Limited on May 30, 1996. When we started production, the initial installed capacity of our plant was 12,000 TPA. Today, we have 2 paper machines in our Meerut facility, currently operating at a production capacity of approximately 1,50,000 TPA, with a production potential up to 2,00,000 TPA. For our raw material requirements, we import nearly 60 to 70 percent of waste paper from around the globe. Our current product portfolio comprises fluting paper, testliner paper and recycled kraft linerboard paper. Dev Priya Industries Private Limited is a technically sound and financially viable company, with a good market presence. Our products are being used by FMCG's, TV manufacturers, refrigerator manufacturers, food and beverage industry, medicine companies, etc.
PM: Kindly tell us about the recent developments at Dev Priya. What according to you are the USPs of your company?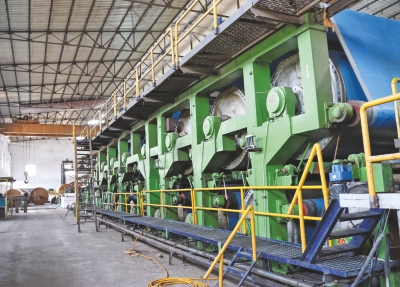 AG: Our most recent development was made in the previous financial year of 2022, we installed hi-tech shoe presses and vacuum turbo on both our paper machines. Shoe press provides quantitative benefits as they allow higher efficiency in paper drying. Along with this development, we also renovated all the minor and major parts of the pulp and paper machines.
In terms of USPs, our company has been consistent for decades and we ensure production without any adulteration. Taking a step further to avoid adulteration and towards plastic management, we have set up a plastic management plant, where we collect the plastic pieces retrieved during our production process. In this plant, the plastic residue is cleaned, dried and bunched into small beads, which are then utilized for various purposes. Furthermore, for production we have to work at ground level and I am always present on-site, to overlook all the operations and be available for any help to everyone.
Also Read: Indian Paper Industry Faces Consequential Disturbances from Global Market
PM: Can you tell us about the current challenges being faced by the Indian paper industry?
AG: The paper industry is currently struggling with the issue of low demand, caused by multiple factors. In terms of the packaging industry, low demand is caused due to low investment by consumers towards seasonal products, which can partially be attributed to global warming. This year we are witnessing fluctuating weather during summer due to cyclones, causing reduction in air conditioner, refrigerators and beverages sales. As demand lowers for products, it leaves the packaging industry solely dependent on demand from online shopping.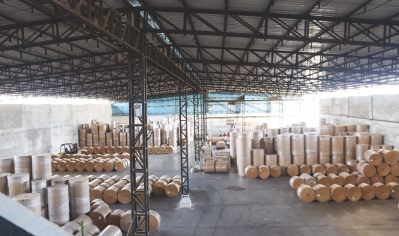 Overproduction and increased imports are also major challenges for our industry. When Chinese mills were being shifted to countries like Indonesia and Vietnam, all the requirements got directed towards India, creating great demand. Observing this great demand, companies started opening multiple mills. However, this was a bad move because when Chinese mills re-opened, all the business went back to China and we were left with a large amount of surplus production. And in today's scenario, lots of mills are closing, like in Morbi, Gujarat at least 30-40 mills have closed. Moreover, imports are increasing as the prices of finished products are down in the international market and India is importing this good quality paper at cheaper prices. All these factors have resulted in the downfall in Indian markets. The pulp prices have declined drastically to almost 50%.
PM: What steps can the Indian paper industry take to overcome these challenges?
AG: The market can be in this decline period for the entire current financial year, until March 2024. The challenge has been caused due to low demand, which is a factor we cannot control. The only part we can control is our expenses in terms of efficiency, viz. power, chemicals, fuels, etc. We have also decided to halt any major investments for this year, till the market condition stabilizes again.