IPPTA organized its 58th AGM & Seminar 2023 in Hyderabad. The event was inaugurated in the presence of Mr. Jayesh Ranjan, Principal Secretary of Industries & Commerce (I&C) and Information Technology (IT), Telangana, and the keynote was delivered by Mr. D.P. Chandrana, CII Green Co Assessor & Founder of DC Careerplus. The two-day event brainstormed ideas from within the industry as well as from external participants about how green manufacturing could be integrated into industrial practices so that every process is as environmentally inclined as the industry's finished products are.
Indian Pulp and Paper Technical Association (IPPTA) conducted its 58th AGM and Seminar 2023 in Hyderabad. The two-day event was held on the 17th and 18th of March 2023, and its theme was Preparing Paper Industry Towards Green Manufacturing. The inaugural session of the IPPTA Seminar 2023 was guided by Mr. M.K. Goyal, Honorary Secretary General of IPPTA. The dais was enthroned with the seminar's Chief Guest Mr. Jayesh Ranjan, Guest of Honour Mr. K.N. Rao, Mr. Ganesh Bhadti, Mr. Anupam Sharma, Mr. Pavan Khaitan, and Mr. D.P. Chandrana.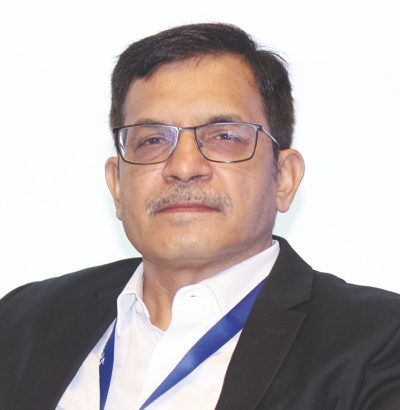 The welcome address was given by Mr. Anupam Sharma, Chairman of the Programme Committee, and Vice President-Material at ITC Limited – PSPD, Secunderabad. He welcomed the guests and audience of the seminar, "The paper industry has gathered as a whole to discuss various challenges and find ways forward for inclusive growth. The industry has been facing challenges on various fronts, right from raw material availability, energy, and fuel scarcity, spiraling cost, logistics constraints, and even HR-related issues; another front has been added to our list of challenges, which is how to make our manufacturing greener in the context of increasing pressure on natural resources and rising expectations from stakeholders, and we also need to stay ahead of any statutory needs which governments may impose in future. The biggest challenge is a financial and economic misperception, as sustainability is perceived as expensive, and businesses tend to prioritize profit and economic growth. However, various studies, including at the World Economic Forum, suggest that both profit and caring for the environment can coexist and when we consume less, we recycle more, and overall costs can be reduced."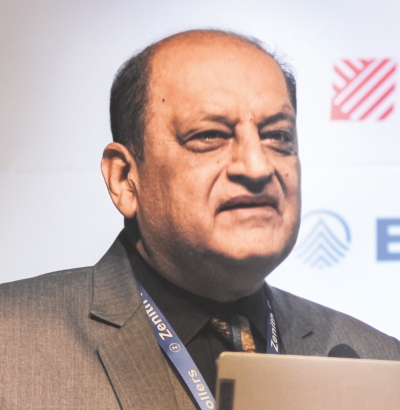 The Keynote Address was delivered by Mr. D.P. Chandrana, CII Green Co Assessor & Founder of DC Careerplus. He covered various aspects of green manufacturing and how the pulp and paper industry can integrate it. His speech could be divided into parts, wherein in the first part he bulleted various achievements and persisting challenges for the industry, "Earlier, our vision was confined to measuring BOD, COD, and TOC in effluents, and SPM in stacks. We have progressed a lot since then, for instance, our water consumption has been brought down to 30 kL per tonne from a high rate of 250 kL per tonne, and expansion of the bleaching sequence till the ozone level. However, we still have lingering issues, which have been heightened in the wake of a series of events- raw material availability, environmental regulations, Covid-19, the Russia-Ukraine war, and lack of manpower. We have reduced our electricity and steam consumption by 13.5 percent and 16 percent, respectively, but our average remains higher in comparison to the global average. The global average for electricity consumption globally is 1,000-1,100 kWh per tonne, while the Indian paper industry's average is 1,400-1,500 kWh per tonne; the global steam consumption average is 7-9 kJ per tonne, and in India, it is 12-13 kJ per tonne."
Watch: JMC Paper Tech Launches New Subsidiary JMC Papers
Mr. Chandrana's second part of the speech was identifiable with solutions to integrate green manufacturing in the Indian pulp and paper industry, "We need to change our thoughts and mindset. We need to think renewable to lower our carbon footprint and must inventorize our greenhouse gas emissions, for instance, Scope 1 and 2 is alright but Scope 3 must be addressed properly. Integration of green manufacturing will require a community effort to create a circular effect, such as setting up of a green supply chain. We also need to promote certification and honest and transparent annual green reporting. Paper plants need to visualize themselves working without coal boilers in upcoming times so that they can work on reducing their dependency on fossil fuels." He also relayed that the Government of India has allocated INR 19,700 crore toward the exploration of green hydrogen exploration as an alternative fuel.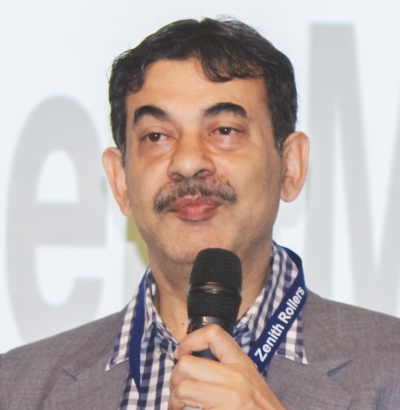 Mr. Jayesh Ranjan, Principal Secretary of Industries & Commerce (I&C) and Information Technology (IT), Government of Telangana, urged the industry to change the outsiders' perception and take defined and deliberate steps to move towards green manufacturing. He addressed the event, "I want to bring to note that this industry is under public scrutiny due to obvious reasons. For instance, a cabinet of three ministers has been appointed to review mega-project investment proposals, that is with a capital investment of over INR 200 crore. Some time ago, we received a proposal of over INR 1,000 crore investment from a company based in the paper industry. While generally, such projects are discussed for the quantum of incentives that can be offered to them, this time around the discussion is, the kind and amount of damage and pollution that this project will inflict on the surrounding ecology. You need to turn around this perception by becoming remarkably efficient and gaining credit for green manufacturing. Your efforts need to be enhanced and venture into firm commitments and actions. Instead of mentioning cost concerns of integrating green manufacturing practices, you must initiate a Cost Benefit Analysis for short and long-term effects. You must engage with technological advancements and start-ups to optimize every step of your process. These steps will help you make a case to the general public and government as well, who can in turn help you in researching better options and support your investments."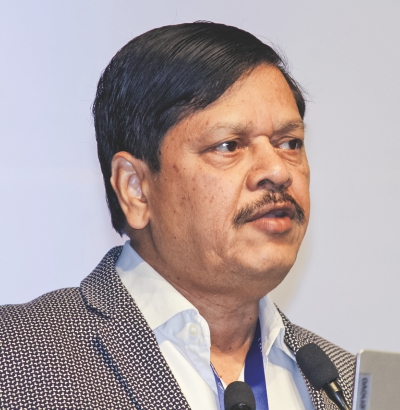 Mr. K.N. Rao, Corporate Head (EHS, AFR, Energy & Sustainability) of My Home Industries Private Limited, put forward a proposal to the pulp and paper industry, on behalf of the cement industry. He suggested a large-scale collaboration of the industries to exchange ideas and technologies for a united solution and movement towards green manufacturing, "Resource conservation is necessary and we need to mitigate our carbon footprint and emissions. The cement and paper industry share many concerns, such as raw material security, as there are only 90 billion tonnes of minable limestone reserves, which at the current rate of consumption will deplete severely in the next 30 years, and energy and fuel use, we need to replace fossil fuels with biomass and industrial waste as possible energy sources. However, both industries have managed to make advancements in different areas, for example, the cement industry is already water positive and follows ZLD policy, and the paper industry has managed to make its plants CO2 positive. I believe that the two industries must do a strategic collaboration and discover ways to help each other and bring forth a collective change. We can also brainstorm new advancements and ideas to convert our place of operations into biodiversity hubs, allowing nature to replenish itself."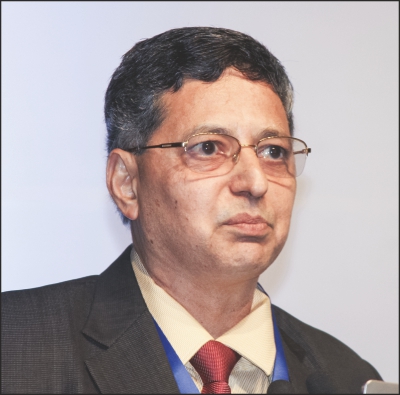 Mr. Ganesh Bhadti, President of IPPTA, and Director of Operations of Seshasayee Paper & Boards Limited, Erode, in his presidential address gave a general overview of Indian industry and the direction it should head towards, "India is growing and it is a good sign, but on the other hand, a grave concern demands our attention; degradation of environment and depletion of natural resources. We have to respect our suppliers and integrate green chemicals and technological support to increase the efficiency of our operations."
At the end of the inaugural session, IPPTA awarded Lifetime Achievement Awards in four categories Professional, Entrepreneurship, Technology Provider, and R&D & Academics to Dr. A.R.K. Rao, Dr. Ajay Satia, Mr. C.S. Panigrahi, and Dr. A.K. Ray, respectively. The session was concluded by Mr. Pavan Khaitan, Vice President of IPPTA, and VC & MD of Kuantum Papers Limited, with a vote of thanks, "We are all here to deliberate upon an important theme; preparing the paper industry for green manufacturing. It is clearly the need of the hour, and if not now, then when? We need to take proactive action to save our planet. A lot has already been done by the industry, but a lot more needs to be done. As the Indian economy is progressing at a fast pace, so is our paper industry, but there is a risk to the environment. We need to take action now and inculcate sustainable practices in our processes, as all of us are leaders in our own rights. A vote of thanks to Mr. Jayesh Ranjan, for his clarity of thoughts on sustainable development, Mr. D.P. Chandrana for enlightening us with the industry-wide trends and motivating steps, and the event programming committee."
Action Plan for Sustained Growth of Paper Industry & Trades in the Coming Decades
The panel discussion was held on the second day of the event and consisted of nine panelists, Mr. Akshat Agarwal, Vice-President (Purchases) of Vijay Anand Kraft Papers Private Limited, Mr. Akshay Rathi, Director of Kaygaon Paper Mills Limited, Mr. Aseem Bordia, President of Federation of Paper Traders Association of India (FPTA), Mr. Hardik Patel, Director of Om Shree Papertek Private Limited, Mr. Madhure Desarda, Director of Operations of Parason Machinery (India) Private Limited, Mr. Mike Grundy, CEO of Amazon Papyrus Chemicals Private Limited, Ms. Priya Venkat, Co-Founder & COO of Haber Water Technologies LLP, Mr. Ramit Bhatnagar, COO of M.J. Global, Mr. Siddhart Mohanty, Vice President & Bhadrachalam Unit Head of ITC Limited – PSPD.
Mr. K.S. Venkatgiri, Executive Director of CII – GBC, Hyderabad, moderated the panel discussion, urging the members to discuss ways to double the growth percentage, overcome the industry-wide challenges, and penetrate the new markets in the domestic and global scenario. The panelists put forward their views individually and while each of them had unique ideas to put forward, major ideas overlapped. The conclusion that can be drawn from their ideas is that the industry needs to undertake major re-engineering of its structure and processes. The industry needs to reimagine all of its current processes and operating models so that it can create a secure future for itself, which is in step with green manufacturing.
Also Read: Archroma's Event "BLISS: Transforming Together" Paves the Way Towards Sustainable World
Raw material availability is a huge challenge for the pulp and paper industry. There are three types of raw materials used by the industry, agriculture waste, waste paper, and wood. While many mills have started opting for waste paper and agricultural waste in their green manufacturing integration drive, the lack of organization in the waste collection is a huge problem, especially for small-level mills, which often suffer at the hands of the local-procurement system. The panel proposed that the industry must collectively take initiative to organize the waste paper collection so that the raw material is easily available and unpredictable cost fluctuations could be avoided.
Technology must be integrated into the mill operations for maximum efficiency, resource optimization, lesser breakdowns, and expedited processes. The Indian industry can learn from European and North American industries, wherein many plants have streamlined their whole mill operations onto a single interface. This gives centralized control of mill operations. The technology integration will broaden the human resource pool as well, as gender bias which still grapples the industry could be eliminated. The centralized operation will shift the manual labor focus to mind labor allowing increased participation of women in the industry's factory-based work as well.
Human Resources for the pulp and paper industry is labor-oriented presently, and professionals have to be fished from other industrial pools. This hampers the mills from integrating technology into their operations. It is proposed that the industry takes initiative to train their blue-collar workers within updated operations. Additionally, the industry needs to collaborate with national universities to introduce paper-engineering-based courses into their curriculum. Mr. Desarda proposed elective courses and OPT programmes, so that the industry can recruit fresh talent and initiatives.

Investment in green manufacturing practices must be seen as an asset rather than a cost by the industry, that is it will generate value-based results over the years. The industry can benefit by investing in processes that reduce CO2 emissions, water consumption, odor emissions, energy, fuel consumption, etc. These practices will improve the general perception of the industry attracting government support and international interest as well.
Green Manufacturing practices must be visioned at every level of operation of the industry. These practices rather than being initiated as ethical procedures on a small level must be undertaken as accountable drives. Green Accounting will help the industry to accept responsibility and establish accountability for their actions. This will help them see the said practices as consequential. The industry will then have to integrate growth and profitability with green practices, ultimately driving innovation and long-term solutions. The aim of reducing dependency on non-environment-friendly practices could be achieved faster, ahead of statutory regulations that the international market and Indian government are moving towards.
Brand Image is a major determinant behind success, especially in times of omnipresent connection. The industry needs to reverse the mindset of the general public and government or it could not grow. The times are favorable as single-use plastic could be replaced by paper-based solutions, which are biodegradable and environment-friendly. When the processes undertaken to produce eco-friendly products gain a good reputation, our current capacity could be built upon. The Indian pulp and paper industry has a lot of opportunities in this area, as the country can integrate service and manufacturing aspects domestically, which the US and China have achieved individually, respectively. Hence, India has dual opportunities to grow its per capita consumption and exports of paper-based solutions. The industry can identify several markets wherein plastic solutions need to be replaced.