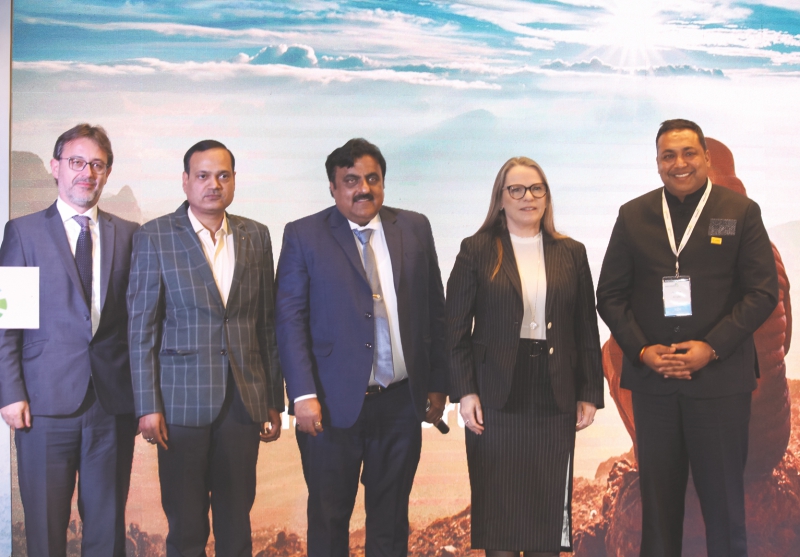 Archroma is a global, diversified provider of specialty chemicals serving the branded and performance textiles, packaging and paper, and coatings, adhesives and sealants markets. Headquartered in Pratteln, Switzerland, the company operates a highly integrated, customer-focused platform that delivers specialized performance and color solutions in over 100 countries. They do that by applying the principles of "The Archroma Way to a Sustainable World: Safe, Efficient, Enhanced. It's our nature." They help brands and manufacturers to create more sustainable products and processes, with their color, effect and performance chemical innovations and solution systems. In their recently organized event "BLISS: Transforming Together", the company's CEO, Ms. Heike Van De Kherkof, shared Archroma's vision of zero discharge, stepping away from landfills and no carbon footprint as "big investments we have to make" for a sustainable future. The company's India Cluster Head, Mr. Anjani Prasad shared that 71 percent of India's paper production comes from recycled fiber.
Watch: JMC Paper Tech Launches New Subsidiary JMC Papers
Global specialty chemicals company Archroma organized the event "BLISS: Transforming Together" in Delhi on 9th January, 2023. The event showcased Archroma's best-in-class, sustainable solutions for textiles, paper and packaging industries and was joined by over 150 participants from the textile, paper and packaging industry. Archroma's CEO, Heike Van De Kherkof shared a keynote presentation and Archroma's India Cluster Head, Mr. Anjani Prasad also addressed the event.
Through her presentation, Ms. Kherkof outlined the history of Archroma, sharing the company's journey of leading through mergers and acquisitions to solidify their position as leaders in the industry. The event focused on the need of the industry to become more environmentally aware and emphasized on the importance of sustainability. "We would like to transform the paper packaging industry towards a more sustainable industry," she said. She added that though it is an ambitious goal, it can be achieved through the industry coming together.
Ms. Kherkof spoke about the various technologies developed by Archroma, dedicated to the sustainability cause and reducing carbon footprint. A major technology that has recently been introduced to the paper industry is the Archroma ONE WAY Impact Calculator. This is a calculation tool used by Archroma's experts to provide the customers and partners with an accurate estimate of the process costs, resource utilization, effluent discharge quality, and CO2 emissions of the existing production process and of the newly evaluated system. The Archroma ONE WAY Impact Calculator can be used to extract data at each step of the textile manufacturing chain: sizing, pretreatment, dyeing, printing and finishing, thus helping to validate the applicable Archroma system or solution.
Also Read: Yash Pakka to Build World's Largest Compostable Flexible Packaging Facility with 400 TPD Capacity in Guatemala
Head of India Cluster, Mr. Anjani Prasad shared some figures and insights based on the Indian market. He shares that out of the total paper production, 21 percent is coming from wood and 71 percent is coming from recycled fiber, which is a good figure. Mr. Prasad also stated that among the human population of approximately 8 billion people, 6 billion of the population is between Asia and Africa. Therefore he states that the manufacturing and whole industry value chain has to be linked here, to eradicate the problem of carbon footprint.