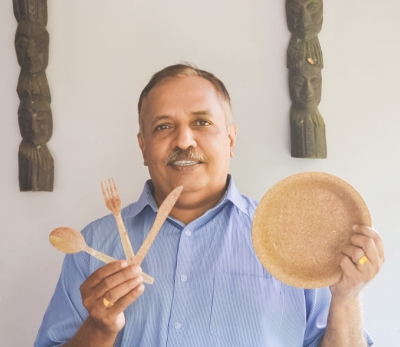 Thooshan, a unit of Vir Naturals Private Limited, has a clear goal; to provide a replacement for the current disposable single use plastic utensils in the market. The company believes that its initiative will help in increasing public awareness. The manufactured dishware have a longer shelf life, attractive designs, are completely biodegradable, and partially edible! Mr. Vinayakumar Balakrishnan, Chairman & MD of Vir Naturals Private Limited, shared with Paper Mart how Thooshan came into existence and why it is unique, the numerous accolades within a short span of time, and a glimpse into future plans.
Company's Overview
Thooshan brand came into existence with a goal to provide a replacement for the current disposable plastic utensils in the market. Mr. Balakrishnan elaborates, "Millions of single-use cutleries end up in landfills every year after being used once. Through our initiative, we hope to put an end to this behaviour and increase public awareness. Our mission is to start a cutlery revolution."
Thooshan was incubated at IIT-Kanpur, Kerala Agricultural University and Indigram Lab Foundation, New Delhi. On 17th August 2021, after a research and development of more than 3 years, the company soft launched commercial production in a fully automated robotic plant at Angamaly, Kochi. The project focused on creating fully biodegradable tableware, such as single-use plates, cups, take away boxes, cutleries and glasses. The company has already won many accolades on the way, including the prestigious United Nations' – UNDP Green Innovation Fund award. The company is institutionalized by Kerala Start-up Mission, and Haritha Kerala Mission, 2021, for its idea and start-up grant. The company is a national winner from Kerala for RAFFTAR ABI for innovation in Agricultural products, 2021, awarded by the Government of India.
Watch: JMC Paper Tech Launches New Subsidiary JMC Papers
NIIST-Council of Scientific and Industrial Research (CSIR), Govt Of India, Trivandrum, Kerala, is the technology partner of Thooshan. Thooshan's project is under technical collaboration with NIIST/CSIR (Govt of India). Commenting on the uniqueness, Mr. Balakrishnan states, "We are 2nd in the world and 1st in India using this technology."
Manufacturing Operations & Product Line
Thooshan makes a range of plates, bowls made from natural wheat bran. The company uses dry process technology with very less water and wastage at its fully automated robotic plant at Kochi, and can produce 1000 plates per day. "Our Thooshan plates are 100% biodegradable and mix with soil in less than 30 days. We are scaling up to make 5000 plates per day." The whole product line consists of agriculture by-products (wheat bran or rice bran or rice husk) coated with other natural ingredients and natural binders.
Thooshan's dishware has a longer shelf life which is fungus and bacteria resistant. Dishware from Thooshan is completely biodegradable and partially edible. The whole product line is affordable to common man, especially once production reaches critical volumes, is safe for a bite, microwave friendly, and has water retention capacity. Thooshan offers packaging solutions which are fungus & bacteria resistant, biodegradable in 30 days, and have a long shelf life, that is of 1 year.
Thooshan's manufacturing process and products also help in additional income generation from waste for farmers and local mill owners. The company has plans to expand its current operations, as shared by Mr. Balakrishnan, "In June 2023, we are launching the full cutlery range including fork, knife, spoon, and takeaway containers, which has been certified by CSIR and CIPET."
Also Read: Integrating Green Manufacturing in Indian Pulp & Paper Industry
Trends In Biodegradable Tableware Market
Thooshan's product line is biodegradable as well as partially edible! However, one doesn't always have to eat the plate; once thrown away, it decomposes into organic manure for the plants. After its use, these tableware can be used as cattle feed, fish feed, or poultry feed. The base idea is clarified by Mr. Balakrishnan, "The use of single-use plastic could be reduced to large extent by this novel concept. Join us to change the way we eat and think about waste."