Indian paper industry has experienced a surge in imports in FY 22-23, with the uncoated writing & printing segment recording an increase of 102 percent over FY 21-22. Paper Mart grapples with the issue under the guidance of industry leaders, both manufacturers and traders, to understand the main drivers of the surge and the future actions of the industry to mitigate such circumstances in the future.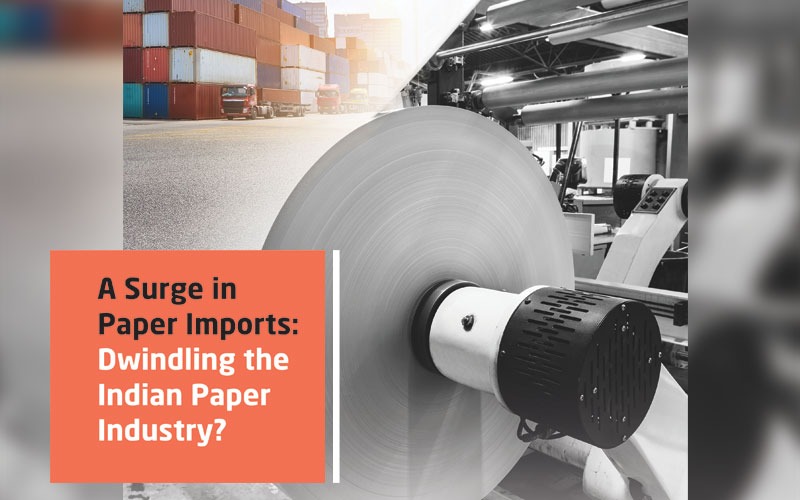 The Directorate General of Commercial Intelligence & Statistics (DGCI&S) issued the data revealing the market structure of paper and paperboard imports during the previous financial year. A close observation of the data shows that:
The market value of paper and paperboard imports in India jumped 47 percent in FY 22-23 from FY 21-22. In FY 22-23, the paper imports amounted to INR 11,513 crores, whereas, in FY 21-22, the imports were valued at INR 7,839 crores.
While all grades of paper have recorded a surge in imports, some segments have been major contributors. The uncoated writing and printing segment has recorded a surge of 102 percent, coated paper and paperboard recorded 51 percent, and the tissue segment recorded a 41 percent surge.
The uncoated writing and printing grades were primarily imported from Indonesia, Singapore, and China. Meanwhile, for coated paper and paperboard, the top import sources were China, Japan, and South Korea.
On the face of it, the trend is concerning, however, various underlying factors eventually culminate into a visible trend. Among these various factors, some are not concerning, while others need to be addressed by the industry as soon as possible. For instance, it is opinionated by the paper manufacturers that the paper imports have increased alarmingly, while paper traders claim that the FY 22-23 paper imports are similar to the pre-Covid-19 years imports.
Furthermore, consolidating the opinions of the industry leaders, it can be understood that fluctuations in demand and prices experienced by the global pulp and paper industry have also played a role in reflecting a surge in paper imports in India. There has been a poor demand from international markets, like Europe and the US, which has led the manufacturing hubs, that is China and South-East Asia, to have surplus capacity. Additionally, the regional demand in China continues to remain low, while various new capacities have been commissioned. The cumulative surplus supply has led to the availability of paper and paperboard products resulting in a surge of imports in India.
Another factor that makes the paper imports during FY 22-23 alarming is the absence of a trade surplus experienced by the Indian market during the 2020-22 period. During the 2020-22 period, Indian paper exports had been much higher than imports.
The surge in paper and paperboard imports is a result of primarily international factors, and subsequent domestic trends. Yet again, the domestic paper industry can take key lessons from these figures. The industry can strive to make its internal ecosystem more robust and avoid the impact of international market demand and price fluctuations. In fact, the availability of paper and paperboard products at lower prices is a significant concern, as it hurts domestic manufacturers. Although the prices will eventually increase and imports will come down, such trends are not favorable to the domestic ecosystem of the industry and must be addressed with a futuristic approach.
Paper Mart is always trying to decode the underlying aspects of concurrent trends and events which affect the pulp and paper industry, directly or indirectly. We rely on the views* and feedback of industry leaders who are truly serving the industry. This feature explores the comments of industry experts on the key takeaways of this import increase trend, the drivers of this trend, its impact on the Indian industry, and the future action plan of the Indian industry.
All the views presented below are of respective industry leaders. Paper Mart has only compiled the thoughts.
Mr. Rajinder Gupta, Chairman of Trident Group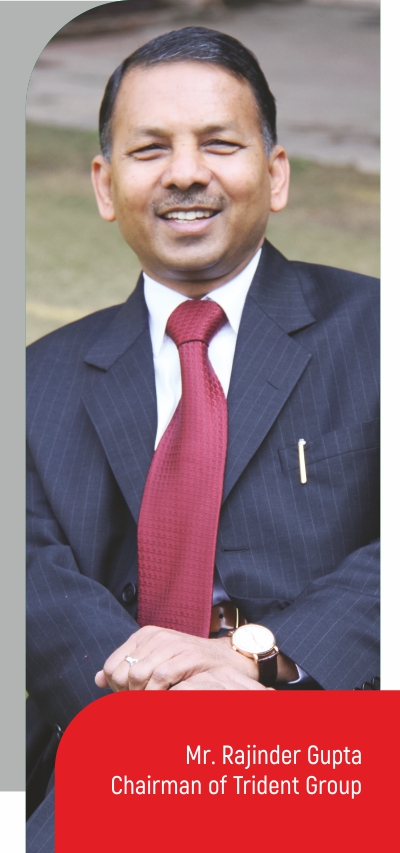 Key Takeaways of the Import Increase Trend
The significant rise in Indian imports of paper and paperboard, as reported by the DGCI&S, reveals several important insights.
Firstly, it indicates a noticeable gap between domestic supply and demand, suggesting a potential supply-demand imbalance. This situation has posed challenges for domestic manufacturers, particularly in the paperboard and coated paper sectors, which have witnessed a significant increase in imports of 51 percent YoY. Consequently, domestic manufacturers are finding it increasingly difficult to compete with the competitive pricing of imports.
Furthermore, the uncoated writing and printing segment has experienced a substantial YoY increase in imports by 102 percent. As a result, there is mounting pressure on W&P mills since Q1FY24, and this pressure is expected to further intensify during H1FY24. The implications of this intensifying pressure may lead to a drop in operating prices by Q2FY24.
Drivers of the Trend
Several factors contribute to the increasing trend of imports and present challenges to the Indian paper and paperboard industry:
Production capacity: The addition of significant pulp capacities in recent years has resulted in a surplus of pulp. With major countries in the US and Europe experiencing a recession, international mills are seeking markets like India, where the realizations are better compared to their global counterparts. Currently, global pulp capacity stands at approximately 167 million tonnes, with around 63 million tonnes in Asia, reflecting a 10 million tonne increase since the Covid-19 pandemic, as reported by Fastmarkets.
The global recession and reduced demand at the international level: The global market has felt the impact of the recession, leading to a drop in demand for various goods, including paper and paper packaging. This drop in demand has resulted in a surplus supply. However, the demand for paper in India remains robust, prompting international mills to shift their focus toward India to sell their products.
Trade dynamics and agreements: Trade agreements and policies, both domestically and internationally, play a significant role in influencing import patterns. Tariffs, customs duties, and other trade regulations can affect the competitiveness of imported products, necessitating careful consideration to maintain a level playing field for domestic manufacturers.
The domestic growth trajectory and the government's focus on implementing NEP2020 (National Education Policy 2020) serve as major drivers for the growth of the paper industry in India. Overall economic growth is a significant driver for the Indian paper industry. These various drivers collectively contribute to the increase in imports and pose challenges that the Indian paper and paperboard industry must navigate.
Future Action Plan for the Indian Industry
To address the increasing trend of imports and mitigate the impact on the Indian paper and paperboard industry, the following actions can be considered:
Promoting research and innovation: Encourage R&D initiatives to drive innovation within the Indian industry. By developing new product variants, improving manufacturing processes, and adopting environmentally friendly practices, domestic manufacturers can enhance their competitiveness in the market.
Technology upgrading: By upgrading their technology, paper mills can improve their efficiency, increase production, enhance product quality, and reduce their overall environmental impact. This will contribute to global competitiveness and sustainability.
Government support and policy interventions: The government can play a vital role in supporting the Indian industry by providing incentives for new investments, promoting skill development programs, ensuring a favorable policy environment, and implementing guidelines on imports. Addressing issues like the dumping of cheap paper due to Free Trade Agreements (FTAs) from South Asian countries can be achieved through quality control measures.
Collaboration and knowledge sharing: Encouraging collaborations between domestic and international players can facilitate the sharing of expertise, technology transfer, and best practices. This collaboration will enable the Indian industry to enhance its capabilities and competitiveness.
By implementing these actions, the Indian paper and paperboard industry can strengthen its position, reduce dependence on imports, and foster sustainable growth in the face of increasing import trends.
Watch: JMC Paper Tech Launches New Subsidiary JMC Papers
Mr. Santosh Wakhloo, Executive Director-Marketing of Tamil Nadu Newsprint & Paper Limited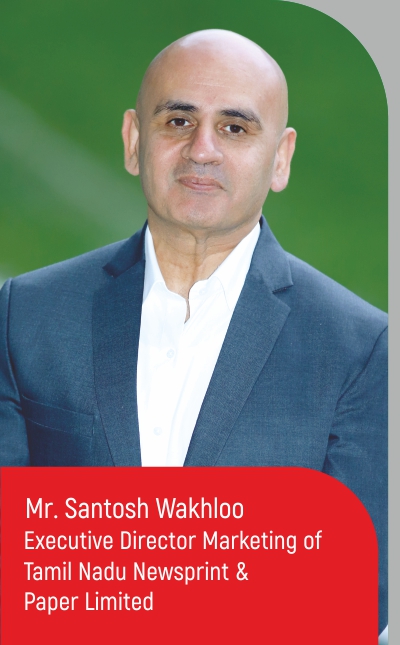 Imports of uncoated and coated varieties of paper and paperboard have increased substantially, as is clear from the data issued by the Directorate General of Commercial Intelligence and Statistics (DGCI&S).
Drivers of the Trend
Poor demand from Europe and the US.
Overall reduction of ocean freights led to the elimination of the freight advantage that was being enjoyed by India over China or Indonesia during the Covid-19 period.
China's internal demand has not picked up. In fact, it seems to be going down.
Commissioning of large capacities for both pulp and paper in China and South East Asia
Due to good domestic and export demand, and also the very high cost of raw materials, including coal, domestic Indian prices were strong during the past two years.
Some international players have started offering prices in the Indian market in INR with price protection against drops. They are also scouting for setting up sheeting and warehousing operations (cutting centers) in India.
Due to poor demand in the international markets and the consequent excess supply, there have been severe price corrections in the global markets. These price corrections have led to a drastic drop in Indian exports of not only paper and packaging boards but also finished products like paper cups, finished paper-converted products, and notebooks.
Impact on Indian Industry
All the above factors, especially first to fifth, have led to a fall in international prices of Paper. Lower international prices along with the fact that the Indian paper industry enjoys no entry tariff barriers have led to a substantial increase in imports into the country. As a consequence, domestic paper prices have started to soften. This trend is likely to continue for some more time.
The Indian packaging board and kraft paper manufacturers have been going through a very tough time for the past couple of months. There is poor capacity utilization and mills have been forced to take downtime.
In the Indian writing and printing segment, print or conversion season is over as most of the books or notebooks have been printed. This is now leading to a drop in demand. This poor demand coupled with a substantial increase in cheap imports has led to price corrections in the domestic market. We are expecting further price corrections in the writing and printing paper segment.
On the packaging boards side, with the domestic economy performing well, we do not expect more corrections and the worst seems to be over.
Future Action Plan of the Indian Industry
There seem to be a couple of disturbing trends, especially the trend towards setting up warehouses and cutting centers in India. Surplus capacity will get dumped into the Indian market at throwaway prices and will hurt the domestic industry badly. The industry needs to be protected by the government against this.
In addition, the Indian paper industry needs to build up scale and efficiencies and have a strong market presence to survive and thrive against the international market.
Mr. R N Agarwal, Chairman & Managing Director of NR Agarwal Industries Limited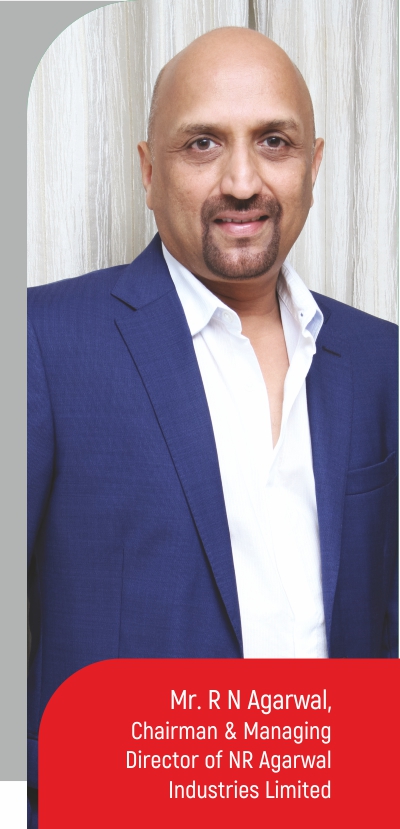 Key Takeaways of the Import Increase Trend
In terms of market value, Indian imports of paper and paper board have increased to 47 percent in FY2022-23 from FY2021-22. This is according to the data issued by the Directorate General of Commercial Intelligence and Statistics (DGCI&S).
The highest jump of 102 percent was observed in the writing and printing paper segment in the year FY2022-23 against FY2021-22. Similarly, the coated paper and board segment imports increased by 51 percent, and tissue segment imports increased by 41 percent.
The major imports of the writing printing segment were from Indonesia, Singapore, and China, while, in the case of coated paper and board segment, the major imports were from China, Japan, and South Korea.
Drivers of the Trend
It is surprising to note that in spite of good domestic production, imports are increasing. Definitely, the cost factor is one of the major reasons for imports. Indian producers have to compete with the international market with regard to both, quality and cost, in order to curb the imports.

Future Action Plan of the Indian Industry
There are many challenges being faced by pulp and paper mills as most are not moving ahead with time and continue with old methods of controlling their plant operations and quality. Continuous investment is crucial to survive in today's competitive market. Improvement of operations through regular upgrades will improve operating efficiency and competitiveness.
Mrs. Ruchika Garg, Director & Vice President – Marketing of Ruchira Papers Limited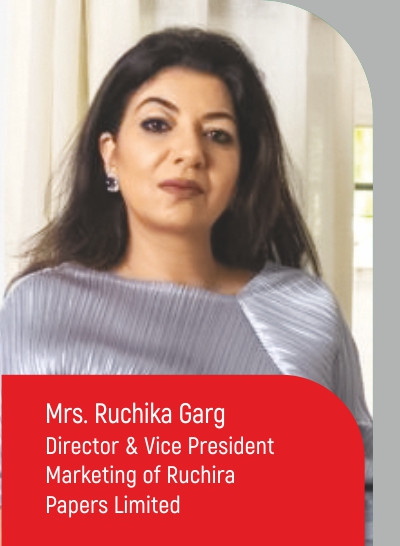 Key Takeaways of the Import Increase Trend
The paper industry is interconnected globally, and fluctuations in international markets can impact import trends. Changes in global supply and demand, can influence the import patterns of paper. An increase in paper imports could indicate a rise in domestic demand for paper products. This could be driven by various factors such as population growth, economic development, increased literacy rates, and a surge in packaging and printing industries.
Paper imports may be driven by the need for specific types or qualities of paper to cater to diverse consumer demands. If we were to look at the glass half full, importing paper can also facilitate the transfer of technology and best practices from exporting countries. Indian industries can learn from advanced production techniques, quality control processes, and sustainable practices implemented by foreign suppliers.
However, we cannot ignore the fact that importing paper may pose challenges for domestic paper manufacturers as they have to compete with cheaper imported products. This can potentially impact the profitability and competitiveness of the domestic industry. If domestic paper production is adversely affected by imports, it could lead to job losses in the industry. This can have socio-economic consequences, especially in regions where the paper industry is a significant employer.
Future Action Plan of the Indian Industry
The future action plan of the Indian paper industry should focus on various aspects to ensure its growth, competitiveness, and sustainability. This can be achieved through investments in modernising existing mills and adopting advanced technologies for efficient and sustainable production.
There is a strong need for favourable government policies that support the growth and development of the paper industry. Incentives for investments, infrastructure development, research funding, and supportive regulatory frameworks.
Another important step is to educate consumers about the importance of sustainable paper usage, recycling practices, and the benefits of using eco-friendly paper products. Agro-based paper is made from agricultural waste products such as wheat straw, sarkanda, bagasse making it a more environmentally friendly choice. Imported uncoated paper, on the other hand, is generally made from wood pulp, the sourcing of which may involve deforestation or other harmful practices, depending on the supplier. Emphasising to the consumers the importance of considering all these factors and choosing the type of paper that best suits their specific needs and aligns with their values, especially concerning sustainability and catering to a more environmentally conscious market.
By implementing these measures, the Indian paper industry can position itself for sustained growth, improved competitiveness, and a more sustainable future.
We at Ruchira Papers continue to take steps in this direction by :
Emphasising on research and development efforts to improve the quality of paper. This includes developing innovative manufacturing processes, exploring alternative raw materials, and enhancing the recyclability and sustainability of paper products.
Prioritise sustainable practices to minimise its environmental footprint. This includes adopting efficient use of resources, implementing waste management systems, and investing in renewable energy sources.
Focus on skill development programs and training initiatives to enhance the technical expertise of the workforce. This will ensure that the industry has a skilled labor force capable of operating advanced machinery, implementing best practices, and driving innovation.
Encourage value addition and diversification by producing a broader range of paper products like specialty papers, packaging materials, and value-added products. Diversification helps capture niche markets and increase revenue streams.
Stay updated on the latest market trends, consumer preferences, and technological advancements. Adapt to changing market dynamics and consumer demands by continuously innovating and aligning the industry's offerings accordingly.
Dr. Alok Prakash, Chief Executive Officer of Camerich Papers Private Limited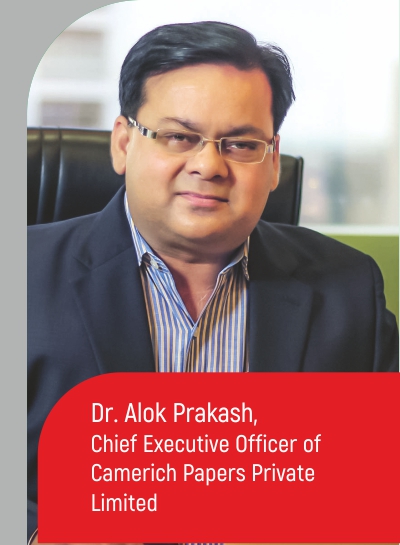 Key Takeaways of the Import Increase Trend
Following the disruptions caused by the COVID-19 pandemic, the Indian paper industry is gradually recovering and returning to a state of normalcy in terms of pricing and demand. While the import of various paper products has witnessed an increase, it is essential to compare import data for the years 2021-22 and 2022-23 to pre-pandemic levels to obtain a more accurate understanding of the situation.
According to data from the Directorate General of Commercial Intelligence & Statistics (DGCI&S), imports amounted to 1747 thousand metric tons in 2021-22 and rose to 1752 thousand metric tons in 2022-23, representing a modest increase of 5 thousand metric tons. However, when compared to the pre-COVID year of 2019-20, during which imports reached 2991 thousand metric tons, the contrast becomes much more apparent. Furthermore, during periods of lower imports, Indian paper mills significantly ramped up their exports to 2857 thousand metric tons, leading to a shortage of materials within the domestic market. The resulting price increases were partially offset by cost adjustments and driven by heightened demand. Consequently, traders have sought to import materials from overseas mills to mitigate the impact of these price increases.
Commodities rates across the globe have generally been higher due to various factors. As the COVID-19 pandemic eases, the demand for all products has surged to unprecedented levels, contributing to inflationary pressures. Encouraging imports within the Indian paper market serves to address material shortages, take advantage of superior material quality, bridge price gaps, and mitigate domestic supply issues.
Future Action Plan of the Indian Industry
Given that India is a net importer, completely halting imports is not a feasible solution. However, the industry should prioritize technological advancements to achieve cost competitiveness and enhance product quality. It is also crucial to establish appropriate production capacities in different consumption regions. In this context, the government should take proactive measures to safeguard the interests of local manufacturers. Cost competitiveness and technology upgradation is the key to survival in the level playing field.
Data Source: IPMAindia.org
Mr. Aseem M. Bordia, President of FPTA & Chief Executive Officer of Laxmilal & Company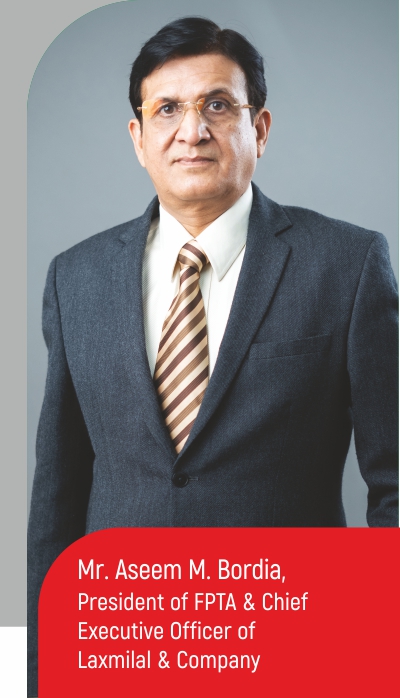 Key Takeaways of the Import Increase Trend
The Indian Paper Manufacturers have exported a huge quantity in multifold of various products. The exports in FY20-21 and FY21-22 were to the tune of 2,194 and 2,857 thousand tonnes as compared to imports of 1,747 and 1,752 thousand tonnes.
The net figure for imports of paper and paperboards is only 1,146 thousand tonnes as 606 thousand tonnes is the newsprint segment, which is regulated by separate norms of the Government of India and does not form part of the open trade.
As per the statistics of the Ministry of Commerce & Industry, Government of India, and shared by the Indian Pulp & Paper Technical Association (IPPTA), the exports of paper and paperboard in the FY21-22 were to the tune of 3.53 million tonnes as against imports of 2.18 million tonnes. The Department of Promotion of Industry & Internal Trade (DPIIT) annual reports for FY22-2023 also publishes the same, thereby providing authenticity to the data.
Drivers of the Trend
Due to material exports in the last FY, there was a shortage of material, and the rates per tonne skyrocketed more than double in just a year from FY21-22 to FY22-23. The availability of material was an issue that hampered the businesses of various Indian industries of the Make in India project.
In FY22-23, the exports of paper and paperboards, including newsprint, were to the tune of 2.46 million tonnes as against imports of 2.52 million tonnes. Imports of newsprint being 0.62 million tonnes the net figure of imports for paper and paperboards comes to 1.90 million tonnes, much below the exports of 2.46 million tonnes. One needs to compare apples with apples only and not oranges.
Comparatively, all the commodities rates were on the higher side across the globe due to various factors and due to the easing of Covid-19 restrictions, and demands were at an all-time high for all the products which factored into high inflations. So, the imports are to ease off or to get competitive rates of various raw materials. All the Commodities and the exchange rates have been at an all-time high compared to FY21-22 to FY22-23.
In 2021-22, there were restrictions on imported copier paper due to BIS certifications being mandatory for the suppliers of imported copiers. As we have short supplies of copier paper in India to the required demands, BIS registrations were completed by foreign suppliers in FY22-23 so there was a marginal increase of imports from FY21-22.
Future Action Plan of the Indian Industry
The biggest concern for the Indian paper industry is the raw material shortage or wood-fiber deficiency. This presents a major constraint to the manufacturing capability and capacity of Indian pulp and paper mills.
Over 90 percent of our wood demand is met through industry-driven agro or farm forestry (1.2 million hectares) and the rest through government and other sources. The current demand for pulpable wood by the paper industry is about 11 MTPA, while domestic availability is only 9 MTPA. The demand is projected to grow to 15 MTPA by FY24-25.
Furthermore, our wastepaper collection and recovery mechanism is not strong and is largely concentrated in the unorganized sector. Our recovery rate is only 38 percent.
We at FPTA representing over 6000 paper traders from across India do support our respected Prime Minister's vision for Atmarnirbhar Bharat and Make in India programme. We firmly believe that Indian paper manufacturers are much more capable to compete across the world with global paper mills in all ways with a positive mindset for a brighter future. The paper consumption in India is just 15 kilograms per person per annum, which is very low compared to China which is at 55 kilograms of consumption per person per annum.
We have similar structures of paper mills, raw material suppliers, and pulp as compared with the manufacturers from China, South Korea, and other developing nations like ours. Our industry has a bright future and we intend to perform our part to the best of our abilities to do the distribution of paper across the globe.
Mr. Deepak Mittal, Partner of Mittal Trading Company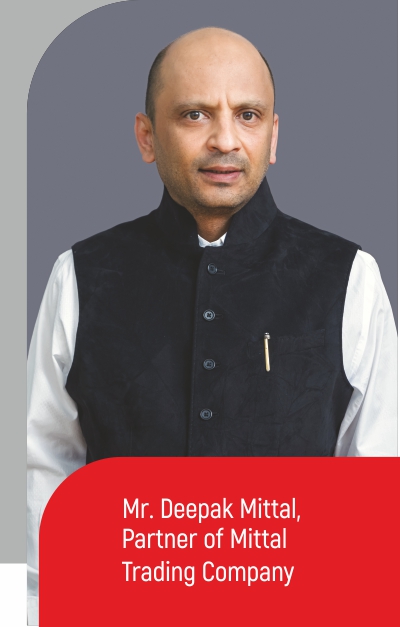 Key Takeaways of the Import Increase Trend
The imports of paper and paperboard in 2022-23 have gone up to INR 11,500 crores in market value, leading to a 47 percent jump.
The Indian market size in FY17 was 14 million tonnes, while in FY23 it has grown to around 21 million tonnes, which is a 50 percent jump. During FY17-FY20, the import volumes were around 1.5-1.6 MTPA, excluding the newsprint segment. During FY20-21 and 21-22, the import volumes were around 1.1 MTPA. In FY23, the imports figure is around 1.3 MTPA, excluding the newsprint segment.
The prices in the first half of FY23, April to September, were substantially higher. Post-September there has been a sharp correction in the prices of pulp, and also paper, in international markets. The price of pulp in the first half of FY23 was around USD 900, and today, the pulp prices are at around USD 500.
Traditionally, the paper industry cycle used to span 3-5 years, but post Covid-19, the cycles have become much shorter and sharp. We are likely to see one upcycle and one downcycle in the same year.
The phased re-opening of schools and colleges after Covid-19 has reached completion in 2022-23 and has surged the demand from the scholastic sector for writing and printing grades.
Observing the Indian paper market construct, the overall market size is 21 million tonnes, wherein 2.5 million tonnes is newsprint, which is mostly imported with very little domestic supply; 5 million tonnes is writing and printing segment; and about 12-13 million tonnes is the packaging, that is kraft and duplex; and about half a million tonnes of specialty paper. In the packaging grades, we have got significant overcapacity for the next 4-5 years. This is not the same for the writing-printing segment.
Excluding newsprint, there are primarily three grades get imported into India constituting nearly 90-95 percent share; one is coated papers, the second is uncoated writing and printing paper, and the third is kraft paper. The uncoated writing and printing segment amounts to nearly 20 percent of total writing and printing imports. The high-strength kraft paper import volume is about 2.75-3 lakh TPA.
In FY20-21 and FY21-22, the Indian industry has for the first time post-independence recorded a surplus trade, with exports being more than imports.
Drivers of the Trend
The numbers and jumps are coming on the very low base of 2020-21 and 2021-22, which were COVID-19 years. During the pandemic, the demand for paper and paperboard has shrunk quite significantly. Since the base year values are very low, the values of 2022-23 look more elevated than they actually are.
In terms of market volume, the jump is only 14 percent. Considering the market size and volume against the pre-Covid-19 years, the change is not significant or concerning.
In the writing-printing segment, the domestic supply falls short of demand in India.
There is a dearth of manufacturing capabilities within the country for high-strength kraft paper in high BF grades, as the fiber required is not available in the country.
The coated paper manufacturing capacity in India is only 3-3.5 lakh tonnes, whereas the demand is around 8.5 lakh tons, and it has grown in one or two years.
The commissioning of two new pulp mills, namely Arauco and UPM pulp mills. The two mills have a combined capacity of about 4 million TPA, however, post-commissioning of these two pulp mills, the global pulp demand has actually shrunk by 3.5 percent due to some recessionary trends in the western countries, mainly the US (16%) and Europe (27%).
The sharp industry cycles are due to the narrowing of the demand and supply gap.
Impact on the Indian Industry
The demand is going to be very strong over the next decade as the Indian market will grow from about 21 million tonnes to about 40-45 million tonnes, at a CAGR of at least 6-7 percent. The CAGR could be higher as well as India is a preferred China-Plus-One strategy choice of the world. The CAGR may even increase as there is a lot of plastic substitution happening with the single-use plastic ban. The substitution will create an additional demand of 2-3 lakh TPA, which is additional growth of around 1.5-2 percent.
The growth in the next decade will be driven by various aspects, as India has started focusing on manufacturing in addition to services.
Furthermore, the global demand for uncoated writing and printing paper is shrinking, but in India, it continues to grow, albeit at a slower pace than the packaging grade. It is because in Tier 2, Tier 3, and Tier 4 cities education is still not quite permeated and the scholastic demand contributes to nearly 60-65 percent demand of the writing and printing segment. Summarily, India is probably the only country in the world where demand for writing, printing, and packaging rates will continue to grow.
In order to cater to the growth in the writing and printing segment we need to add capacities, which will take another 3-4 years for them to become fully operational. So demand for all the 3 import grades will continue to grow at a high pace. Thus, the surplus trade trend will change in favor of imports.
Lastly, the low pulp prices will not last for long.
Future Action Plan of the Indian Industry
The Indian industry needs to work on the writing-printing market segment, both coated and uncoated. For example, in the coated papers the demand is around 8-9 lakh tons, while domestic capacity is only 3.5 lakh TPA. Similarly in the uncoated writing and printing papers segment, our imports amount to 5-6 lakh TPA. In order to cap the imports, a significant investments needs to be made by the industry to create the capacity and become self-sufficient.
The industry needs to lobby with the government for a very supportive policy to spur investments, more schemes, and PLI incentives. One of the impediments to adding capacity within India is fiber deficiency, wherein the government can be approached to allot the degraded forest land. The allotted lands could be utilized for plantations, which will become the supply source for the wood which is required so severely.
The sharp movement in prices is not healthy, however, if there is not adequate capacity creation, these cycles will continue to be quite sharp. The sharp industry cycle is a global phenomenon, so we will have to learn to live with it and learn how to stay ahead of the curve. We will have to study the cycles very carefully and diligently to overcome this volatility.
Indian market constitutes only about 4.5 percent of the world market, which is about 420 million tonnes, with a population share of 16 percent. Meanwhile, China's population size is similar to ours, but their market share is nearly 28 percent, over six times of India. We have a long way to go to overtake China as an alternative market. There will be some short-term pains, but we will have to endure them and focus on the long-term picture, which is very strong and rosy.
Also Read: Sainsons Paper Industries to Add 70-80 TPD Paper Machine & 100 TPD Waste-Paper Pulp Street
A.Venkat Annamalai, Business Partner of Jeyam & Company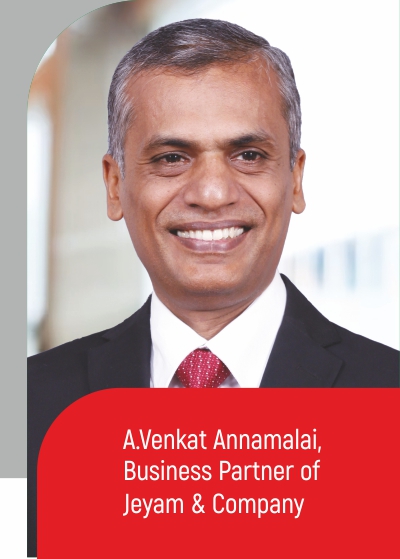 Key Takeaways & Drivers of the Import Increase Trend
India's overall growth story had its own impact on the paper industry too. With GDP levels at about 7 percent, the buoyancy was reflected in the performance of the Indian paper industry. There was an upswing in prices of all grades of paper and paper boards due to strong demand from all sectors. With not much additions to capacity (especially in wood free grades made out of virgin fibers), the demand for writing & printing grades remaining strong, the prices of virgin grade writing & printing grades sustained through out FY 2022-23. Whereas prices of all recycled grades (writing & printing and packaging), started softening since the beginning of 2023.
The paper prices internationally too were quite strong with many European mills shutting down capacities due to steep increase in power costs. Countries with large manufacturing capacities like China and Indonesia covered their production with high value markets and hence not much of quantities from overseas were available for the Indian markets. As a consequence of this trend, Indian industry used this opportunity to increase their overseas sales leaving the domestic markets with longer lead times in getting their orders serviced.
Now with the softening of international demand, the quantities available for the Indian markets from China and Indonesia have considerably increased. Furthermore, international pulp prices have moderated considerably which has aided the drop in prices of finished paper. In this background, we are currently witnessing a surge in imports of woodfree grades in large volumes. This trend is likely to continue as there is a slow down in demand internationally and there seems to be no immediate upward correction in pulp prices. Further, the Indian industry did not make price corrections at the appropriate time which made the imported woodfree grades attractive for an Indian convertor/market.
Imports of photo copy papers were disrupted initially due to definitive anti dumping duty and subsequently by the mandatory BIS certification for importing this grade of paper. Now that many overseas brands have acquired the BIS certification, there seems to be a reasonably good flow of imported photo copy paper in the Indian markets.
The surge in imports of writing & printing grades are likely to continue for Q2 of the current financial year. The trend in imports of writing & printing grades beyond Q2 depends on its demand by the educational sector (especially the various State Governments), for the upcoming academic year.
Impact of this Trend in the Indian Industry
We can expect the following reactions from the industry:
Indian industry sooner or later will have to take a cue on the international prices to remain competitive.
Profitability of the Indian industry will get impacted in comparison to the profits earned by them during the previous FY.
Order to supply turn around time is likely to be reduced which will benefit the customer in terms of inventory holding/planning.
Reluctance of customers to hold stocks, on the pretext of erosion of value, may further impact the demand.
The quantum jump in exports by the Indian industry (which could be one of the factors of short supplies/longer lead times) is likely to reduce due to the falling international prices of finished paper. This will eventually result in Indian industry catering to more of domestic requirements.
Future Action Plan of the Indian Industry
To mitigate adversarial impact of imports on the Indian industry, following steps need to be taken:
The industry must remain cost competitive.
We need to continue to invest in the best of technologies.
Present a community effort by consolidating through mergers and acquisitions.
Optimize on gsm and sizes for better productivity.
Maintaining optimum supplies to the domestic markets, and not prioritize exports over domestic demand.
Servicing domestic markets within a reasonable lead time for repeatability in relations across the supply chain.
Mr. Bhavesh Gala, Managing Director of Infinity Industries Private Limited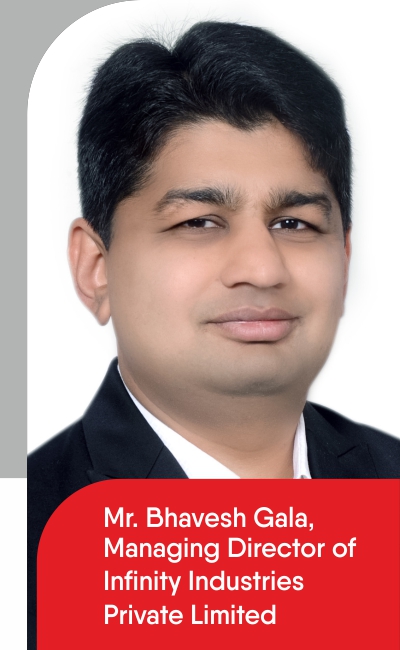 Key Takeaways of Import Increase Trend
During the last two financial years, the market was regaining its normalcy post-Covid-19 in India and across the world so there is a jump back in the imports from Covid-19 years' demand. When the market was getting to normalcy the Indian paper industry was exporting a good volume of paper and paperboard from India, which in turn became another reason for increased imports due to the short supply of paper and paperboards in India. The rates in Indian Market were touching at a never seen, or will not be seen, all-time high, which again forced imports.
Additionally, post-Covid-19, the global world market started looking for China + 1 supplier in India for all the manufacturing products which supported the demand for paper and paperboards locally too quickly and boomed Make in India. The per tonne value increased but the quantity in comparison is much lower.
However, in comparison, the present imports are still lower than the imports from pre-Covid-19 times.
Drivers of the Trend & Impact on the Indian Industry
Make in India boost due to China + 1 supplier factors in all industries.
Short supplies of paper and paperboard in India compared to demands.
Frequent increase in rates in the Indian Market
Export mismatch than the required domestic consumption.
There shall be no significant impact on the domestic industry, as the imports will only happen to products that are short in production in India for consumption, or if our domestic rates are much higher than the imported rates.
Future Action Plan of the Indian Industry
Indian paper manufacturers are no less than the world's paper manufacturers. The following few steps, however, must be taken:
The industry should gear up for future consumption in India by setting up the required capacity with proper planning.
A focus on paper and paperboard production in India, like in China 30 years back.
Focus on the advantages of India and our leadership position in the present scenario and focus on Global and Act Local strategy.
Should always be ready for competition in commercial, quality, and quantity.