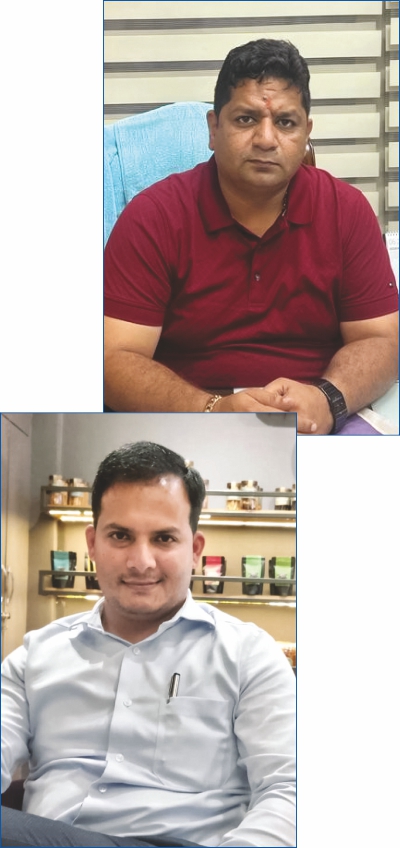 Sainsons Paper Industries Private Limited is among the leading agro-based paper manufacturers in India, producing 10,500 TPM of kraft paper. The company has regularly focused on expanding its capacity, equipment efficiency, and technological status while being committed to social responsibilities and sustainability. In a conversation with Paper Mart, Mr. Pradeep Saini, Managing Director of Sainsons Paper Industries and Mr. Harikrishan Saini, Director of Sainsons Paper Industries, shared all the capacity expansions, technical upgrades, new machinery set-up that they have done in the past years. They also shared plans to add a lightweight semi-kraft paper manufacturing machine of 70-80 TPD capacity and an imported waste paper-based pulp street of 100 TPD capacities.
Paper Mart: Please tell us about Sainsons Paper Industries' journey, major milestones, and crucial achievements.
Pradeep Saini: Sainsons Paper Industries Private Limited was established in Bakhli Pehowa, a village in the Kurukshetra district of Haryana, in 1993, with a humble production capacity of 10 TPD agro-based kraft paper. Today we are headquartered in Kurukshetra, Haryana, and are one of the largest manufacturers of agro-based kraft paper. It was not easy to continue agro-pulp production owing to serious pollution concerns, as conventional chemical recovery is not economical for small agro-based kraft paper mills. So in 2006, we established an alternative option of the logistic and re-layout plan (LRP), which was approved by the Central Pollution Control Board (CPCB) for agro-based pulp and paper mills for pulping capacity of up to 50 TPD in consideration of our case. Afterward, we installed a low-temperature incinerator (LTI) chemical recovery unit, which allowed us to produce 200 TPD agro-pulp and high-quality
Semi-kraft paper with agro residue wheat straw, and Indian old corrugated containers (OCC) with gsm range of 80-250. Hence, we are producing 10,500 TPM of paper. We are fully committed to social responsibilities and sustainability to achieve Net Zero emissions. Our entire team is highly dedicated and motivated to manufacture high-quality semi-kraft paper and serve well to our esteemed clients.
"We installed the CBG plant, the first in India, in fact in Asia, for converting paper industries effluent to bio CNG/CBG, which is being used as a fuel in automobile vehicles against petrol and diesel."
Harikrishan Saini: In 2009, we installed a biomass-based boiler of 35 TPH steam capacity, at 65 kg/cm2 pressure, 450-degree Celsius temperature, and a turbine of 3 MW based on 100 percent rice straw (parali), which was earlier burnt in the fields. We educated the farmers, facilitated them with the equipment and machinery to cut the parali, and purchased it. In the year 2018, as production increased, we installed another power boiler of 50 TPH steam at 65 kg/cm2 pressure, 450 degrees celsius temperature, and a 5 MW turbine, based on 100 percent biomass parali. During Covid-19, we sustained the running of the plant by motivating our team and providing them with food and shelter inside the mill.
PM: Kindly elaborate on your manufacturing setup, machinery employed, and production capacities.
PS: We have two paper machines. PM1 produces 140-150 TPD paper with a gsm range of 80-180, and PM2 produces 225-250 TPD paper with a gsm range of 120-250. We have two pulp streets that help in the production of our entire 350-400 TPD paper. One is agro-street with 200 TPD capacity. It consists of depithers, three stages of wet washing, continuous digester, and four stages of brown stock washing. On the other hand, we also have three streets of recycled fiber- 12 cubic meters, 15 cubic meters, and 32 cubic meters, pulper equipped with HD cleaner, turbo screens, twin deckers, etc.
HS: To handle the weak black liquor from agro-street, we have an evaporator and LTI, which produces 40-45 TPD of soda ash as a by-product. We have two power boilers of 50 TPH and 35 TPH, and two turbines of 5 MW and 3 MW for self-power and process steam requirements. The two boilers are dedicated entirely to rice straw. Our total production capacity for semi-kraft paper is 400 TPD.
Watch: JMC Paper Tech Launches New Subsidiary JMC Papers
PM: What constitutes your product portfolio?
PS: Our entire product portfolio's BF range is 20-22, out of which 50 percent is agro-pulp-based paper. The gsm range of our portfolio is 80-250. We also manufacture paper with a gsm range of 220-250, for making paper tubes. We are an ISO-certified company and maintain our quality, safety, and environmental benchmarks, as proved by varied certifications.
PM: Can you tell us in detail about your market footprint and major clientele? What is your USP?
HS: We sell our paper directly to some customers and for the rest, we rely on our dealer network covering all major markets. Our paper is used by all types of corrugators. Our USP is our brand name, Sainsons, which is known for consistent quality and contains maximum agro content among all agro-based units. We supply our customers with special quality paper for various uses.
PM: What is your technological and business roadmap?
HS: We have a continuous digester for wheat straw, 32 cubic meters latest technology D pulper for waste paper pulp, size press on both the machines with surface sizing and a 100 percent rice straw (parali) dedicated 8 MW Co-Gen plant for self-consumption. We also have an ETP plant with an ICX reactor anaerobic digester, supplied by Paques Technology BV, the Netherlands, to reduce the chemical oxygen demand (COD) load and further converting the raw biogas produced from digester to bio CNG/CBG. We contracted Atlas Copco to import screw blowers from Germany for aeration.
PM: What are the recent developments that you have undertaken at Sainsons Paper Industries?
PS: In the year 2022, we upgraded our PM2 capacity from 175-180 TPD to 225-240 TPD, by putting size press and 16 nos new dryers, changing all the old model drives to the latest ABB drives, new rewinders, etc. We installed an anaerobic digester, supplied by Paques, with a design capacity of 18 tonne COD load of flow 4500 m3/day @ COD 4500 mg/lt, getting our COD reduced by 65-70 percent. The raw biogas generation is in the range of 6000-6500 m3/day with methane content 65-70 percent, CO2 content 30-35 percent, and H2S content 1-2 percent. We installed the CBG plan, the first in India, in fact in Asia, for converting paper industries effluent to bio CNG/CBG, which can be used as a fuel in automobile vehicles against petrol and diesel. It is our contribution to the waste-to-energy project. The raw biogas is being purified to CBG in the CBG plant, supplied by KIS Group (a Bangalore-based MNC), to remove H2S and CO2. The final CBG production is 3,000 kg/day, containing over 96 percent methane, 4 percent CO2 and N2, and less than 10 ppm H2S. The final product specifications are in adherence to all the quality and safety guidelines as notified by the Government of India for automobiles, that is fuel purposes (IS 16087:2016). The product is being used as fuel in vehicles.
Also Read: Speciality Group to Establish Nigeria's First Writing and Printing Paper Manufacturing Plant
PM: Which according to you are the key trends driving the market? How do you see the paper market evolving in the coming years?
HS: Currently, the kraft paper market is facing stiff competition because of the over-capacity which has been added in recent years. The paper industry is also facing another challenge of availability of raw materials at economical prices. The global market fluctuation has drastically affected our manufacturers bottom line.
Meanwhile, packaging paper demand has been increasing due to the ban on single-use plastic and can further increase exponentially after the strict implementation of the ban.
PM: What are your vision and plans for Sainsons Paper Industries' future?
PS: Our future plan is to go for expansion with one more machine of 70-80 TPD capacity, to produce lightweight semi-kraft paper in the gsm range of 20-80. We also plan to add a screening and cleaning system for the existing OCC line, and another imported waste paper pulp street of 100 TPD with a BF range of 20-32 to improve our paper quality and to sustain in the market.