In an interview given to Paper Mart, Ng Kok Heng, Group Sales & Marketing Director, Vaibhav Vaish, Country Manager, and Dinesh Mohta, Sales Director, Amazon Papyrus Chemical, talked about the Company's plans for expanding its product portfolio and the new developments that have taken place.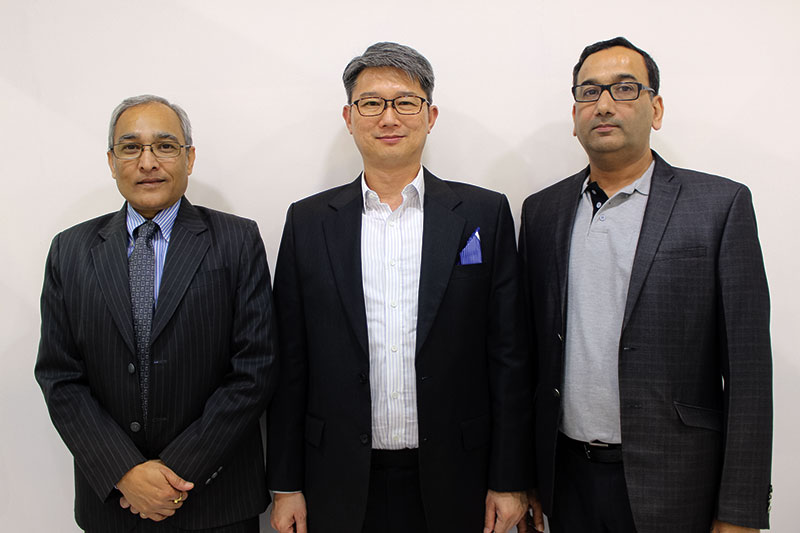 Paper Mart: Could you tell us a little bit about your Company and the products you offer?

Ng Kok Heng: Amazon Papyrus is a leading specialty chemical and process solution provider to the Asian pulp and paper industry. The Company is based in Hong Kong, and its production facilities are located in India and Thailand. Amazon also has operations in Indonesia, Malaysia, India, the Philippines, Singapore, Thailand, Vietnam and the Middle East. We are also looking forward to entering the Korean market. We support pulp and paper companies by providing them with our process chemicals. These chemicals help them in improving their efficiency.

PM: The role of packaging inks is important, as they affect food safety and quality. What measures have you taken to make your food grade paper safe?

Vaibhav Vaish: We go for barrier coating, which is done to prevent ink from migrating to the foodstuff – for example, milk and juice – when getting in contact. Many of our products have been designed keeping in mind the safety and quality of the foodstuff. To design such products, we use the right kind of chemistry for sizing and take into cognizance any other barrier properties the customers may require. For example, water repellency, lactic acid for milk and peroxide for fruit juice preservation are important properties for the tetra pack. Finding the right combination of chemicals is of paramount importance.

PM: Could you tell us a little bit about your product portfolio?

Dinesh Mohta: We continuously develop specialty chemicals and process solutions for pulp and paper mills across the globe. We cover the entire production process – right from getting the raw material, whether wood or recycled paper, to producing the product. With our products, we help pulp and paper companies in improving the production process, productivity and quality and in reducing water and energy consumption – all that enables the companies to reduce their cost of production.

PM: What challenges do you face when procuring raw material?

NKH: The procurement of raw material depends on the supply and demand scenario. The restrictions imposed on a specific chemical due to environmental concerns, decrease in the supply of the chemical, which in turn increases the demand. This has an impact on the price of the raw material. Getting raw material from alternative suppliers who are far away from the production plant raises the total cost of production, which affects our bottom lines. In order to overcome this problem, we reach out to various chemical suppliers in our region. We have been focusing hard on how to make our procurement process much more efficient.

PM: What new developments have taken place at Amazon Papyrus?

NKH: As Mr. Vaibhav said earlier, we are focusing on barrier coatings and improving the existing product line. We are also giving a sharper focus on odor control. We have a product line to address the odor issue – be it the odor of liquid or gas. Nowadays, the areas around pulp and paper mills are witnessing urbanization in a big way. Till about twenty years ago, mills used to be located in the middle of nowhere, but now they are surrounded by residential societies, markets, schools and offices.

PM: How do you go about controlling odor?

DM: There are two types of odor – one that emanates from effluent treatment plants and chimneys and the other that comes from the paper product itself, especially from packaging grade products. Of these two types, the odor that comes from packaging grade products matters the most, as it can have a serious impact on health and safety. We have been continuously working with our customers to control the two types of odor, especially for recycled-based pulp and paper mills. With our specialty chemicals and process solutions, we have been able to control odor at one of the biggest paper plants in the Middle East.

Our team visits mills and analyzes the issues pertaining to odor. If we can control the procurement and supply of raw material, we can also control the process of treating a plant in a much better way. Sometimes, we adjust the project in accordance with the needs of the client.

PM: Do chemicals have a role to play in the production of tissue paper?

NKH: The heart of tissue paper production is the Yankee dryer treatment. Also known as the creeping process, it requires spraying of the chemicals onto the surface of the Yankee dryer to push tissue formation. This process helps in achieving the desired softness of the tissue paper. The chemicals we offer are used as softener, coating chemical, etc.

PM: How lively has the Indian tissue paper market been for Amazon Papyrus?

VV: Earlier, not many Indians liked to get into tissue paper business because of limited scope. In the past few years, however, tissue paper has grown at 15 to 17 percent in India. Rapid urbanization, rising incomes and hygiene awareness have led to a surge in the consumption of tissue paper in India. In the next few years, the Indian tissue market would become stronger and offer more business opportunities.

PM: What are your future targets?

DM: We will continue adding new products to our portfolio. The Company is planning to get into internal sizing with ASA in South East Asia and the Middle East. We will also expand this offering in other mills across Asia once we are successful. In addition, we are planning to get into Retention. We will also expand our innovative online boilout programs for evaporator, which improve plant runnability and significantly reduces downtime, across other mills in China and Indonesia. With the significant success achieved from RecoveryChem® program for Slag Control in Recovery Boilers, we will focus on bigger pulp mills in the region. Besides this, our main focus is on Environmental Sustainability by managing our resources prudently.