The two PrimeLineST W8 tissue production lines are equipped with PrimeDry Steel Yankee and a PrimeDry Hood ST which enables to save energy.
March 17, 2021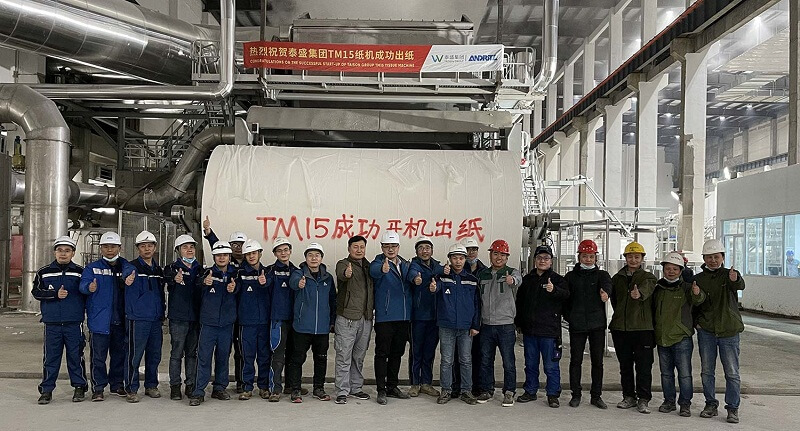 International technology Group ANDRITZ has successfully started up two PrimeLineST tissue production lines delivered to Suzhou Taison Paper Co. Ltd., China. The two CrescentFormer tissue machines (TM13, TM15) of the type PrimeLineST W8 have a design speed of 1,900 m/min, a paper width of 5.6 m, and a total design capacity of up to 120,000 tons of tissue per year. The machines process pre-dried bleached bamboo pulp, NBKP, and LBKP market pulp to produce high-quality facial tissue, toilet paper, paper towels, handkerchiefs, and napkins. Both tissue machines are equipped with an 18 ft. PrimeDry Steel Yankee and a PrimeDry Hood ST with steam heating to enable highly efficient drying while saving energy.
The steel Yankees were manufactured at the ANDRITZ Steel Yankee Business Center in Foshan, China. They are metallized with PrimeCoat Stratos 2.0, the latest generation of ANDRITZ coating, to provide greater hardness and extended Yankee lifetime.
The scope of supply also includes the stock preparation system, comprising two separate lines processing short fiber pulp and a mixture of bamboo and long fiber pulp as raw materials, the approach system, and the saveall DiscFilters for fiber recovery. Market pulp bales are dissolved in ANDRITZ FibreSolve FSV pulpers, which enable efficient slushing without damaging the fibers. Six ANDRITZ TwinFlo double disc refiners achieve superior fiber properties with regard to fiber length and fibrillation. ModuScreen HBE screens protect the tissue machine and ensure the highest runnability. Both tissue production lines are equipped with the ANDRITZ PrimeControl automation system for an optimized production process.
Owing to the excellent cooperation between Suzhou Taison Paper and ANDRITZ China, the project management and on-site services took just 15 days from commissioning to start-up for TM13 and almost the same time for TM15.
This order once again confirms ANDRITZ's strong market position as one of the leading suppliers of machines and systems to the Chinese tissue industry and ANDRITZ's expertise specifically in wide tissue machines and resource-saving components like steel Yankees and steam-heated hoods.