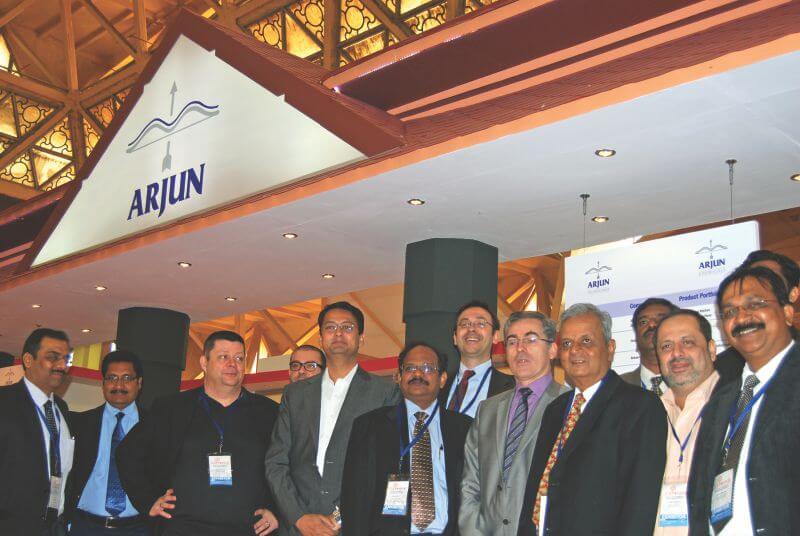 On the third day of Paperex Mr. Raphael Jose, Group Vice President – Marketing & Business Development, briefed us about how Arjun group was formed and the tradition of service, which is an integral part of vision of the founder.

About 25 years ago Mr. Chandrasekhar Padmanabhan, Chairman and Managing Director of the Arjun Group, started CP Engineering GmbH with a vision to serve the global pulp, paper and converting industry by providing quality used, unused and reconditioned equipment at competitive prices. The industry being highly capital intensive, therefore the need for well maintained used machines has always been stressed upon. Over the years the company has established its foot holds in the Indian market by serving esteemed clients like Ballarpur, ITC, SPB, Khanna, JK, Rainbow etc. In India the group which is led by their group President and CEO Mr N Narayanan, is operating in the paper industry under 2 outfits i.e. Arjun Technologies India Limited (ATIL), as the leading turnkey system supplier to the Indian paper industry and Arjun Chemicals Limited (ACL) to deliver versatile, world class, new generation paper chemicals. Both these companies have been successfully involved in bringing new concepts of production to the Indian paper industry.

Arjun Technologies India Limited (ATIL) undertakes the activities from raw material handling to pulp mill to paper machinery accessories to converting to materials handling. It has grown to be the one-stop-shop for the paper industry. The main idea is to bring together the best expertise and experience from some of the world's forerunners in pulp and paper machinery manufacturing. With a professional and understanding approach to project feasibility, planning and management alike, Arjun Technologies India has provided value added engineering services from concept through commissioning. Arjun Technologies has the key global leaders like Kadant Lamort, E.C.H. Will, Toscotec, Bekaert Soloronics, Horst Sprenger, Pemco etc. as its partners.

Arjun Chemicals Limited (ACL) came into being with its ultra-modern manufacturing plants at Ranipet, Tamilnadu and Jammu, J&K. It has dedicated itself to provide consistent quality to meet the customer's entire needs in paper chemicals. Their ever expanding product range includes products like sizing chemicals (akd, cationic rosin), retention chemicals, sodium chlorate, DSR, refining enzymes, deinking chemicals, deposit control chemicals, biocides, surface sizing chemicals, coating chemicals and converting additives. It has expanded its facilities to provide fully automated and world-class manufacturing infrastructure to produce the complete range of paper sizing products under License from Eka Chemicals.
Arjun at Paperex 2011
We are representing and partnering our principles such as EKA chemical, which is part of Akzo Noble, Kadant Lamort for stock preparation, Toscotec for tissue machines, ECH Will for sheeting, ream wrapping and A4 sheeters, Bekaert Soloronics for IR drying etc. Since the last 1 year we have also started manufacturing head boxes, wire part upgrades, presses etc. A few handshakes have also been done with respect to new tie-ups and the new products will be launched soon. Some inquires pertaining to paper machine components and stock pre-parations have been received at Paperex.
Views on the Indian Paper Industry
I think industry is going through some tough times with rate of interest as high as 16%, people are finding it difficult to plan viable projects. Writing & Printing is in bad shape due to the current over capacity situation but market should absorb this additional capacity in a year or two after which things should look up in this segment. Newsprint is doing well, board is doing a little bad, brown is expected to keep doing well.