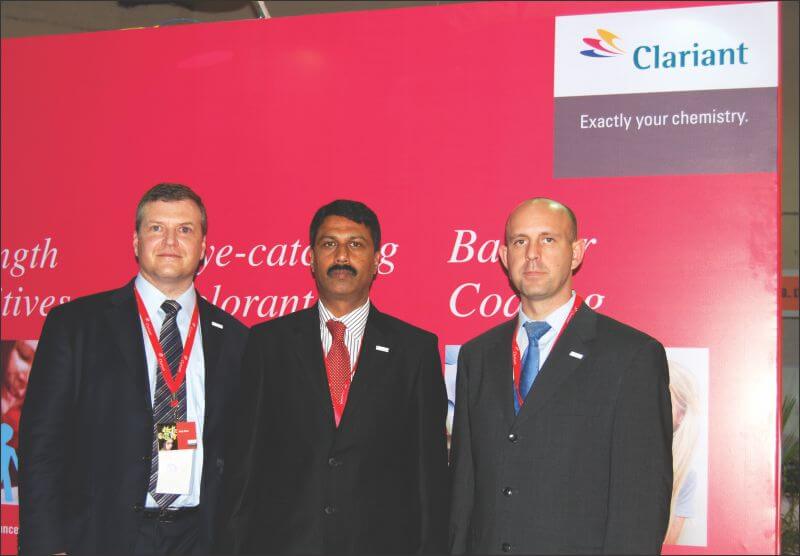 Clariant Chemicals (India) Limited is one of the leading specialty chemicals companies and is the number one player in Pigments, Textile Chemicals, Leather Chemicals, Biocides for Paints, among others. Their strong business relationships, commitment to outstanding service and wide-ranging application know-how make them a preferred partner for customers. Clariant is committed to sustainable and innovative growth in India. With over 900 employees generated sales of about INR 10 bn (in 2010) through its various businesses like – Textile Chemicals, Leather Services, Paper Specialties, Pigments (Coatings, Printing & Plastics and Special Applications), Additives, Emulsions, Industrial & Consumer Specialties, Detergents & Intermediates, Oil & Mining Services and Master batches. Their innovative products play a key role in customers' manufacturing and treatment processes and add value to their end products. Its success is based on the know-how of its people and their ability to identify new customer needs at an early stage and to work together with customers to develop innovative, efficient solutions. During Paperex 2011 team Paper Mart interacted with Mr. Andy Walti, Head of Paper Business- Clariant – Asia Pacific, Mr. Adrian Fox, Business Development Manager, Clariant – UK and Mr. Shashikeerthy US, Head of Paper Business Clariant Chemicals (India) Limited.
Paper Mart: What kind of value added solutions you offer to the paper industry?
Clariant: We supply products for the Pulp, Paper making and Coating applications. Globally we are one of the leading players in providing Optical brightening agents (OBA's), Dyestuff and Tinting Pigments and Process & Surface chemicals. At the moment we have around 14% of market share catering to 70-80 mills in India.

Depending upon the customer needs of value addition, Clariant focuses on developing the innovative products in accordance with the customer process needs. We provide solutions for the end users – it may be a printing related problem which can be sorted out by our chemicals for coating applications. Over the years many developments have been done for better print image or better print results for e.g. we have developed different cross linking agents depending upon the type of binders used in coating formulations and the end printing method the industry adopts.
PM: What is the major challenge you find working out here in the India?
Clariant: In India there are around 50-60% waste paper based mills and the quality of the waste paper which is being obtained is not consistent as the collection, sorting and procurement is very fragmented. This leads to problems with respect to the stickies which are bound to come with the different quality of waste paper. This leads to paper mills having a lot of down turns due to web breaks. One will not get a 100% solution for this but can always minimize it. We work in the direction where solutions are provided to reduce the number of web breaks, keeping the system clean, increasing machine speed etc. With such measures you can increase the productivity by 2-3%.

Here, it becomes very essential for Clariant to educate the mill personal (not only the technical but, also the commercial teams) about the benefits which can be derived by using the value added products by taking in account all of the parameters like improved machine runnability, reduced substandard quality, cleaner system and ultimately higher productivity.
PM: Your plans for the new products launched in India?
Clariant: Initially, we will use our global expertise to establish our two new deposit control products (Cartaspers SCM and PSM) in the Indian market. The high dependence of the Indian Paper Industry on the recycled fibre is a good potential to grow in that area. In India with the new product launch, in the first quarter or two we will target some 10-15 key customers who can get the value addition and to build our initial references. We have many references outside India and we are working on to try and establish local references very soon.
PM: What is your strategy for Indian paper industry?
Clariant: We did a thorough strategic exercise last year and in overall we have an ambitious target. We plan to triple our sales in the next 5 years with the new products and simultaneously broadening our customer base.