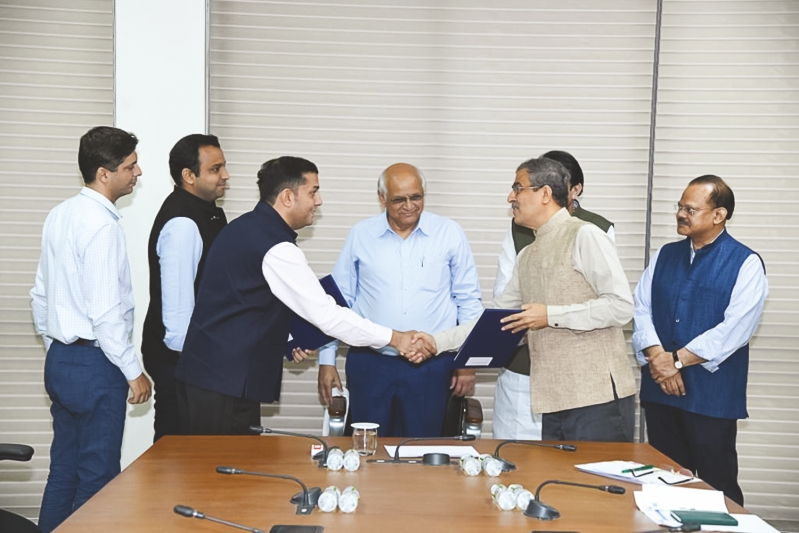 Aryan Paper Mills Private Limited has announced the setup of a new paper mill in Gujarat. The company has signed an MoU with the Government of Gujarat to streamline the registration and permissions procedure for the new mill, whose civil work is in process. A pioneer of the Indian paper industry, the group has a history and profile of ongoing operations which allows the country to be proud of it. Mr. Mihir Shah, Director, Aryan Paper Mills shared with Paper Mart the finer details of the new mill project while recalling the humble starts of the group and attributing practices that allowed the current growth and platform.
Paper Mart: Please brief us about your company Aryan Paper, its history, business journey along with crucial milestones.
Mr. Mihir Shah: We have experience spanning over six decades in the paper industry. Aryan Packaging Industries was established in 1948 by Mr. Krishnalal Shah and Mr. Mansukhlal Seth in Dadar. At the time, the company and its operations were limited to being paper corrugators within one-room premises. In 1977, the company shifted manufacturing operations to Vapi, Gujarat, while retaining headquarters and marketing operations in Mumbai.
Our MD Shri Sunil Shah setup Aryan Paper Mills Private Limited in Vapi in 1989. Since then, we have upgraded our mill on various instances for both expansion and sustainable purposes. In 2004 we established a Captive Power Plant (CPP) and in 2006 we installed an integrated ESP. Our currently installed machine has a production capacity of 170 TPD. We run 2 corrugation lines in line with 8 converting lines which enable us to offer one of the largest corrugated capacities in western India.
We are focusing strongly on the environment under the leadership of our MD Shri Sunil Shah. Sustainable growth with a focus on lowering the carbon footprint per ton of paper is our primary driver.
Watch: JMC Paper Tech Launches New Subsidiary JMC Papers
PM: What is your current product portfolio, infrastructural setup, and manufacturing capacities for the same with regard to paper and packaging solutions?
MS: We manufacture kraft paper ranging from 100-300 gsm and export over 50 percent of our total annual production owing to quality and consistency. Our key focus areas are test liners and fluting medium, along with other specialized products like special strength paper for multiwall applications, TTC (high ply bond) paper, and high-performing lining (HPL) and high-performing fluting Medium (HPF). We also manufacture custom-made variants of recycled kraft paper.
Aryan Paper started as Aryan Packaging Industries, and it constitutes one of our most specialized services. It is our roots in this area which make us more than a corrugated vendor. Each step involved in the corrugated packaging process, from selecting a paper combination, adjusting moisture levels, choosing the right glue, and using the best technique to apply it, to printing, slotting, and punching, is undertaken with the utmost efficiency stemming from our knowledge and experience. We believe in giving our customers maximum satisfaction and weigh-in their technical needs first before drawing commercial engagements with them. We utilize our experience and extensive R&D to develop the optimal corrugated product which fulfills the technical requirements of our customers.
Our extensive and qualitative corrugated packaging product portfolio includes corrugated boards, RSC cartons, universal cartons, trays, wrap-around cartons, jumbo cartons and other customized cartons.
PM: Tell us about your upcoming paper mill for which you have recently signed an MoU with the Government of Gujarat. What kind of investments are associated with this mill with regard to land acquisition and technology?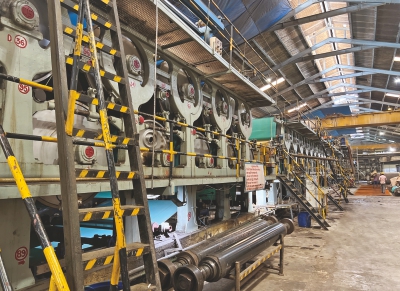 MS: Aryan Paper is keenly focused on exports besides the domestic market. This exposure to international markets drives us to diversify our product line, horizontally and vertically, and expand our existing production capacity. Our experience in export markets has also driven us to focus on the finer points of papermaking. The new paper mill has a width of 5.1 meters which is one of the largest in India. We have partnered with leading European suppliers to ensure we provide value to the constantly evolving corrugation market. Land acquisition has already been completed earlier.
Aryan Paper Mills Private Limited signed an MOU with the Government of Gujarat in the august presence of Shri Bhupendrabhai Patel, Chief Minister of the State, under which the government will facilitate obtaining of necessary permissions, registrations, approvals, or clearances, etc., from the concerned departments as per the existing policies, rules, and regulations.
PM: Explain the new mill's machinery or infrastructure setup, target production capacity, product category to which it is going to cater, and other characteristics.
MS: We have sourced the machinery predominantly from established European suppliers like Bellmer, Valmet, and Kadant. It can be easily stated that PM 2 is going to be a state-of-the-art facility and shall contribute majorly to both domestic and international markets. The production capacity will depend on the product mix. We are looking to serve many upcoming segments besides corrugation and our product portfolio shall be based on market demand, both domestic and international, various diversifications, and technologically advanced applications. The market is already rich and the post-pandemic global market prefers paper-based packaging solutions. This along with increasing demand has been our major motivator in planning and setting up the new mill.
PM: What are the timelines planned for this project in the context of land acquisition, civil work, order placement, and final start-up of the mill?
MS: We completed the land acquisition to set up the new mill three years ago. Subsequently, one can reliably assume that our mill will be a result of extensive planning and organized execution. While the civil work is ongoing, we have already placed orders with all major equipment suppliers. We are hopeful to make our PM2 operational in Q1 2024.
PM: How are your company's activities in line with the nation's vision for a sustainable future?
MS: Sustainability is the basis of our organizational setup. Our new machine will have one of the lowest carbon footprints in paper manufacturing. Our installed ESP helps us keep our emissions below 50 gms, which is in adherence to European standards. We have a CPP which makes the mill self-reliant to fulfill our energy requirements, out of which 15 percent are covered by renewable energy sources. We ensure 100 percent water recycling in our paper-making process and have set benchmarks for the Indian recycled kraft paper industry. We use a bio-mass briquette-based steam generation plant to meet the steam requirements of our packaging division.
We have planted more than 200,000 trees in the last three years and a Miyawaki forest in our paper mill is blooming with birds and squirrels. Additionally, we have invested in solar and wind power over the last two years.
Also Read: Biodegradable Tableware Propels Industry Towards Sustainable Future
PM: What are your company's USPs and how is it different from the rest of the players in the market?
MS: Our USP is plain and simple; quality and consistency. These are the basics that enable us to consistently export more than 50 percent of our products for many years. Price stability is another one of our key strengths in this service-oriented industry. All three attributes have been cultivated by us over the years and so we manage to maintain our set standards. A repetitive consumer base is an added profit of these practices. Our supply chain partners constitute leading companies in E-commerce, FMCG, white goods, automotive industry and ancillaries, pharmaceutical, textiles, horticulture, industrial goods, flexible packaging, chemicals, and foods and beverages sectors.
PM: Please enlighten us about the current scenario and the future of the paper industry in India.
MS: There is a huge potential for good quality paper in India. We anticipate a shift in the corrugation industry from per kg basis to per sq meter basis in the coming times. This will enable modern paper mills as well as corrugators with good technology to provide value to customers. Moreover, the market overall has been in a continuous growth phase due to an increase in hygienic and environmental awareness among the end-consumers. Our hope for industrial growth is confirmed by our upcoming paper mill, which will result in capacity and product profile expansion.