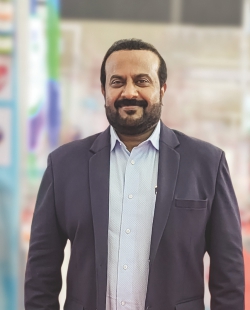 Sri Lanka based Sakthi International Private Limited, one of the major exporters of waste paper to the Indian-Subcontinent & the Middle East, and a manufacturer of fluting medium and packaging paper, has a goal to enter into production of test liner. Its group companies include Sakthi Papers Private Limited, Eco Papers Private Limited, G.K. Paper Mills Private Limited & G.K. Core Private Limited. In a recent interview with Paper Mart, Mr. G. Kamaleshan- Managing Director, Sakthi International Private Limited talked about the diverse group of companies, expansion and future plans.
Paper Mart: Could you please give us a brief overview of your company?
G Kamaleshan: Sakthi International was initially formed for the export of waste paper. Since 1995, we have been exporting waste paper to India. As we had the capacity to collect a huge amount of paper waste, we entered into paper manufacturing. We took over a paper mill in 2017, and since then we have been producing 60 to 80 metric tonnes of medium paper. We also produce 50 gsm, 30 metric tonne output of paper tablecloth. We have been exporting to Bangladesh, China as well as far east countries.
PM: Please shed some light on the diverse portfolio of companies under the Sakthi Group.
GK: Sakthi Group has 4 companies under it, all for paper related products. Under Sakthi International and Sakthi Papers, we do exports of waste paper. Eco Papers is our paper manufacturing mill and G.K. Paper Mills is where we do paper tablecloth manufacturing. In G.K. Core, we manufacture the core tubes for local markets and exports.
PM: Could you tell us about the manufacturing capabilities and clientele of Sakthi International and Sakthi Paper.
GK: With Sakthi International and Sakthi Paper combined, we export around 4,000 to 4,500 metric tonnes a month. The grades which we handle are OCC, NCC, boxboard cutting, scanboard and tissue waste as well. Apart from that we do laminated box board cuttings, white sorted office pack and sorted office pack. Our major buyers in India are ITC, Seshasayee, Gaytrishakti, West Coast Paper, Subam Papers, Morbi mills and many others.
PM: Please give us a walkthrough of the manufacturing capacity and infrastructure at your Eco Papers mill.
GK: The machine we have at the facility was imported from Amit Paper and Consultants, India. We have recently started doing size press insulation, from the past 7 to 8 months. We have also set up a total ETP (Effluent Treatment Plant) to improve our effluent quality. We manufacture around 60-80 metric tonnes of medium paper per day and we are planning to soon start our manufacturing of test liner.
Watch: JMC Paper Tech Launches New Subsidiary JMC Papers
PM: Please tell us about the manufacturing capacity and infrastructure at G.K. Paper Mills.
GK: In G.K. Paper Mills, we manufacture paper tablecloths. It is equivalent to newsprint quality, which only targets the local market where we sell it for the wrapping of food parcels, fruits and other items. We have been supplying only for the local market at the moment. We target around 48 to 50 gsm, with an output of 30-40 metric tonnes per day.
PM: Please tell us about G.K. Core and the markets this company caters to.
GK: We are into core pipes for our own consumption at paper mills as well as for other export markets like thread, yarn companies as well as packaging units which need core pipes for wrapping. So we do production of around 10 to 15 metric tonnes at GK Core Pipes every day.
PM: Does the company have any plans for further expansion in the future?
GK: We are in the process of expanding our production and we want to increase our volume of production. Recently there has been increased demand in Bangladesh, one of the countries we export to. So for the future, we might be targeting 100-150 metric tonnes per day. We are aiming to start this production by the end of 2023, in November or December. That is the main target we hope to achieve very soon.
Also Read: Aryan Paper Mills: New Gujarat Paper Mill to Target Global Corrugated Paper Market
PM: Please share your insights about the Sri Lankan paper industry. What are the challenges and future of the industry?
GK: The Sri Lankan Paper industry is currently struggling a bit due to the economic downfall. Due to the dollar issue, the corrugators are finding it difficult to import finished paper. As a result, the demand has to be fulfilled by domestic mills only. However, we hope that with the IMF coming forward the situation will improve by the end of 2023. The main issue in the paper market in Sri Lanka is that we cannot import waste paper. There are 2 paper mills in Sri Lanka. So we have to only target the local collection, which means the production is limited. According to the government law, we cannot import waste paper to Sri Lanka unlike India. Due to this restriction and the financial crisis, the availability of raw materials is very less. This is the challenge the paper industry in Sri Lanka faces currently.
PM: What is the total paper and paperboard consumption in Sri Lanka annually and how much waste paper is exported from Sri Lanka?
GK: For kraft paper (both fluting medium and test liner) the consumption is nearly 10,000 metric tonnes per month. And duplex board consumption is around 15,000 metric tonnes monthly. Other types like MG paper and poster paper have lesser consumption. With regard to exports of waste paper from Sri Lanka, currently, brown grades have been restricted for exports. So only 3000-5000 tonnes per month is exported. And the other grades are around 7000 metric tonnes per month.