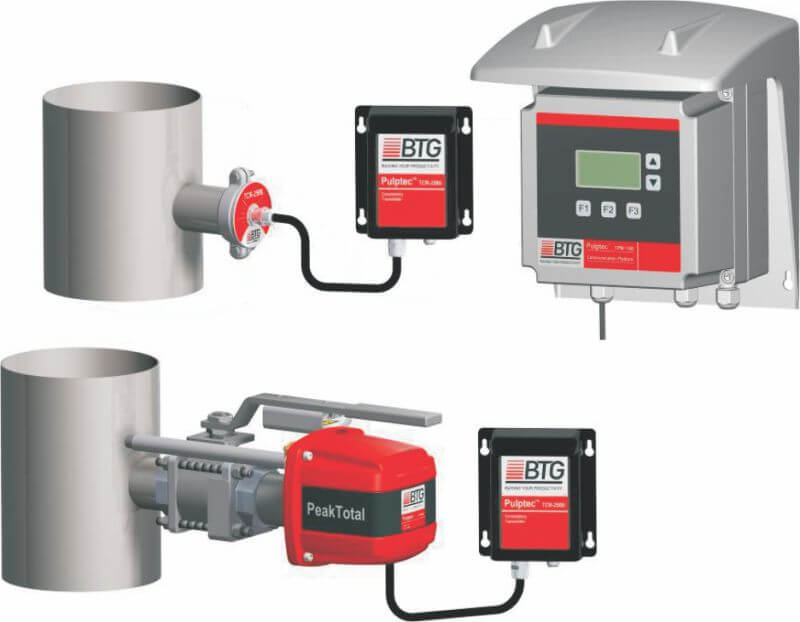 Revolutionizing consistency measurement across a whole range of papermaking applications, BTG's new TCR-2502 in-line transmitter delivers the industry's most accurate, cost-effective solution.
BTG's Peak Total sensor TCR-2502 has been designed by pulp and paper experts to overcome the limitations of traditional consistency measurement instruments, delivering greater accuracy, better overall process control, and significant cost savings.

The new in-line transmitter's ground-breaking approach won BTG this year's prestigious Paper Industry Technical Association (ATIP) Innovation 'Gold Prize', in recognition of its clear advantages over conventional consistency measurement devices.

Until now, approaches to measuring consistency in the 0.5-14% range have been based on a number of different measuring principles:
Total consistency is usually measured via the optical or microwave principle, using in-line measurement. The optical principle can measure all filler content, while the microwave principle only measures around 60% of filler.
Ash content can be measured by different optical principles, some in-line but most on-line.
Fiber consistency is measured using the shear-force principle (rotating or blade) with in-line measurement. This is the most frequently used type of consistency measurement.
In practice, this has meant that accurate, reliable measurement of total consistency and ash content has necessitated the use of more than one type of measurement probe.

BTG engineers decided there must be a better way – a system that would yield highly accurate, reliable measurement of stock consistency based around a single, easy to use system.

The result is the Peak Total transmitter TCR-2502 which uses just one unique measurement principle to precisely and separately evaluate:
Total consistency from 0.5 -12%
Filler content from 1 – 70%
Fiber consistency from 0.4 – 10%.
The heart of the Peak Total innovation is a light-emitting system that measures reflectance from the slurry at a very high frequency, using advanced signal processing. The resulting data provides accurate information about the fiber, fines, and filler content of the pulp. Pulp brightness and color have no impact on the results.

The TCR-2502 comes with pre-calibration curves, but can also be very easily adapted to each mill's actual process conditions. Normally, one sample is enough to adjust the slope (amplification) of the measurement signal, but it is also possible to calibrate using more samples, to pick up behavior from different process conditions – for example, different pulp grades.

Calibration is performed via the user-friendly interface on the connection box (CPM), but if desired can also be undertaken using BTG's own purpose-built PC software package – which has the advantage of also being able to log data and show trends.

Installation is very easy. The extremely sturdy in-line transmitter is mounted directly in the pipe, either in a sluice valve for retraction while the process is running, or directly in a stud. It can be installed in virtually any position, without sensitivity to temperature, vibration or other factors, and features state-of-the-art electronics, including a long-life LED and photo detector.

Suitable for every stage of the papermaking process, from the pulper to the machine chest, BTG's revolutionary technology can save mills anywhere from € 50,000-300,000 per year, depending on the size of their operation. Applications include:
After the pulper: filler control through raw material selection.
Waste water treatment, deinking: productivity optimization through filler content management.
Refining: energy savings through precise calculation of the specific energy on the fiber.
Mixing chest: precise substitution of fibers by filler, and improved use of broke through the control of filler content.
Headbox: reduced basis weight variation.
Effluent treatment: precise evaluation of fiber loss and slurry optimization.
The transmitter is available in two different versions:
The TCR-2502 with a retraction system so it can be taken out of the line while the process is running – useful for example in applications where dirt builds-up.
The TCR-2512 – a 'light' version without the retraction system.
Sensor technology in DIP line
Tamil Nadu Newsprint and Papers Limited (TNPL) will commission a new DIP line in order to expand its production capacity. The new DIP line is built by Andritz and furnished with state-of-the-art measurement and control technology from BTG to be used for sampling, consistency & brightness.

TNPL is one of the largest bagasse-based paper manufacturers in Asia. The three-loop DIP plant will be the first of its kind in India and will supply 300 t/d deinked pulp to produce high-quality writing and printing paper.

The scope of BTG instrumentation supplied to the plant includes a number of consistency transmitters; two MEK-2500 rotating transmitters, six MBT-2500 moving blade transmitters, and three SBT-2400 static blade transmitters. L*a*b* color and four ERIC (residual ink count) BT-5400 brightness transmitters will be used to control brightness, with the order being completed by seven MPS-1000 sampling valves and four MCS-1000 medium consistency sampling valves. BTG will also take over local service and support.