Emami Paper Mills is a modern paper and paper board manufacturer. The Company is engaged in the manufacture of packaging boards, writing & printing paper, and newsprint. Emami Paper commenced its journey in 1981 and is the only manufacturer of multi-layer coated boards in Eastern India.
"Over the period of time, product quality has become the number one criterion… We have to benchmark the quality with the best in the world and offer the same to our customers"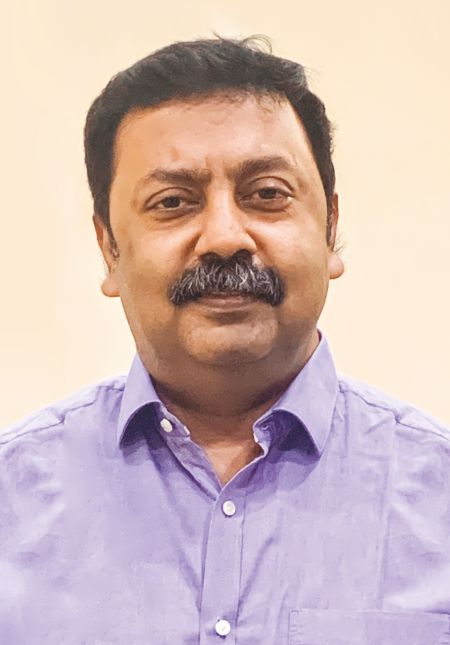 In an interview with Paper Mart, Mr. Soumyajit Mukherjee, Jt. President (Marketing & Sales), Emami Paper Mills Ltd. shares that creating a value proposition at the customer end is of utmost importance.
Paper Mart: Could you shed some light on the new developments at Emami Paper with regard to product development, market growth, and application areas?
Soumyajit Mukherjee: Product development is one of the key business growth strategies. Our company specializes in the manufacture of newsprint, writing and printing paper and multilayer-coated board. Considering the CAGR growth worldwide, we will be definitely looking into growth prospects in the packaging board as well as backward integration for the fiber sources, such as putting up a pulp mill. Emami Paper has developed pharmaprint paper with a grammage of around 40 GSM that can be used for making pharmaceutical leaflets. We are also developing oil & greaseproof paper and might also come up with an oil & grease-proof paperboard in the near future. Emami Paper is strongly looking into how we can work on the bulk, stiffness and other aspects of the packaging board that can help the customers to reduce their cost of packaging and the carbon footprint, which is, currently the need of the hour since global warming has become a major concern.
Watch: IVAX Paper Chemicals Interview
PM: How can CMOs/marketing leaders work closely with their teams to build collaboration with customers, product development, and the entire value chain?
SM: I think the most important role a marketing team has is to create collaboration for customer satisfaction. Similarly, creating a value proposition at the customer end is of utmost importance. Marketing is not only selling the product you make but also trying to understand the requirements of the customers. We should know what will add value to their business in the future and try to develop the product in similar lines. In order to become a preferred supplier, we should always be aligned with the requirements of the customers. Consistency in quality and supply should be our top agenda. Today, prices are a secondary aspect for any customer; they would always support if they get good quality and service.
PM: As a seasoned marketing leader, what are your marketing mantras?
SM: Engaging with customers, understanding product quality, and providing good services are the three marketing mantras. The more, you are aligned with the customer's requirements, the more are your chances to be successful in your field. Communication is a very important tool for marketing personnel. Providing real-time information regarding new products & service quality will create a difference. A relationship between the customer and the vendor does not happen on the basis of commercials, but an understanding between them. Hence, apart from the business proposal, one should also carry empathy. A salesperson should be a solution provider to the customer.
PM: Product quality is the most important aspect of any business. What, according to you, should be the parameter of quality in the pulp & paper industry?
SM: Over the period of time, product quality has become the number one criterion, especially as we fight in the global market today. Quality is a criterion that cannot be compromised at all. Product quality can make or break your business. We have to benchmark the quality with the best in the world and offer the same to our customers so that they can compete against the international players. Besides quality, service also plays a paramount role in today's business.
PM: A few thoughts on what it takes for marketing today to build brand experiences that stand out from the crowd.
SM: The first thing to consider, while creating a brand, is to know who your audience is, where you want to sell, and what value you want to give to the customers. A brand is not created overnight but over a period of time, based on how you position the product and what value proposition you offer. If the value proposition is consistent over a period of time, a brand is built.
Also Read: Marketing: The Heart of Business
PM: Please share your views on the current market scenario and the future you foresee. What do you feel CMOs/marketing leaders need to do in today's market to drive impact, given the current dynamics of the pulp & paper industry?
SM: The pulp & paper industry is quite dynamic and is being driven by the international markets quite often, typically Southeast Asia, China, etc. We need to have a very good/competitive source of raw materials. A reliable source of raw materials and a global standard product range would help a product increase its customer base and explore newer markets not only in India but also globally. Flexibility to change product mix ratio based on Market Dynamics is also a want of the market. A marketing team needs to know the target market/customers based on cost economics but also needs to keep a tap on maintaining the market share.
Meanwhile, the single-use plastic ban in India has opened up many new avenues for the pulp & paper industry in India and a focused approach on Innovations and Product Development should be done.