The company don't see the present business environment is going to change in a short period of time and hence, it has been decided against investing in Gujarat Project until the market improves, banking sector getting better to offer finances.
August 30, 2019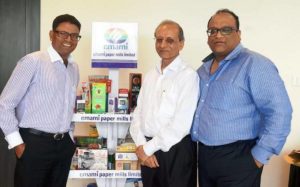 An economic slowdown and a tightening in lending by banks have forced Emami Paper Mills Ltd to defer the setting up its INR 2,000-crore green-field plant at Gujarat. The company instead is looking to shore up margins by focusing on premium offerings and through export markets.
The first phase of Gujarat plant, was supposed to come up at an estimated cost of INR 1,000 crore. A similar amount would go in for phase-II. Initial plans envisaged a 225,000 TPA multi-layer coated packaging board manufacturing unit and an 18-MW captive power plant.
As per the media reports, PS Patwari, Executive Director and CEO, Emami Paper on the sidelines of the company's annual general meeting stated that in view of the current economic slowdown and uncertainty in lending by banks, the company has decided to defer work on Gujarat project. It would review the situation and then take a call on renewing construction.